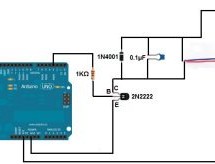 In this project, we will show how to build a vibration motor circuit. A vibration motor is a motor which vibrates when given sufficient power. It is a motor that literally shakes. It is very good for vibrating objects. It can be used in a number of devices for very practical purposes. For example, one of the most common items that vibrate are cell phones that vibrate when called when placed in vibration mod ...
Read more

›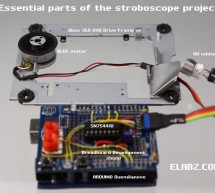 It has been all dry theory in the Brushless DC (BLDC) motor with Arduino series up to this point. This is where it gets to be more fun. If you've just arrived, please check out the previous two installments: Driving a three-phase brushless DC motor with Arduino – Part 1. Theory Brushless DC (BLDC) motor with Arduino – Part 2. Circuit and Software In this final part of the trilogy I am describing the hardwar ...
Read more

›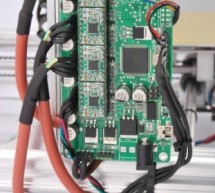 When we first released our 3D printer, we tried to use some parts that were already available and tested, in full respect of the open source philosophy. In particular, we decided to use the electronic card Sanguinololu. The "open" firmware we chose, the Marlin firmware by Erik van der Zalm, solved the biggest part of the computer interface issues. The Sanguinololu was great, but being innovators by vocation ...
Read more

›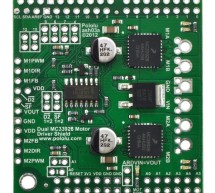 This shield makes it easy to control two brushed DC motors with your Arduino or Arduino-compatible board. Its dual MC33926 motor drivers operate from 5 to 28 V and can deliver a continuous 3 A per motor. These great drivers also offer current-sense feedback and accept ultrasonic PWM frequencies for quieter operation. The Arduino pin mappings can all be customized if the defaults are not convenient, and the ...
Read more

›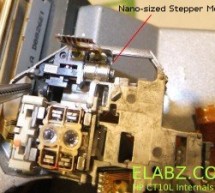 This little wonder of electromechanical engineering came from inside a laser diode sled of an HP CT10L Bluray drive I've opened some time ago. The device on the picture consists of several parts, all easily fitting on a dime coin: a bipolar stepper motor with lead screw, a linear stage, a lens, and even an end position sensor (I've yet to make use of the sensor though). The entire assembly is only 14mm x 9m ...
Read more

›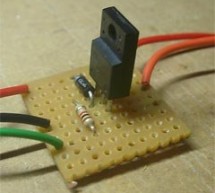 Intro The Arduino microcontroller board is able to supply a current of 40mA from its output connections. These digital outputs are fixed at 5V "ON" or 0V "OFF". This is adequate for working with LEDs but devices such as motors, solenoids, high brightness LEDs etc. may require much higher currents and voltages. To achieve this an interface in between the Arduino and the device can be made from locally source ...
Read more

›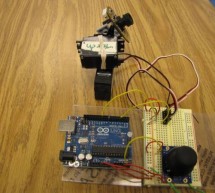 In my other 2 Arduino tutorials I have help new users to play tones and making 2 servos move with a mouse. This time I will help you move the same 2 servos with a thumbstick. And again I have surf the internet to see If there are tutorials that clear to understand specially for the beginner Arduino user and, I have not found one. To move 2 servos with the thumbstick is way easier and painless than using the ...
Read more

›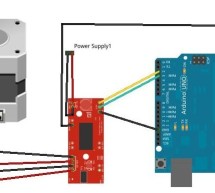 Stepper Motor drive from Arduino In this tutorial we will show you how to connect a bipolar stepper motor to an Arduino Uno board. The stepper motor we are using is the Sparkfun Stepper Motor but you can use any other 4-wire bipolar stepper motor. Because a stepper motor draws a higher current than the Arduino processor can handle we are going to use a Quad half H-Bridge chip to control the stepper motor. T ...
Read more

›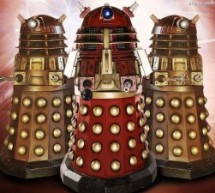 Overview The Arduino Motor Shield is based on the L298 (datasheet), which is a dual full-bridge driver designed to drive inductive loads such as relays, solenoids, DC and stepping motors. It lets you drive two DC motors with your Arduino board, controlling the speed and direction of each one independently. You can also measure the motor current absorption of each motor, among other features. The shield is T ...
Read more

›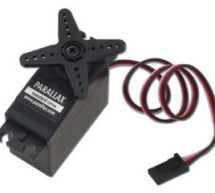 In this instructurable I will expalin and show you how to make a Parallax servo rotate 360º. And againI have search the internet to see tutorials clear enough to make this posible with no luck. Don't get me wrong they are some how good but not clear. This mod will help you to use the mod servo for robots that need a fully 360º rotation servo. Also some of the pictures were taken from other instructurables a ...
Read more

›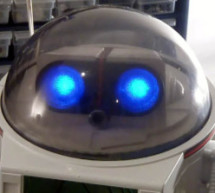 *Check back for more updates on this build :) So, have you heard of the Omnibot? Well! Any kid from the 80's will remember how amazing this robot was. For you young kids, this robot was released in the early 80's by Tomy. The robot was "programmable", in the sense that the actions were recorded to a casette tape. As you operated the robot over its remote control, the casette would record tones for each acti ...
Read more

›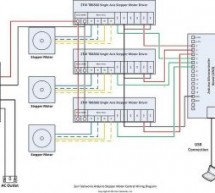 Hardware Preparation Stepper Motor Driver Board Arduino Board (UNO) If you have purchased the Arduino Board from ZTW, we have already uploaded the g-code library for you. If you are using your own Arduino Board, you can doawnload grbl Arduino library online and load it to your board using xloader. Power Supply The power supply is used to give the power to stepper motor driver board. USB Cable (A Male - B Ma ...
Read more

›