An old rotary phone can be used for a number of purposes in your Arduino projects - use it as a novel input device, or use the Arduino to interface a rotary phone to your computer. This is a very basic guide describing how to interface the dial to an Arduino, and get the number dialed passed into a computer over the Arduino's serial link. Step 1: Remove the dial from the phone First step is to remove ...
Read more

›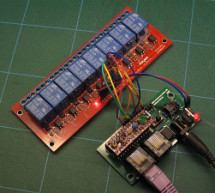 I've settled on the lighting industry standard of DMX as my overall control protocol as I explore the world of blinky lights.  This universal control method is electrically robust, radio transmissible, and flexible enough for my needs (not to mention the needs of major concert, theatrical, and entertainment venues.)  There are a variety of DMX sequence controllers from free to thousands of dollars. To that ...
Read more

›
Easily control your iPod with Arduino using serial commands. This instructable includes the schematic, the code and some extra info; everything you need to make this work. USB,battery or wall power supply powered. Step 1: What you need Parts: 5x  1K ohm resistors 2x  1M ohm resistors 1x  12K ohm resistors 1x  1.5K ohm resistors 4x  normaly opened push buttons wire protoboard (optional) 3.5mm audio jack Ardu ...
Read more

›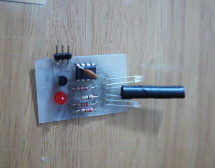 This is an extremely cheap IR proximity sensor you can make with a few cheap parts and an AVR programmer. I use an Arduino as my programmer in this Instructable. This sensor only has a range of about 3 inches. You can easily add more LEDs or brighter ones to extend the range. You can also easily re-arrange the LEDS to detect when a beam is broken as well. The design takes advantage of a cheap AVR (computer ...
Read more

›
The purpose of this project was to create a simple, portable device that would periodically read sensors and then store the sensor data so it could be retrieved later. The result is the HexiLogger, "hexi" because it can support up to six different sensor inputs and "logger" because it will store the input data on a removable SD memory card. Hardware I began the project using the ATmega168 chip that came wit ...
Read more

›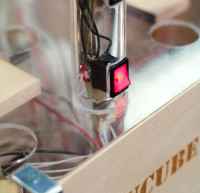 This instructable goes through how to design and print a variety of 3D models using a system called the 'UCube'. Note:  I would love to eventually publish detailed instructions on how to make your own UCube, but since the design is still changing and improving, this post will gloss over a lot of those details and focus on how you can model and print 3D objects just by flipping a few switches. This project w ...
Read more

›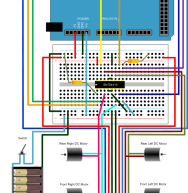 This example shows how to simulate a simple closed-loop control algorithm in Simulink® and how to run it on an Arduino® board. Supported Hardware: Arduino Leonardo Arduino Mega 2560 Arduino Mega ADK Arduino Pro Arduino Uno Available versions of this example: Arduino Mega 2560 board: Arduino Mega2560 Drive Open-loop Arduino Mega2560 Drive Closed-loop On this page… Introduction Prerequisites Required Hardware ...
Read more

›
I was looking for a way to handle wireless communications between two Arduino boards. Other options like Xbee or Bluetooth were going to cost $50 to over $100. Then I found a cheap RF transmitter and receiver at Sparkfun. The total cost is only $9! Here are a few limitations to RF solution: Communications is only one way. If you wanted two way communications you'd need to buy two receivers and two transmitt ...
Read more

›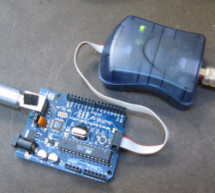 Like me, you may have a few old Arduino boards or ATmega8 chips (in the boards) laying around from when you were first playing with Arduino. Those chips can still be really useful as the heart of a tiny "Minimal Arduino" setup. A normal Arduino board contains support components that make it easy to use. If you want a smaller footprint, you can get one of the many Arduino work-alike boards. But if you want a ...
Read more

›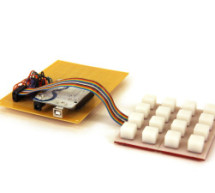 The 74HC595 is an easy and inexpensive (at about 60 cents apiece) way to increase the number of digital out pins on your Arduino.  In this tutorial I'll show you how to drive up to 16 LEDs with one 74HC595 using a technique called multiplexing.  In the end, all 16 LEDs will require only three of the Arduino's available digital pins. The finished product will look like this: I used the sparkfun button pad pc ...
Read more

›
I acquired an old fax machine that looked like a ripe source of parts, like steppers, IR sensors, micro switches and things.  As it turned out, it was.  It also had a nice looking 2 x 16 character LCD.  However, after taking everything apart, I found the LCD only had 13 pins instead of the more common 10, 14 or 16 pins.  They were not labeled, so that's where the investigation came in.  After an exhaustive ...
Read more

›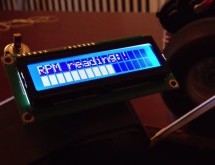 Sometimes when you're testing a sensor or debugging a value in an Arduino project, you want to see something other than numbers flying by in the Serial Monitor. However, you want to get the sensor working quickly, and you don't want to take the time to write code to graph it or display it in an intricate way. Well, we can fix that :) The trick is very simple. However it graphs it sideways, but hey, it's qui ...
Read more

›