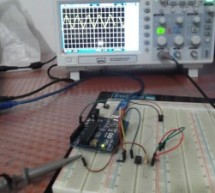 We know the analog potentiometer , is a three-terminal resistor with a sliding contact that forms an adjustable voltage divider . MCP41100 an Arduino Controlled Potentiometer: 1)volume controls on audio equipment. 2) Control the amplifier Gain and offset . 3) Transducer " displacement  transducers ". and many Other application , But did you you want to control the resistance value by Microcontroller ...
Read more

›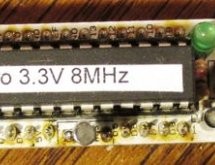 This Lazy Old Geek (L.O.G.) loves Arduinos. I have noticed that a lot of sensors, like GPS, LCDs, magnetometers are 3.3Vdc sensors. But the standard Arduinos, Uno, RBBB are 5Vdc modules. So I decided I'm going to make more of my Arduino projects with 3.3Vdc AtMega328s. Now I've done this before but will go through some of the problems. PROBLEM: The standard Arduino uses a 16MHz crystal. Now if you look at t ...
Read more

›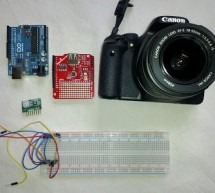 The other day I wanted to experiment with external triggers for my Canon EOS 550D camera. I stumpled upon a nice open source project called Arduino Camera Control from Oleg Mazurov, the creator of the USB Host Shield library for Arduino. The Arduino Camera Control project depends on the USB Host Shield library and the USB Host Shield from Sparkfun. It supports Canon EOS and Powershot, as well as Nikon DSLRs ...
Read more

›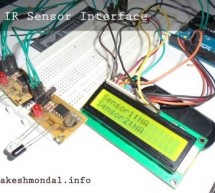 Interface single and Dual IR Infrared sensor with Arduino and LCD Introduction- Multiple Sensor Interface to Arduino In this another tutorial on sensors  for beginners, we are going to interface single and multiple Infrared IR sensors with Arduino Uno development board, working simultaneously and have the status displayed either on an ( 4X16 LCD ) LCD module (jhd162a) or an LED. We are going to cover three ...
Read more

›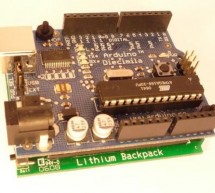 The Arduino is an open source hardware input and output circuit and the Lithium Backpack is a Ardino accessory that will power the Arduino when it is away from a computer or a wall power. These products are sold at Liquidware for under $34 each. Step 1: Plug in the battery connector to the board. The black wire should face the outside (away from the battery). Step 2: Plug the Ground pin in with 22-24 gauge ...
Read more

›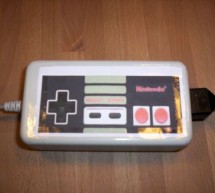 UPDATE 22-12-2014 Instructables user mattpbooth has updated the code and is hosting it on github: https://github.com/mattpbooth/ArduinoNESController... Thanks Matt! UPDATE 03-12-2011 Replaced a println with print (derp). UPDATE 01-12-2011 Remade all code from scratch. Remade 'ible code section; Now includes a 'Processing COM port config for dummies' Ladies and gentlemen, I proudly present 8bit pleasure.. yo ...
Read more

›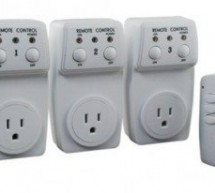 Update: check out the RFToy — an easy-to-use standalone gadget to control remote power sockets. Also, support for remote power sockets have been added to OpenSprinkler firmware 2.1.1. For a while I've been looking for a way to switch household power line (110V) devices. One of the simplest options is to use a relay that is connected to the power line. This is easy in concept but quite dangerous to work with ...
Read more

›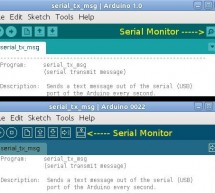 The Arduino Uno can send data (such as a text message) to the PC over the USB cable. The Arduino IDE has a serial monitor window that can be opened and will receive and display the data sent from the Arduino board. Data can also be sent to the Arduino board from the serial monitor. This serial communication is very useful for controlling electronics that is connected to (interfaced to) the Arduino board fro ...
Read more

›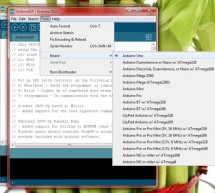 There are many reasons to build your own Arduino circuit on a protoboard or a custom-designed printed circuit board. At the heart of the Arduino platform is an AVR microcontroller, in usual way you need a special hardware programmer and suitable hex files to program the Atmel AVR chip. Fortunately, Arduino is a beginner-friendly platform because a bootloader is included in the AVR chip which allows you to p ...
Read more

›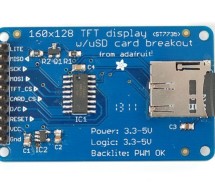 128X160 pixels in 18 bit color with a microSD breakout board courtesy of Adafruit Industries You can purchase the 18-bit color TFT LCD display with microSD card breakout kit (part# ST7735R) from Adafruit Industries This tutorial from Adafruit is for a 1.8" diagonal TFT display & microSD breakout board. This breakout is the best way to add a small, colorful and bright display to any project. Since the di ...
Read more

›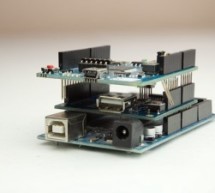 Update (6/7/2012) – I've had to disable comments on this post, because it is being targeted by spam bots for some reason. Please use the contact page if you have a question about this topic. [box type="note" color=" #202020 " bg="#ffbb00 " font="verdana" fontsize="14" radius="20 " border="#000" float="right" head="Attributes"]Thanks to Jeremy , for this articles[/box] In this week's arduino tutorial, ...
Read more

›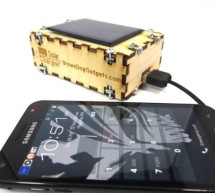 Everyone has USB gadgets.  It's pretty much a fact of life.  Another fact of life is that these USB gadgets also continually run out of power when you most need them.  No need to fear, solar power is here!  Ditch those crazy wall adaptors, throw out the laptop, and start making your own solar charger! One of the most popular projects for new Makers is creating their very own Solar USB Charger.  While there ...
Read more

›