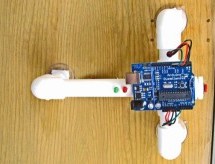 Protect your secret hideout from intruders with a lock that will only open when it hears the secret knock. This started out as a bit of a joke project, but turned out to be surprisingly accurate at judging knocks. If the precision is turned all the way up it can even detect people apart, even if they give the same knock! (Though this does trigger a lot of false negatives, which is no fun if you're in a hurr ...
Read more

›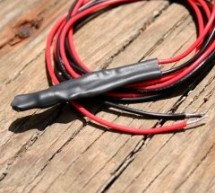 You are building a soil temperature sensor. We need a waterproof thermometer that we can burry in the soil. The sensor is made up of a small circuit enclosed in a piece of heat shrink (to waterproof it). Supplies: (see the parts page) an LM335 temperature sensor a 33K and a 56K resistor a short piece of glue-lined heat-shrink tubing soldering iron and solder lead wires The circuit for the actual sensor This ...
Read more

›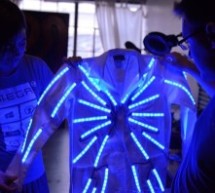 This is an instructable for the Interactive LED Lab Coats, showcased at Autodesk University. Check out the videos below! The first is a demo of the colors actuated by the buttons. The second is a demo of the breathalyzer! (this will be explained later) Tools  Sewing machine Soldering iron Wire cutters & strippers Hobby knife Hot glue gun Computer Materials Two lab coats Arduino (Uno or later) LED Spool( ...
Read more

›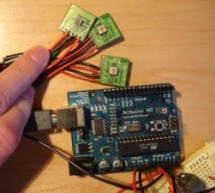 Background and motivation This project was motivated by two things: my almost complete inability to get out of bed in the morning, and my fondness for recording data from routine activities and making graphs with that data. My main problem with waking up in the morning is that feeling of grogginess along with an intense desire to sleep more. However, I've noticed that sleeping without an alarm clock, and ju ...
Read more

›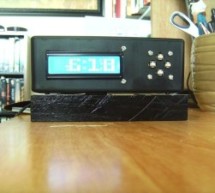 This is an Arduino powered alarm clock that after hitting snooze twice the alarm will not cancel until the user has cleared 4 lines in the game Tetris. You physically turn the clock sideways, so the screen is vertical, to play Tetris.  It's never fun to wake up in the morning but playing a little Tetris is at least somewhat enjoyable and quite effective. Feel free to vote for me in the microcontriller conte ...
Read more

›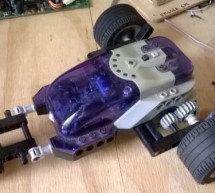 A friend gave me his old Lego Spybotics robot, however, the programming environment that goes along with it is a bit too orientated to the younger user. So why not control it using an Arduino? Step 1: Open up! In order to get this robot moving, we need to borrow its motors. There are two DC motors in the robot. This is great, because we can control them independently, allowing forward, backwards and turning ...
Read more

›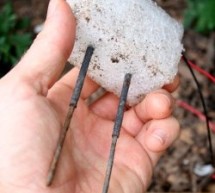 You are building a cheap soil moisture sensor so the brain can read the amount of moisture in the soil. The version we are building is very low tech, but it is also very cheap and easy to build. It consists of a block of packing foam with a couple of wires shoved into it. And the great thing is that it's possible to use reclaimed materials in much of it's construction. If you cruise around the web, you will ...
Read more

›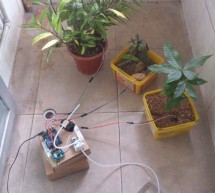 Last month, Elecrow have left from the original office and moved to a new office. We will miss our original office where we worked so hard for more than two years, we will miss everything here, the desks, the windows, and those potted plants, that we cared for more than two years with our neighbor. Our neighbor, a design team, led by a man named Kimi, we had so many memories together in the difficult early ...
Read more

›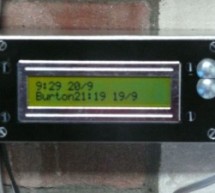 I've made an iButton garagedoor opener and logger. On a Dutch (kind of) eBay (www.marktplaats.nl) I found some iButtons and readers very cheap. I had no idea what to do with them, but I bought them anyway. My garage opens with a push on a button, so it must be possible to get that working with the iButton. I also found some really cheap (0,50 euro) displays, so it would be nice if I also can make a screen t ...
Read more

›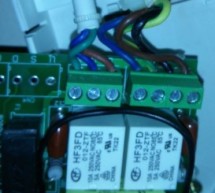 Hello my name is Chipsy, I'm French, reading instructables since at least 2 years, it is the first entry i make on this website. Why i made this project : I have a small homecinema system in my living room, with a projector and a commercial motorized projector screen. I have a big mirror on the left wall, it makes the room brigther, but when watching a movie you want a dark room, and we could see reflection ...
Read more

›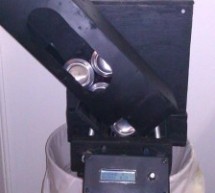 I have always wanted to do an instructable, but I never had a somewhat original idea that hasn't been done a million times, or something that had no means of building. I have some friends who recycle aluminum for money and after seeing the large bags of an unknown amount and weight of uncrushed cans, I decided to make a machine that would crush the cans, count the cans, and tell the weight of the number of ...
Read more

›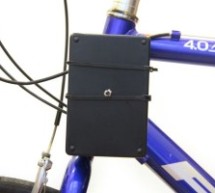 Magnetoception is the ability of some animals to detect magnetic fields as a means of orienting themselves.  Although humans do not seem to posses the same biological mechanisms that allow other animals to sense magnetic fields, there are still many ways that we can improve our sense of spatial orientation. This project is an attachment to your bicycle that beeps to let you know that you are moving in the d ...
Read more

›