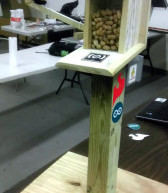 The Solar Powered-Bird Proof Squirrel Feeder w\ Camera will allow squirrels to retrieve seeds, nuts, and corn kernels without worrying about those pesky birds stealing all their food. While your squirrel enjoys the spoils of your feeder, you'll enjoy lovely digital photos to entertain and impress your friends, family, and fellow squirrel lovers. This environment friendly project is powered entirely off of s ...
Read more

›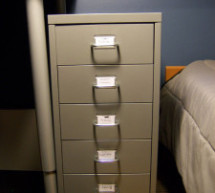 Like many other electronic enthusiasts I need to have a constant supply of materials in order for us to keep building, hacking, or just playing around with electronics. However as probably any of us have come to realize we need a lot of space and storage to hold every thing. Enter the world of stack-able containers. I got one from Ikea, a "Helmer." its simple metal design fits in with my rooms decor and it ...
Read more

›
This is a project to monitor the number of birds that visit my bird feeder, as well as record the amount of time spent feeding. I used an Arduino Yún and a capacitive touch sensor, Adafruit CAP1188, to detect and record the birds feeding. On a routine basis, the accumulated data is sent to a Google Docs spreadsheet to record the number and time spent by the birds visiting the feeder. Data is only transmitte ...
Read more

›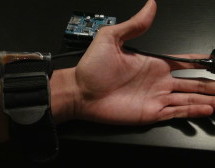 Step 1: The Sleep n' Tweet Now I am lucky enough to work at the greatest company in the world as a University of Waterloo, co-op student. It might not even be a company you've heard of yet. They're named Upverter and we are trying to change the way people design, build, share and collaborate on electronics. My job (also the coolest job in the world) is to find interesting problems that either have been or c ...
Read more

›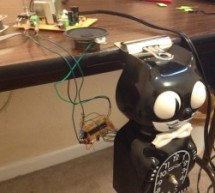 Is your analog clock just not doing enough stuff? Want to do digital things with an analog clock? This tutorial will show you how to make a Kit Cat Clock play a "meow" sound clip, at precise time intervals, using the Atmega 328P-PU via the Arduino Uno development board. In my example, the meow will occur hourly. This doesn't have to be a Kit-Cat clock either, this idea may work with other clocks that use a ...
Read more

›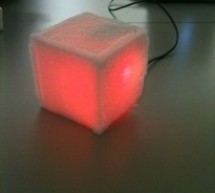 We created an Internet-enabled companion cube for your computer, which displays different kinds of information by glowing red or green. Depending on its orientation, and which labeled face is oriented upwards, our companion cube displays either stock readings of the NASDAQ or the outside temperature in Princeton. As the temperature or stock index changes, the Arduino inside the cube fetches updated data fro ...
Read more

›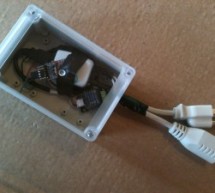 This instructable will detail how to make a switch that uses an arduino to sample light. When the light sample reaches a threshold it will trigger a relay that can be used to turn on/off a small appliance (light, radio, fan, etc...) The parts for this instructable can be ordered as a kit: Jameco Kit http://www.jameco.com/webapp/wcs/stores/servlet/Product_10001_10001_2209967_-1 Step 1: Review relay and prep ...
Read more

›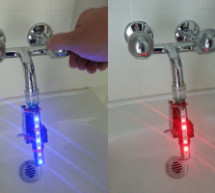 The Augmented Water device helps you save water by turning red after one Liter. The device, built by @tamberg during a water hackathon, is made from an Arduino, a flow sensor and coloured LED pixels. Video https://www.flickr.com/photos/tamberg/14346321456/ (thanks kiilo) In case you want to build your own, read on... Material Arduino, e.g. http://www.adafruit.com/products/50 Ca. 7 Neopixels, http://www.adaf ...
Read more

›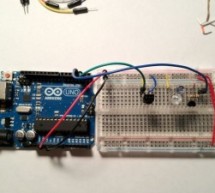 Hey Arduino fans! Here is an 'ible for making a device that turns TVs on when you want them off, and off then you want them on! If you hide it in something inconspicuous, it would make a great April Fools joke or gag gift. And the best part is that the total parts cost is less than $1.50!! (Assuming that you already have an Arduino and the tools) This is a contest entry for the LED Contest with Elemental LE ...
Read more

›
What this is: This instructable will show you how to make your Arduino into an R/C interface that you can use for just about anything requiring remote control. I will also show you how I built an R/C lawnmower using my Arduino, a cheap R/C transmitter and receiver pair, and a couple of electric-wheelchair motors from Ebay.  I have used this interface to control anything from basic LED's to Bipolar stepper m ...
Read more

›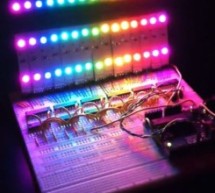 Introducing the RainBoard: A simple RGB LED Rainbow fader using an Arduino Uno and a few simple components. Believe it or not, we will control 45-channels of RGB LEDs at 32 brightness levels using only 3 digital pins from the Arduino! How is this possible you ask? By using two magic concepts: Shift Registers, and Pulse-Width Modulation.  Some of the schematics/images may seem daunting, but if all instructio ...
Read more

›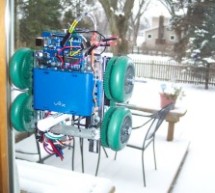 The idea for this project came from one of my favorite 'ibles: the polargraph. I loved the drawing style and thought how cool would it be to do this on the side of a building? Unfortunately the challenges to setting up such a large polargraph on a student budget pushed me to find an alternate solution, and thus started the window painting robot! This is a fairly simple robot that uses two neodymium magnets ...
Read more

›