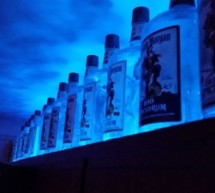 Being the giant fan of LED's that I am i'm always trying to come up with new ways I can put them throughout my house. Today i'm going to show you how to create a simple, yet extremely eye catching, RGB Bluetooth controlled Shelf lighting system. The beauty of integrating Bluetooth into the system is that you can control your lights using almost any device, your computer, smart phone, even your tablet. ...
Read more

›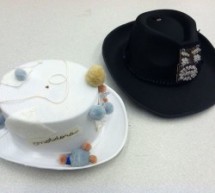 This project, Emotidora, will help a user express his/her emotions about events in day-to-day life. Weve all been in situations where something very exciting or unfortunate has happened to us and we want to share it with other people. This usually involves the expression of some emotion through visual cues, and when prompted by a peer, it can lead to expressing the situation/emotion. Emotidora enables peopl ...
Read more

›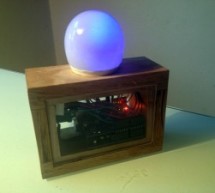 The WAVEbuoy is a arduino lamp connected to the internet that displays the current wave height of any of the National Data Buoy Centre's wave buoys. This lamp is currently connected to the Sevenstones Lightship buoy that gives an indication of swell approaching Cornwall in the UK. The lamp can also be connected to any surfing location covered by magicseaweed.com RED - High surf alert GREEN - Medium swell BL ...
Read more

›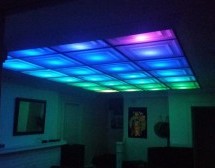 In our living room we have a small patch of drop ceiling right in the middle of the room, basically a giant piece of duct tape to cover up bad carpentry. It was constantly getting water damage from what looks like a giant hole in the ceiling above the drop tiles. After roughly a year of living in the house I decided to take action. The Pixel Drop Ceiling was born. The Pixel Drop Ceiling is a Bluetooth, Ardu ...
Read more

›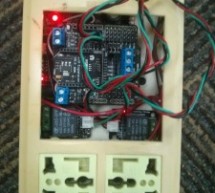 I found my self often trying to plug stuff at home with Arduino. So I thought it would be good to have a system that you can just plug your sensor, plug the appliance and code something to see how it goes. I never liked breaking apart an appliance to find the right spot on the electronics, or peel off the wire. What do you need? A common plug, for example think of a lamp, then you plug it on the wall wart, ...
Read more

›
Here's a little show and tell of my Android controlled home automation box. It's a small extension box that's controlled by an Android smartphone. You can turn the individual outlets on by tapping a button from the app or use the speech recognition app, found from my previous tutorial. I've teamed up with my friends and built a custom app for out home automation prototype project. My former classmate/ fello ...
Read more

›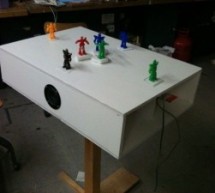 The Musical Table is a toy table that allows kids to play musical phrases by moving toys around the surface. Each of seven switches can play different musical phrases in four bases, making 27 different musical phrases in total.  Some of the phrases are musically related and some of them are not. This toy table can help kids to develop musicality by playing phrases in logical order. The table also allows y ...
Read more

›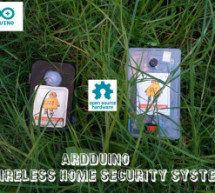 In this project I will discuss how you can make a cheap wireless home security system.Though during starting of this project the main objective was only for security alarm but later I found this device can be used to solve several problems.These are the few practical problems which I have faced in the past : 1. Few years ago my friend's new bike was stolen from the parking premises of our apartment. 2. Mang ...
Read more

›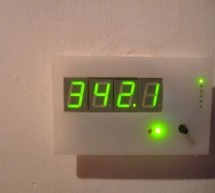 This page and linked pages detailed below document how to build whole house energy monitor that has a display for easy, quick access to current energy use information, usb datalogging for detailed long term data storage and Internet connectivity for online graphing. First a quick look at the installed setup: The Display The display unit consisting of 4 large green led 7 segments. On the right is a 6 mode – ...
Read more

›
Hello, and welcome to my instructable for a washing machine countdown timer. The timer is operated with the very popular Arduino micro controller. See here for more information. Arduino Home Page Aim The aim of this project is to be able to delay the start of the washing machine by a few hours. This is to provide a cost saving and a convenience. Purpose 1) To be able to take advantage of off peak electricit ...
Read more

›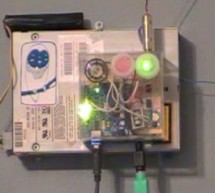 Use a Classic Nintendo controller to lock and unlock your door! The output from the Controller is read by an arduino and it looks for a particular combination of buttons, once the combination is entered it sends a signal to eject a Cd-Rom Drive which pushes or pulls the lock. I started making this project like I always do; with what I have on hand. So if you have the same stuff lying around it can be assemb ...
Read more

›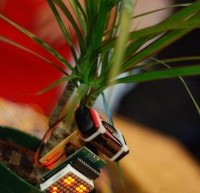 This is a funny project that makes our plants "talk" to us. It's very simple and you can create it in few hours. We use a sensor to read the soil moisture of our plant and a led matrix to dislay how the plant "feel". You can use an ATtiny85 as a microcontroller. Step 1: Order Materials Led Matrix Soil Hydrometer Sensor ATtiny85 (Microcontroller) 9V Battery Battery Clip Prototyping Board Voltage Regulator L7 ...
Read more

›