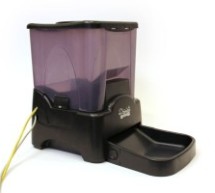 A great project for busy pet owners.  This Twitter-Controlled pet feeder automatically dispenses food in response to activity on your Twitter account.  The project is controlled by an Arduino and uses the Arduino Ethernet shield to receive data from Twitter.  I hacked this automatic Pet Feeder from Amazon to build this project, but you could easily modify your own motorized feeder to work. Parts List: (1x) ...
Read more

›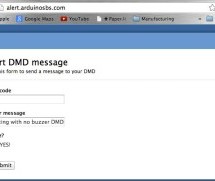 In the age of mobile phones, you would expect that people would be responsive to your call 24/7. Or… not. Once my wife gets home, the phone stays buried in her hand bag, or its battery is flat. We don't have a land line. Calling or SMSing to ask for a lift home from the train station on a rainy night or calling to ask if my keys are still on my desk is literally wishful thinking. I have this problem often e ...
Read more

›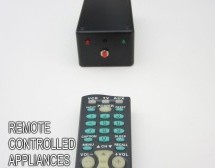 Most of the buttons on a remote control are never used. So why not use them to control appliances and other electronics around your house. In this project, I am going to show you how to use an Arduino to decode the signal from your remote and use it to make an outlet switch that can turn your electronics on and off. When you are done, you will be able to control lights, fans and even your coffee maker with ...
Read more

›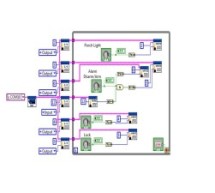 DESIGN OF A SMALL SCALE SMART HOME SYSTEM Gabriel Johnson and Chance Kelsoe INTRODUCTION Design of a smart home system with a LabView/Arduino interface In this project we made use of an Arduino Duemilanove and LabView to design an easy to use graphical interface to represent a control environment that every home owner could use. HIGH LEVEL DESIGN The rationale behind the development of this ideas was green ...
Read more

›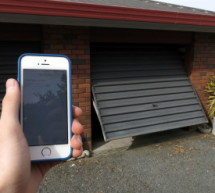 Ever come home in the rain to find the door locked and your keys elsewhere? No? Lucky you then! For those who have had such an experience or never wish to, this project will let you open your garage door with nay but a smartphone/tablet/laptop/WiFi-thing and your super secret password! After all, who leaves their smartphone at home nowadays. The very idea! All it takes is a network capable Arduino, a relay, ...
Read more

›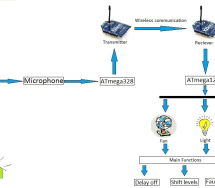 Motivation    top We design a smart home control system which allow people control their home devices by voice command at home. This is a wireless, voice control system. People could control almost all the facilities at home including lights, fans or even back ground music. Right now, the basic function of lights control, fan control and music control have all been implemented. Except for basic turning on a ...
Read more

›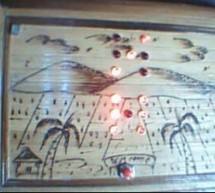 This was a fun project. Push the red button, watch the dice " ROLL " then stop on a random roll most every time. The hart of this game is the ATMEL ATmega328P on a stand alone board. Powered by 4 AA NiMD batteries. Can you find the SECRET SWITCH in the main picture? Where is the SECRET SWITCH? The first person that answers the TEST question correctly will win a PRO 3 month subscription to Instructables. Thi ...
Read more

›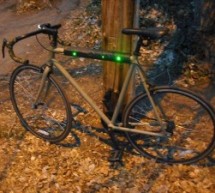 Well it's that time of year again. That's right, the sun is going down early, and it's getting hard to avoid logging some miles on your bike after dark. You likely have great lights front and rear already, but what about on the sides of your bike? When crossing intersections, and cruising down those long stretches of unlit roads, a biker can be easy to miss. Say hello to the led clad top tube pad. Not only ...
Read more

›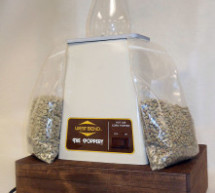 I have a passion for coffee.  I also have a passion for electrical engineering.  Why not combine them? This Instructable describes how I transformed a hot air popcorn popper into a completely controllable coffee roaster!  Follow these instructions to re-purpose and hack your West Bend Poppery Popcorn Popper into this coffee roaster! --------------------------------------------------------------------------- ...
Read more

›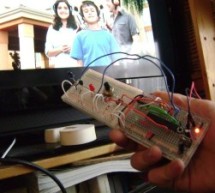 Have you ever wanted to use a good old knob to control your TV volume instead of repeated button pushing? Or make it controlled by light? Do you want your remote to be replaced by an awesome arduino and let it do the hard work of using a remote for you? Well this instructable is for you! Also if you just want to learn how to use IR to control your TV with your arduino this will help you gain some understand ...
Read more

›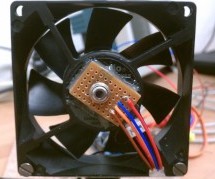 Summary: The following is a step by step guide on how to make a Heat-Seeking Desk Fan from an Arduino microcontroller, a computer fan, a servo, and an infrared temperature sensor. The device scans the room periodically, automatically pointing itself in the hottest direction (ideally towards a person). This is a working proof-of-concept model, but it could be easily scaled up should the investment seem worth ...
Read more

›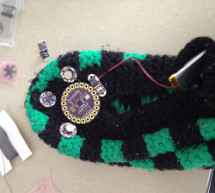 I made a little automatic slipper foot massager with the Lilypad Arduino and some of the Lilypad Vibe Boards for the actual massager. The sensor it uses is a Lilypad Accelerometer that I'm only using as a basic tilt sensor. Essentially it detects when the slipper is in a more vertical position (like when you would kick your feet up to relax) and then turns on the motors. When the slipper is in a more horizo ...
Read more

›