Gestured Controlled Smart Home
Not only this project has all the Smart Home features but it also includes MYO gesture control, allowing control of lights with your arm.
Story
Home Automation is the biggest domestic technological improvement of this generation, toe to toe with drones. It can provide full control of every piece of hardware in a house, if done well: from light control to preparing coffee at a specific hour of the day, key-less doors to automatic plant irrigation. There's truly no limit to Homes Automation, and with such a powerful board as the MKR1000, which itself resolves the WIFI issue, it becomes straightforward to connect an Android device and use it to control the lights, for example. Furthermore, using wifi over Bluetooth for this project overcomes the limitation of the Bluetooth range issue.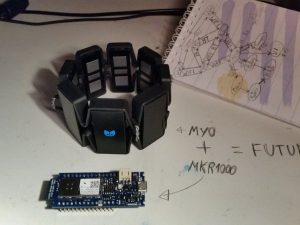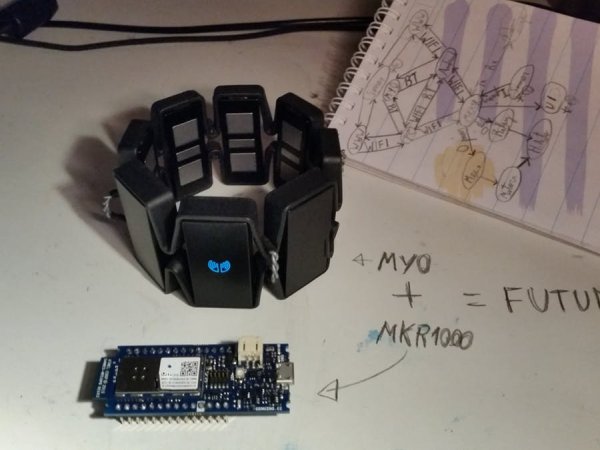 The MYO is a gesture control armband that detects EMS data from the muscles in the users arm, therefore it can detect poses he does with his hands, plus it has a built-in accelerometer, which extends the possibilities of control to a great extent. With this sort of technology, there is no need of using your smartphone, just finger spread your hand and voilà: lights turn on and off thanks to it. Wave right twice, once left, double tap your thumb with your middle finger and voilà again, the door unlocks, Jedi style. With this feature, the projects upgrades from Home Automation to Gesture Controlled Home Automation.
But then again, why stop there? In such a world of DIY and constant improving technology, why limit this project to Home Automation if we can turn it into a Gestured Controlled Smart Home project. The arduino MKR1000 keeps track of each user connected to it's server, therefore, before even entering the house, one could already know who's already home, and if so, what they are doing.
Smart Homes aren't only about controlling hardware through digital medias such as computers and smartphones, it's also about knowing what's going on inside the users house even before he enters it. It's about simplifying our daily domestic life.
Last but not least, this concept could have also infinitive uses in the workplace. For instance, during a power point presentation or a business meeting, having this technology to control the lights of the room, the air conditioning, opening the electronic curtains, etc, could prevent the distraction of your audience and clients. This technology has the advantage of allowing discrete control of a room features (with minimal disruption), keeping your audience and clients focus on what truly matters to your company or organisation!
Read more: Gestured Controlled Smart Home
Project Ratings:
Related posts