WIP- Using a MKR1000 to create a WiFi Enabled 2/4 Wheeled Robot Platform, Hardware is in hand, now to implement software Story This is my 1st published hackster build. I have been interested in Wifi enabled Robot platforms since hearing about the raspberry pi for $25..... Now I have many Robotic Platforms built around the Raspberry Pi, Arduino, PcDuino and many clones of each of them. I have not mastered co ...
Read more

›
Recently I've found this piece of electronic on the dumpster, it was looking interesting - compact case with battery holder, LCD display, temperature and humidity sensor. It has also radio transmitter, but I'm not interested in it since I don't have the receiver station. I decided to bring it back to life. It seems that was previously immersed in water - whole PCB was covered in white stains, in addition ra ...
Read more

›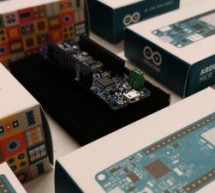 How to setup an MKR1000 and publish an event or location to Wia. Story Setup Your Environment Install the Arduino IDE (Integrated development environment). This is whereYou can download it for Mac OS X, Windows and Linux here. Detailed instructions can be found below: Installing the Arduino IDE for Windows Installing the Arduino IDE for Mac Installing the Arduino IDE for Linux New to the Arduino IDE? If you ...
Read more

›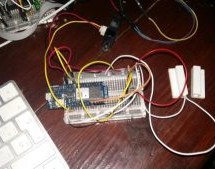 IoT security/environment monitoring device with NFC & fingerprint authentication devices and a Weak Artificial Intelligence Assistant. INTRODUCTION: This project consists of three devices: 2 x Arduino Uno boards (AuthWayNFC & AuthWayFP) 1 x MKR1000 (DoorGuard1000) 1 x Windows Universal Application (TIA). The two Arduino Uno boards are used for authentication to the Windows application and the MKR100 ...
Read more

›
In this project you're going to monitor the status of a door using an ESP8266. The goal of this project is to show the endless possibilities that this $4 WiFi module offers when integrates with a free platform that I'm about to show you. Before continue reading this project, please complete the following tutorials or use them as a reference: How to get started with the ESP8266 How to Install the ESP8266 Boa ...
Read more

›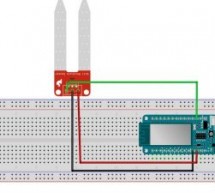 This IoT system monitors the soil moisture using Arduino and sensors. Data are sent to an IoT cloud platform to access it anywhere. Story This IoT system monitors the soil moisture using Arduino and sensors. Data coming from sensors is sent to a cloud platform. Moreover, this Arduino IoT system implements a notification system so that when the soil gets too dry it sends a notification. As you know already, ...
Read more

›
This little Instructable will show you how to use a 320x240 pixel LCD screen connected to an Arduino Uno with a network shield too, to show stats for Youtube channels. I created this as I wanted to see how many subscribers and views I had on my channels without having to check Youtube :) The stats update on the LCD screen every minute using the google api. You will need the following: Arduino Uno Arduino Et ...
Read more

›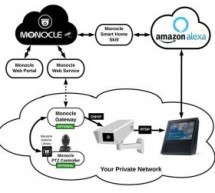 Monocle enables Alexa devices such as Echo Show/Spot & FireTV to view your network IP cameras & control them with a wireless PTZ controller. Story Amazon Alexa® (at least at the time of this writing) does not inherently support any direct integration with local/private network cameras running securely inside your network. Instead Alexa focuses on providing an infrastructure for third-party camera ma ...
Read more

›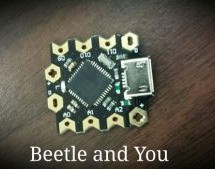 The DFRobot Beetle is one the latest innovations in minimalistic Arduino technology. About the size of a quarter, and the capabilities of an Arduino Leonardo, this tiny guy can minimize your projects with ease without having to sacrifice functionality. After working with the Beetle, I am going to show you some tips and necessary tricks I learned to get this little device working properly over a Bluetooth HC ...
Read more

›
LAKE WALES, Fla—Quantum dots are already being used commercially to boost the output and expand the color range of ultra-high-definition televisions, eliminating the need for the rare earth elements for which China as virtually cornered the market. Quantum dots, however, can also be used to absorb light to boost the output of photovoltaics, photocatalysts, light sensors, and other optoelectronic devices acc ...
Read more

›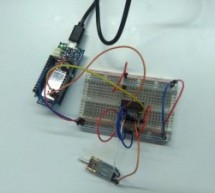 In this tutorial, we'll be looking at how to power and drive a DC motor with an L293D and an Arduino. Story In this tutorial, we'll be looking at how to power and drive a DC motor with an L293D and an Arduino (we're using the Arduino MKR 1000 here, but you can use any Arduino that provides enough voltage for your motor, and has 2 digital output pins). The L293D is a 16-pin Motor Driver IC which can control ...
Read more

›
In this project, you're going to build an Android app using the MIT App Inventor software that allows you to control the ESP8266 GPIOs. First, watch the video demonstration To learn more about the ESP8266 use the following tutorials as a reference: Getting started with the ESP8266 ESP8266 web server with NodeMCU Flashing NodeMCU firmware ESP8266 troubleshooting guide If you like the ESP and you want to do m ...
Read more

›