There is no better way to hide a covert device than to stick it inside a larger conspicuous device. That said... Essentially, this is a guide for making a data logging system for use with the breathalyzer microphone. To accomplish this, an Arduino and a Logomatic SD data logger are embedded into an old and considerably large tape deck. The data is fed into the tape deck through an unassuming 1/4" audio jack ...
Read more

›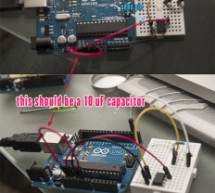 Allllllllllright dudes and dudets. Here is whats up, we're going to make attiny and arduino bestest of friends. If you have ever worked with capacitive switches you know how much it makes you want to smash your face into a wall...Now imagine you have no way to monitor output, well that is what I was running into. Problem is you can never know what the output is with stock settings of an attiny. So my soluti ...
Read more

›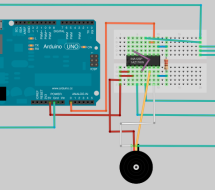 We built a system that uses eight air-clamping cylinders (McMaster-Carr 62185K64) to push down on a piece of glass to seal it to a sidewall. A number of times, the glass has cracked. So, this project is an attempt to come up with an inexpensive way of measuring how many pounds of force the cylinders are exerting. The sensor that we want to use is a load cell (an arrangement of strain gauges). The specific l ...
Read more

›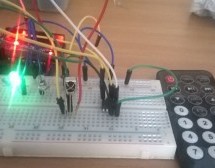 This Instructable will tell you how to use the IR (infrared) library on an Attiny. I will be using an Attiny85 with an Arduino Uno. I won't cover how to upload sketches to the Attiny just how to use the IR library with it. the best tutorial on uploading sketches I've found is this YouTube tutorial : (a quck note and warning, You will need to have software serial working for the attiny (follow this instructa ...
Read more

›
INTRODUCTION In the guide, I will explain how I managed to send data back and forth between a PC and Arduino via a cheap Bluetooth HC-05 transceiver, which can be found for less than $10 on ebay with the breakout board. The version I have used in this project does not have a breakout board so it's little cheaper but  more difficult to solder.  I strongly recommend buying the module with the breakout board. ...
Read more

›
Morse code was the breakthrough that made possible long-distance communication in the era of the telegraph. The code represents alphanumeric characters by short and long intervals of signal -- those familiar dots and dashes. For many years passing a Morse code test was a prerequisite of getting a Ham license, but nowadays most radio amateurs use it only infrequently. No longer are ship-to-ship distress sign ...
Read more

›
Hello! This is the cheapest and easiest way to make a two-dimensional laser show projector. It uses just one pivoting mirror, powered by the focusing mechanism from a CD or other optical drive. They said it couldn't be done, but Ljudmila's skunkworks GRL research facility delivers anyway! ;) This design was first discovered in 2006 and sucessfuly made by several beginners at the Laser Tags workshop in 2007. ...
Read more

›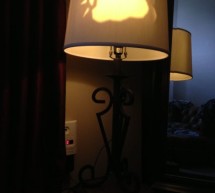 This was a 2 hour project I whipped up in order to learn how to use a new Bluetooth LE 4.0 module I picked up at redbearlab.com, called a BLE Mini. I've since thought of several much simpler ways (and more dependable) to accomplish the same thing, such as simply lighting 3 LEDs behind weather icon cut-out masks instead of the whole servo thing... but again, I wanted to learn to run the servo too. So there i ...
Read more

›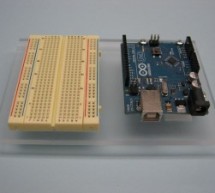 I do a lot of projects with Arduino's and breadboards. Often as I work on a messy workbench, the Arduino or breadboard get jostled and the wires pop out of the headers or the breadboard. To solve this problem, I decided to make a simple acrylic stand for mounting an Arduino and a breadboard that would prevent them from moving around. I used a laser cutter to cut the acrylic to size, to cut the holes f ...
Read more

›
This is partially me sharing this technique, and partially me learning how to use Instructables. If there are issues with my documentation of the technique or my use of Instructables, please let me know in the comments - thanks! I needed a long row of switches in a pinch, and didn't have nearly enough switches in my tool box for this project. This is a way to use copper tape to create many switches, quickly ...
Read more

›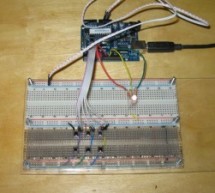 In this instructable we will learn how to use 6 buttons to control the color of an RGB LED with the use of an Arduino Micro Controller. This is a fun and easy little project that should take you no more then 20 minutes to finish. Step 1: Connecting an RGB LED Before we connect the LED to the breadboard we first need to identify the Anode and Cathodes. If you pick up your LED at a retailer there should be a ...
Read more

›
I made the original Instructible that this is based on over a year ago (You can see it here to see some of the theory around how this works:http://www.instructables.com/id/How-to-access-5-buttons-through-1-Arduino-input ). To make a long story short, I moved to a different country a few weeks after that and have not played with any electronics since. I'm starting a project to build a clock that will display ...
Read more

›