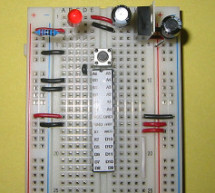 Intro: If you've got an Arduino Uno and want to start duplicating projects without having to buy an Uno every time... get ready to live!  This instructable will show you how to move your projects (that do not require serial communication) onto a breadboard for prototyping or expansion.  If you're looking for a more permanent solution check out these (breadboard ) (options ). Stuff You Should Have Already: - ...
Read more

›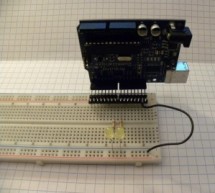 When you are tinkering around with your Arduino and a breadboard you might want to make yourself an "Arduino Bracket". Nothing more than header pins and a piece of wire, the "Arduino Bracket" keeps wiring neat and tidy, and lets you easily disconnect your Arduino for use in other projects. Step 1: Gather Necessary Supplies and Tools Materials: 40-Pin 2.54mm (0.1") Header Pin Strip x2 (Digikey, Newark, Local ...
Read more

›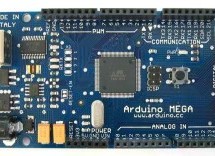 Sometimes you may do something stupid, other times it is totally inexplicable but as a result of whatever events, the green power light on your Arduino stopped coming on. In my case it turned out to be a burned out voltage regulator. This inscrutable is a explanation on how to replace it and identify the problem. I couldnt find anything online that explained how to fix a dead Arduino so this may help some p ...
Read more

›
As summer is coming, I bought a USB fan from HuaQiangBei, Shenzhen. However, when I focus myself on work(or game), I could hardly notice its existence. If I can teach it how to think and execute its duty without my order, that will be more practical and fun! So roll your sleeves and follow me to refit a temp-controlled fan! Step 1: The structure of USB fan is pretty simple. When you break it down(or even yo ...
Read more

›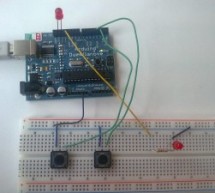 This example demonstrates the use of INPUT_PULLUP with pinMode(). It monitors the state of a switch by establishingserial communication between your Arduino and your computer over USB. Additionally, when the input is HIGH, the onboard LED attached to pin 13 will turn on; when LOW, the LED will turn off. Circuit image developed using Fritzing. For more circuit examples, see the Fritzing projec ...
Read more

›
This instructable will show you how to build an Arduino shield that adds another Atmega168/328 on top of your Arduino, giving you an extra complete set of I/O pins to use. That's 12 PWM pins, 12 Analog pins, 4 external interrupts,  or 40 Digital pins total. ----------------------------------- *UPDATE* 3-11-10 I re-did the Eagle file and scrapped the R/C header and both of the 7805 voltage regulators. The ne ...
Read more

›
Good news, everyone! I just started with the arduino and right at the very beginning I felt that I needed some sort of base to put the arduino on. I was reading one article from ladyada (http://www.ladyada.net/images/arduino/bumperplace.jpg) and she was using some rubber bumpers on the bottom of the board. I thought about that and decided to make myself some sort of a holder. These are the instructions how ...
Read more

›
On this instructable I will try to show how to interface a RFID sensor with the Arduino. I am using the RFID sensor from seeedstudio the serial version of it. There are a few parts you will gonna need. I also bought some RFID keys. UPDATE: Now it works with IDE 021 Step 2: Plugging all together Connect the antenna on the appropriate pins like the first photo. Plug the RFID sensor to the protoboard like the ...
Read more

›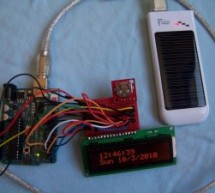 I've always been interested in monitoring my local weather, and noticed the difference between what weather.com and accuweather.com think my local weather is, and what I see out the window. I also wanted better control over my heating and A/C system. As a computer and electronics nut, I've been playing with the Arduino Microcontroller, and decided to to meld my interests. So here goes the documentation on m ...
Read more

›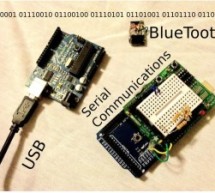 At this point you should have a robot that can think on its own, we need to be able to tap into its thought process. See what he sees. Make some of his decisions for him. in essence, we need to be able to guage his intelligence to make him more intelligent and increase his efficiency. With serial communications we can do two things: We can either send commands or receive data. Here are some examples to use ...
Read more

›