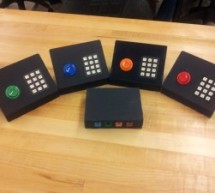 This instructable will teach you how to construct homemade game controllers for personal games, education aids, or anything you want. This system uses 4 controllers which send signals to a central hub which holds an Arduino. It was designed for use with a game called Fraction Smash that my group was developing for a class. Students would enter a fraction using the keypad to re-size their character and then ...
Read more

›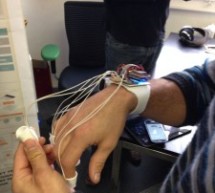 Hey guys! I'd like to share with you the input device I created specifically to interact with AR glasses like the Google Glass, Meta, Moverio BT or with the VR headsets like Oculus Rift, Samsung Gear VR, vrAse, Durovis Dive. Those new products are amazing and they need new types of input devices. This instructable will describe how to build your own "Gravity Touch bluetooth glove" and I will also give you s ...
Read more

›
Ever wanted to visualize your brain activity in real-time? Move an object on a screen with your mind? EEG devices are fantastic fun and allow you to do such things! This tutorial will show you how to make an illumino: a recreational EEG hat that turns your brainwaves into light. I always wanted my own simple EEG wearable to play with, especially one that was indiscernible to everyone else. I couldn´t find e ...
Read more

›
[box color="#985D00" bg="#FFF8CB" font="verdana" fontsize="14 " radius="20 " border="#985D12" float="right" head="Major Components in Project" headbg="#FFEB70" headcolor="#985D00"] Supplies: 1.  Arduino:  I used an Uno 2.  7.2v battery 3.  Set of motors:  Parralax's 7.2v motor set  http://www.robotshop.com/parallax-7-2v-motor-bracket-wheel-kit-pair.html 4.  Analog accelerometer http://www.robotshop.com/sfe- ...
Read more

›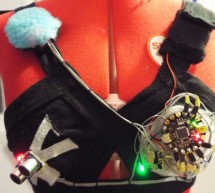 Use the force, Luke. Close your eyes, hold on tight to your light saber and........ Don't touch that dial.  No tweaking the knobs.  Just wave your hands in front of the two sensitive sensors embedded in this bespoke piece of wearable tech. The garment has an embedded Adafruit Flora wearable microprocessor to generate R2-D2 theremin like sounds. And it comes in Adafruit black.  Do not fear the dark side. Can ...
Read more

›
The Internet has become a pretty good mask to portray yourself as anything you want. This includes hiding your true emotions when posting facebook statuses, IMing someone, or sending emails (like telling you're boss they are awesome when they are really a jerk). But what about talking to someone in real life? How do you hide yourself then? That's where the Emoticon Helmet comes in. The person that you're ta ...
Read more

›
This Instructable will walk you through my process of making a Slot Machine costume with addressable leds controlled with an arduino! Step 2: Lets Get started Picture set up: I found my slot picture online that the best graphic that when enlarged would stay nice and clear. Be sure to follow the directions on the iron on transfer paper when printing and transferring. Print the picture to full page 8.5 ...
Read more

›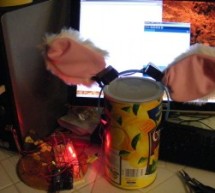 They are so dang cute. If you have ever seen the cool promo for the Necomimi Neurowear wearable set of cat ears that respond to brainwaves, you would want a set too. But it seems they may be vaporware since it hasn't materialized on the market yet, not that I would be able to afford them though. Necomimi or nekomimi is Japanese for "cat ears". What do you do with them? You can wear it for Halloween or every ...
Read more

›
This tutorial will show you how to create a garment that changes its behavior depending on how conductive you are. It detects conductivity through iron-on conductive fabric that we will use, and it will light up and sing different notes depending on how you touch the conductive fabric. We'll be using sewable electronics (the LilyPad arduino module) and conductive threads and fabrics so that your garment wil ...
Read more

›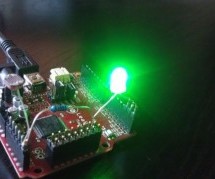 So, instead of buying a nightlight for my kid's room, I decided I could do a much better job of it. This nightlight cycles through 1500 colors over 7 mins and turns on when it is dark and turns off when it is light. It is also small enough into small objects to add effect. Step 1: Setup Arduino First create a voltage divider with the photoresistor and the 10k resistor. You can choose any ADC pin, I used 20. ...
Read more

›
Have your ever seen any of "Ben Hecks" portable console builds? Well if you haven't, he often uses these Chinese Famicom clone consoles. These cloned consoles are often times refered to as NOAC's, meaning NES On A Chip. They are called this because they are a fully functional Nintendo Entertainment System literally on one chip. The best part about the NOAC is that they include a 60 pin famicom game port, wh ...
Read more

›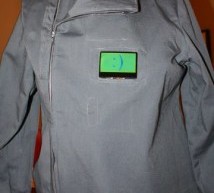 Concept: I would like to make a jacket that has a small LCD screen to create subtexts for interpersonal human interaction. The user would use a limited "keyboard" with force sensors and buttons under soft silicone keys to create computer textual subtitles to human interaction (textual emoticons, ie: :P). The dichotomy between personal interaction that occurs in physical space and that which occurs on a comp ...
Read more

›