I came across these Force Sensitive Resistors. I like them a lot and I wanted to do something with them, may be making them more usesable than standing on the breadboard. Few months ago, I created the pocket-sized  RevIO - Arduino Compatible and having fun with it since then. While playing with these two, I decided to put them together! To complicate things further, I wanted to use them wirelessly. So I add ...
Read more

›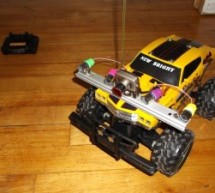 Obstacle avoiding vehicle, continue in "3D Laser Range Finder" series ( project 1, project 2). The basic idea is the same, measuring distance using red laser pointers, CCD analog camera and Arduino UNO.  Modification was made in geometry.  Two lasers were set for "far field" obstacle detection, few meters in front of vehicle on left or right side. Primary mission is to trigger left / right turn before a car ...
Read more

›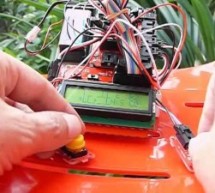 This game is a homage to Ariadne, the maze-generator from Inception :) If you haven't seen the movie yet - watch this video again after you do (you can also watch it now - it's not a spoiler, it's just funnier for inception-vets). The nice thing about it is that it's a 1st-person game, so when you rotate your character, it stays in place, and the maze rotates around it. This means that you don't only see a ...
Read more

›
For a class on youth and technology, we were assigned to a project using the LilyPad Arduino, a microcontroller board for making e-textiles. I decided to make a hanging board with a starscape that would light up and play a lullaby. I used cardboard, black cotton material, felt and silver beads to create the actual board (I call it a Bedtime Board). Check out the final product below. Materials you will need ...
Read more

›
If the thought of dozens of tricker-or-treaters in gross-out costumes knocking down your door makes you want to spew, have we got the pumpkin for you! Every time the Arduino-Controlled Chemical Foam Spewing Pumpkin encounters a trick-or-treater at your doorstep, it spews burning chemical foam all over your front lawn. Now you can convey how much trick-or-treaters make you want to vomit, without doing any re ...
Read more

›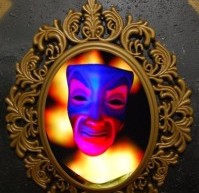 For Halloween 2012 I created an interactive Magic Mirror. The Magic Mirror has a sonar (PING)))) sensor that detects when kids are are close. Then the mirror says a few random phrases and automatically drops candy to the bucket. I repurposed my Automatic Candy Dispenser from two years ago. The PING))) sensor, fog and red lights are controlled by an Arduino. You can text "say [your name]" to a SMS short code ...
Read more

›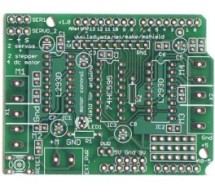 According to Ancient Greek mythology, Artemis and Apollo were immortal twins born ages ago on a rocky island in the Aegean Sea. Artemis, her hunting bow poised and fleet feet padding the forest floor, reigned as Goddess of the Moon. Her twin brother, Apollo, strummed his harp and recited poetry from his throne as God of the Sun.  Using an Arduino UNO microcontroller and a simple photo resistor (sensor), you ...
Read more

›
Everybody wants to know how many pageviews your own website has. But see what's happening you need some analytics code and stuff like this. I wanted to be connected to the wold when I'm sitting on my couch so I connected my Lucky Cat to the internet. Whenever someone visits a page on my website www.janhimself.de the cat waves it's arm for a while. At night though I need some silence. So I built in a RGB LED ...
Read more

›
***Disclaimer***This instructable is documentation for a work in progress. Although the project is not yet complete, it has reached a place where I believe it can begin to be beneficial to other makers. The concept for this project was spawned when a friend suggested I be Slenderman for Halloween. When I first looked at pictures, I wasn't terribly excited because I am a prop builder more than a costumer, an ...
Read more

›
This Instructables is about upgrading a plush toy to give it the ability to sing when baby presses its belly. Most importantly : it will not play a stupid pre-recorded music, but actually sing mommy's songs, with mommy's voice ! This project started with two goals in mind: customizing a nice gift for my baby, and raising support from my wife in my electronics hobby :-) [box color="#985D00" bg="#FFF8CB" font ...
Read more

›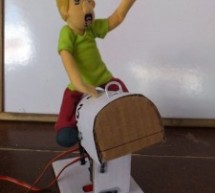 This mechanical bull was created as a weekend hobby. The creation process was simple and did not last more than two hours. The materials I already had at home. For those who wish to make an equal, will be a good opportunity to recycle materials and learn how to use the joystick shield with Arduino. Hope you enjoy. [box color="#985D00" bg="#FFF8CB" font="verdana" fontsize="14 " radius="20 " border="#985D12" ...
Read more

›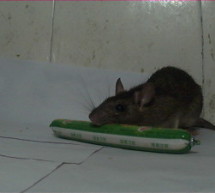 I live alone in a small house in Shenzhen, and i really I love this graceful and dynamic city. As an software engineer, I have no girlfriend yet, and usually nobody visit my room, I really love this because I do not need to clear my room! But, I found that I have a, or some, roommates recently: HELLO, my Roommates! Yes, my new roommate is mouse. The scattered crumbs pasta provides them enough food. I do not ...
Read more

›