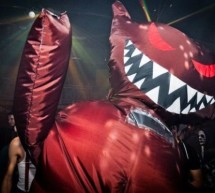 This was a behemoth of a project involving an inflatable costume, a LED costume, and a glove that controlled the colors and patterns of the LEDs. I've been wanting to make an inflatable creature that would give birth to me for a while now (lots of my friend's are having babies, so I guess my subconscious is trying to digest this).  In this project, the giant evil mama bear gives birth to a slutty baby bear ...
Read more

›
Building upon our last tutorial, which taught you how to build a muscle sensor, we've decided to give you a project that really showcases the power of our muscle (EMG) sensors. Advancer Technologies' "USB Biofeedback Game Controller" harnesses the power of electromyography to allow players to directly control video games with their muscles. At the core of this plug-in-play controller is the powerful yet low ...
Read more

›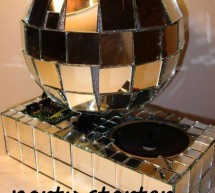 A desktop motorized musical disco ball.  Great for holiday parties, impromptu dance-offs, and Tuesday afternoons.   Bling, Music, Arduino, and glitter covered styrofoam; this Instructable has got what you need to get your boogie on.  Fires need help go get going, so do parties.   I recently moved from Hartford where my boys @HPSU(http://hartfordpartystarters.org/) would get it started every week.  Now I liv ...
Read more

›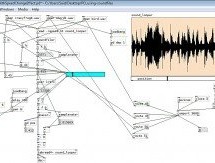 Introduction My project is about providing multiple saved cartoon sounds then do funny effect on them through controlling the speed of play either faster or slower. it contains 4 sound files:   Crazy Frog, Bird is the Word "by Family Guy", oompa loompa "by Willy Wonka movie", and a guitar chord to give one of the cartoon background sounds. Functional Description The project work through saving 4 sound files ...
Read more

›
[OoB] Shooting paintball maker with relay, Arduino and .NET WinForms My first Arduino based project was Sonar with C#, JS and HTML5. Now I continue the "Out of Boredom" series with a setup that allows firing a paintball marker (gun) with a command sent from a computer :) This time software stack is simpler - just a small Arduino sketch and uncomplicated WinForms (.NE My first Arduino based project was Sonar ...
Read more

›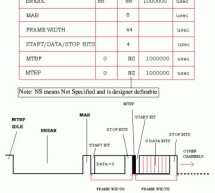 This shield allows to connect an Arduino with DMX equipment. It implements the RS485 interface to adapt the electrical levels needed for DMX connection. This shield has been designed with flexibility in mind and allows the user to choose between several Arduino pins for digital input and output of DMX data, it supports a microSD slot and also has the serial connection to support a serial LCD display. This d ...
Read more

›
Stage combat is the art of theatrical violence.  Rather than resembling fencing, stage combat is choreographed like dance for aesthetic and theatrical effect as well as for safety.  Over years of choreographing and teaching others stage combat choreography, I realized that one of the most difficult aspects of teaching someone choreography is the necessity of speaking to communicate the necessary moves.  By ...
Read more

›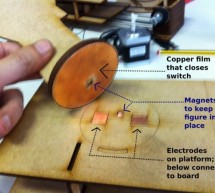 Retablillo de las Maravillas v1.0 Developed july>>august 2013 4./ Interactivity & electronics 4.1/ Switches / characters 4.2/ Screen / interface 4.3/ Motor controller 4.4/ I/O controller & interface [4./ electronics] [4.1/ switches / characters] The characters on top of the moving platform function, as interfaces, actually as on-off switches. While standing in its position on the platform that ...
Read more

›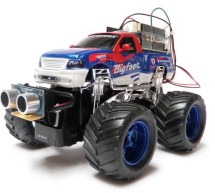 Converting an RC car into a robot is a quick and easy way to get started with robotics. At the very least, when you get bored of playing with your remote control car after three days, you can turn it into a robot that will do all of your evil bidding. Well, maybe not all of it, but at least a sizable amount. In this Instructable I will go over the bare minimum you need to get started. Think of it as a templ ...
Read more

›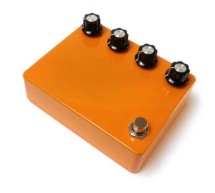 The Arduino Guitar Pedal is a digital multi-effect pedal based upon the Lo-Fi Arduino Guitar Pedal originally posted by Kyle McDonald. I made a few modifications to his original design. The most noticeable changes are the built-in preamp, and the active mixer stage which lets you combine the clean signal with the effects signal. I also added a sturdier case, foot switch, and rotary switch to have 6 discreet ...
Read more

›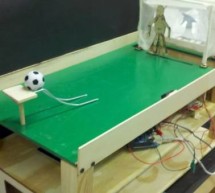 Send a Foosball down a ramp and try to score on the goalie! But scoring is not so easy - the goalie moves left and right to block your shot! This project was made for a class called "Thinks that Think" at CU Boulder for the Spring 2012 semester Step 1: Ramp Materials: Aluminum tubing, Basswood, Wooden Dowel, Wood Glue Tools: Hand Drill, Drill Bit 1. Cut a rectangle from a piece of ⅜" Basswood for the stag ...
Read more

›
This project is a subset of my idea of an interactive wall.. so this is an interactive wall-piece.. What does it do ?   Mine is a touch activated light display. How does it work?  It is controlled by an Arduino UNO which senses the inputs and turns on the respective outputs. Step 1: Building the touch sensor If u have an Arduino board, building a touch sensor is a cakewalk.. U dont need ny external hardware ...
Read more

›