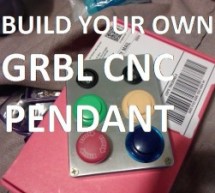 So you just finished your DIY CNC machine, set up GRBL and even cut your first part.  Now what?  Well, did you know that as of GRBL v0.8 there are pinouts some really useful commands such as Cycle Start, Feed Hold and a Soft Reset?  Cycle Start and Feed Hold allow you to literally pause your machine so you can double check that your tool isn't about to hit a clamp, or maybe you just need to run inside to gr ...
Read more

›
Episode 3 of AndroidTec, Formed by members thamind (Jon) chaostic (Lewis) & Computer Whiz (Jim) and introducing GuyCothal, who discusses about the amazing abilities of Arduino micro controller boards and how they can be used with Androids! Jason also made a guest appearance! ...
Read more

›
This is a project for Arduino to make a 2D Level, aimed at beginners. Arduino draws a circle on an LED Matrix that moves around according to readings from a 2D Accelerometer. Objectives: * Learn how to draw a circle using simple Maths * Learn how to use the LOL shield for the Arduino * Learn how an accelerometer works Step 1: What you need You will need: * Arduino UNO * LOL shield   (http://jimmieprodgers.c ...
Read more

›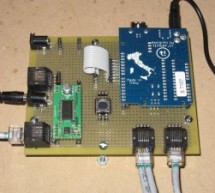 Design: The rotational motion produced by the motor is transformed into linear motion through the use of a standard 1/2"-13 threaded rod as a lead screw. To account for angular misalignments in the rod the motor is not attached to it directly, but rather through a belt and pulley system. The ball bearing screen door roller is added to increase the tension and to combat the stretching in the belt. In order t ...
Read more

›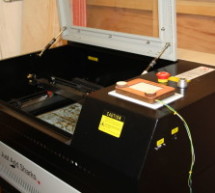 In this project I take an Arduino Mini Pro connect it to a custom made Etch A Sketch panel and use it to control a Blacknose laser cutter. The result is hours of crazy laser cutting fun, which we will be taking round most of the UK Maker Faires this year for JustAddSharks.co.uk The Etch A Sketch has 2 knobs in the lower corners, one controls movement in the X axis and the other controls movement in the Y Ax ...
Read more

›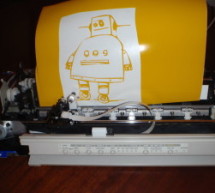 Vinyl cutters are used in the sign writing industry, and are great for making stickers, signs and graphics. I would like to thank Instructable  members silverjimmy  and Groover for their fantastic laser cutter instructables, without which I would not of been able to complete this project. My idea is to take an old printer and turn it into a vinyl cutter, as they are quite similar in there design and it woul ...
Read more

›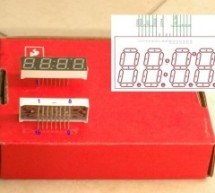 Goals Understand the Analog Signals and use your knowledge to program your Arduino and let it play music Get known of the Seven-segment display and use your Arduino Board together with the Shift Register to control the number. In the Second Week you will be asked to implement a circuit to combine these first two parts together to build a alarm clock. Introductions Shift Register In digital circuits, a shift ...
Read more

›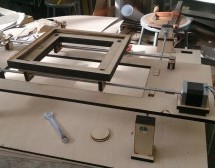 The Arduino Quilting Machine combines the mechanics of a sewing machine, CNC technology and Arduino as an operating system. The project is designed to translate a vector file from a computer into G-code and subsequently into Arduino language which then moves the machine. The project uses four stepper motors to control the x-axis, y-axis, the bobbin case, and the threading. The bed moves in x and y direction ...
Read more

›
Hey! Some time ago while going through the pages here in Instructables, something catch my attention, a printer made of a CD reader, and i was amazed. I thought: "This is incredible, I have to make one!" I know that these kind of projects don't always receive a "I made it", because of its degree of difficulty, so I tried to make mine easier. This project was started more than a year ago, because of the lack ...
Read more

›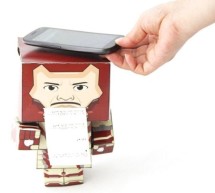 Paper Man is a machine comprised of Arduino, NFC Shield, thermal printer and a papercraft shell—Iron Man. Thanks to the NFC Shield, you can directly sent messages from your mobile to the paper man, and the paper man will spit it out by printing with the thermal printer. The following video shows you the details of how Paper Man works. Step 1: Preparation [box color="#985D00" bg="#FFF8CB" font="verdana" font ...
Read more

›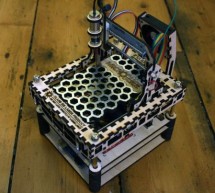 A few years ago I saw an Instructable where Groover had used a pair of DVD-RW drives to make a pocket laser engraver. Inspired by the idea, driven by the recent purchase of a full-sized 50 watt CO2 laser cutter, and roused by the launch of the Microcontroller contest I took the decision to have a crack at making my own mini laser engraver. I have called the project the MicroSlice. What are the features of t ...
Read more

›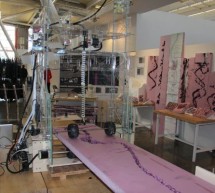 S.A.M. Spring Aided Machining (CNC with solvent) is a school project designed by three architecture students at CCA, San Francisco: Matt Boeddiker, Abelino Robles, and Tim Henshaw-Plath. (www.cca.edu) The machine is capable of rapidly prototyping and creating subtractive formwork that can be used to cast material. The machine was designed with the instruction of Jason Kelly Johnson, and Michael Shiloh in th ...
Read more

›