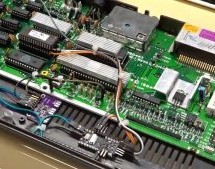 We're used to our computers being powerful enough in both peripheral and processing terms to be almost infinitely configurable under the control of software, but there was a time when that was not the case. The 8-bit generation of home computers were working towards the limits of their capability just to place an image on a TV screen, and every component would have been set up to do just the job it was inte ...
Read more

›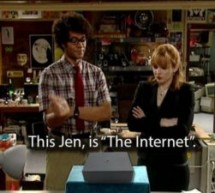 Background A few years ago, a co-worker turned me on to this TV program called "The IT Crowd". The show revolves around a two-person IT team and their "Relationship Manager", Jen, who inadvertently landed the job by including some basic PC skills on her resume. Moss and Roy resent her for getting the position both wanted, and will occasionally try to help expose Jen as a hopeless non-technical leader that h ...
Read more

›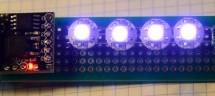 Update: Looks like somebody had this idea before me and made a product out of it. Just Google Fake TV. In fact, you can also buy a clone of this from AliExpress – again, just search for 'fake tv' in AliExpress. The Chinese versions can be had for about $12 in your hand and that includes a power supply (no doubt of somewhat dubious quality and safety standards). So what follows is a fun project, but it's eas ...
Read more

›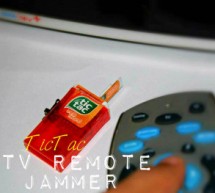 That moment you take your eyes off the TV remote for just a second, because of which it falls into the hands of your annoying sibling. Yes, fighting for control over the TV is a daily struggle for many. But the TV Remote Jammer shown in this Instructable, will make everyone else stop dead in their tracks. This Remote Jammer circuit, in the disguise of an inconspicuous TicTac Box, sends a constant signal to ...
Read more

›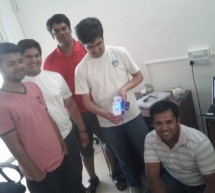 This was my first time attending the Internet of Things Pune Group. It was such a fun learning experience! At today's meetup, Dhiraj and Nishant started out by introducing the InduinoX and Arduino Uno boards along with the Processing IDE that is used to write the code. After playing around with couple of sensors on the InduinoX we thought of doing a micro project together and finally settled on doing a Tic ...
Read more

›
UPDATES Mar 05, 2013 Featured on WonderHowTo http://goo.gl/fpeVC Feb 14, 2013 Featured on LifeHacker  http://goo.gl/tx4QG Feb 13, 2013  I have updated the Arduino program in step 4 to support additional remote controls. Feb 13, 2013 Featured on Dangerous Prototypes http://goo.gl/DJcwe Feb 12, 2013 Featured on Semageek  http://goo.gl/EH58K Feb 12, 2013 Featured on Embedds http://goo.gl/Z3egm Feb 12, 2013 Fea ...
Read more

›
OK, I know that sounds weird, but bear with me for a moment.  My Pops really enjoys two things; 1) channel surfing and 2) farting. So one day I was over at http://hackaday.com/ and read about a guy who used his Arduino to turn a TV on and off with one of those brainwave reading headsets.  Then later on that same day I was here at Instructables and a fellow had made an office chair that twitters every time h ...
Read more

›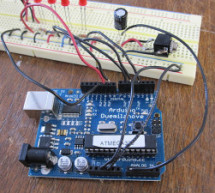 This project functions to display sound using vibration.  You plug your iPod, computer, or TV into it and get tactile feedback representing the loudness of the audio.  It can help deaf people to experience sound. Stuff you need: Arduino USB Cable Computer running Arduino software (www.arduino.cc/download/) Breadboard LEDs Pager Motors Three 100K resistors Six 220uF resistors 1K potentiometer 3-Conductor Ste ...
Read more

›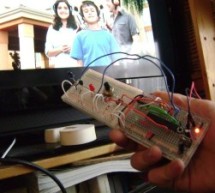 Have you ever wanted to use a good old knob to control your TV volume instead of repeated button pushing? Or make it controlled by light? Do you want your remote to be replaced by an awesome arduino and let it do the hard work of using a remote for you? Well this instructable is for you! Also if you just want to learn how to use IR to control your TV with your arduino this will help you gain some understand ...
Read more

›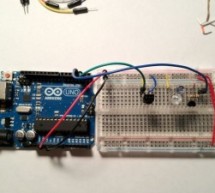 Hey Arduino fans! Here is an 'ible for making a device that turns TVs on when you want them off, and off then you want them on! If you hide it in something inconspicuous, it would make a great April Fools joke or gag gift. And the best part is that the total parts cost is less than $1.50!! (Assuming that you already have an Arduino and the tools) This is a contest entry for the LED Contest with Elemental LE ...
Read more

›
Who would have thought that just about every Arduino attachment can be controlled in some way with a TV remote? Now its time to find out how. Arduino.skp141 KB Step 1: Setup and Materials The setup for this is quite basic. The real challenge is finding neat products for this and writing the code. Materials. 1x Arduino 1x Servo available @ Hobbyking Sparkfun etc. Jumper wires 1x Infrared receiver diode avail ...
Read more

›
We use them every day, but has no one got bored of pressing buttons on a stick, it's far too much effort pressing buttons! Surely there are better ways to control a device? After doing some work with my Nikon camera using IR to control it, I wanted to do the same with other devices. Check out the video at the bottom of this post… However, unlike the Nikon remote, my Samsung TV remote has many many buttons s ...
Read more

›