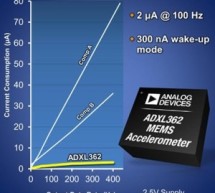 Description The ADXL362 is an ultralow power, 3-axis MEMS accelerometer that consumes less than 2 μA at a 100 Hz output data rate and 270 nA when in motion triggered wake-up mode. Unlike accelerometers that use power duty cycling to achieve low power consumption, the ADXL362 does not alias input signals by undersampling; it samples the full bandwidth of the sensor at all data rates. The ADXL362 always provi ...
Read more

›
Description Plessey Semiconductors Electric Potential Integrated Circuit (EPIC) product line targets a range of applications. The PS25451 is an ultra high impedance noncontact solid state electric potential sensor. It can be used to detect field disturbance due to the movement of a near-by object. This functionality can be employed in a range of applications including security motion sensors and non-contact ...
Read more

›
The higher resolution EV76C570 is the latest addition to e2v's renowned industrial CMOS imaging sensor range. The device features an identical CLCC48 package with only a minor change in hardware, and retains optical compatibility with the 1.3MP Sapphire sensor that is already in full production. A 1/1.8 inch optical format is retained thanks to the reduced pixel size of 4.5µm x 4.5µm.  The SPI register bank ...
Read more

›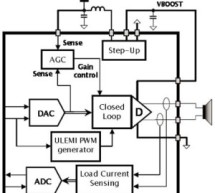 Description The DAC34SH84 is a very low-power, high-dynamic range, quad-channel, 16-bit digital-to-analog converter (DAC) with a sample rate as high as 1.5 GSPS. The device includes features that simplify the design of complex transmit architectures: 2× to 16× digital interpolation filters with over 90 dB of stop-band attenuation simplify the data interface and reconstruction filters. Independent com ...
Read more

›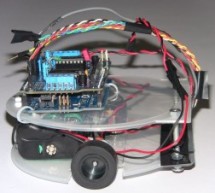 UPDATE FEB 2012: This guide is featured on Adafruit's blog http://www.adafruit.com/blog/2012/02/14/arduino-based-line-follower-robot/ This is Faz3a II, my first line-following robot, which I also hope to use for maze-solving. I used the Arduino Uno, Adafruit motor shield, Pololu's QTR-8RC line sensors and motors. You can build a cheaper and lighter version of this robot using the Atmel Atmega328 and the L29 ...
Read more

›
Dresden, Germany, February 25, 2013 – ZMD AG (ZMDI), a Dresden-based semi­conductor company that specializes in enabling energy efficient solutions, today announces the release of the ZSPM4521 high-efficiency lithium-ion (Li‑ion) battery charger and the ZSPM4523 super capacitor charger for managing charging with photovoltaic sources. As a global supplier of analog and mixed signal solutions for automotive, ...
Read more

›
This was my very first arduino project.  Its great for beginners. Fade the color or the lights my moving your hands near it.  It fades from a pretty purple blue to a firey red-orange. Its was SUPER easy to build, not to hard to write the code, and its really impresses people!  I gave it to my mother for christmas, and it was a big hit. Watch the video to see it in action! I apologize for the poor quality, I ...
Read more

›
The ADXL346 is a small, thin, ultralow power, 3-axis accelerometer with high resolution (13-bit) measurement at up to ±16 g. Digital output data is formatted as 16-bit twos complement and is accessible through either an SPI (3- or 4-wire) or I2C® digital interface. The ADXL346 is well suited for mobile device applications. It measures the static acceleration of gravity in tilt-sensing applications, as well ...
Read more

›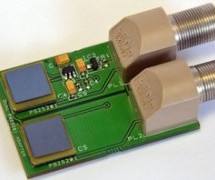 25101 EPIC Sensor Single Channel Demo Electrode (PS25201 EPIC sensor) PS25101 is an ultra-high impedance solid state ECG (electrocardiograph) sensor probe assembly, complete with connecting lead and DIN plug termination, which operates with the PS25001A EPIC 60Hz Evaluation kit. It can be used as a dry contact ECG sensor without the need for potentially dangerous low impedance circuits across the heart. The ...
Read more

›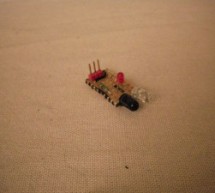 Have you ever wanted to make a line following robot but the infrared sensors were too expensive for you? Do you want to upgrade the robot in my other instructable? Well this instructable comes in two stages, Stage 1 is the prototyping stage, where you build the circuit on the bread board and debug it for design flaws. Stage 2 is fabrication where I'll teach you how to create a strip board product that you c ...
Read more

›
With this device you diminish the use of water in your house or work. Instead of waiting to see vapor in the shower to get in, this device help you to know when the water its at the temperature you want and you can instantly enter to the shower. In this way you don't waste the water by not knowing when its ready. This device shows the temperature of the water with a led bar (made from 10 leds). The leds get ...
Read more

›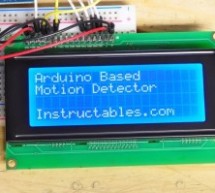 In this Instructable, I'll be explaining how to build a motion activated alarm! It uses an Arduino microcontroller, a PIR (passive infrared) sensor, and a type of alarm. You can use an LED indicator, a buzzer, or a piezo. That's the easy part. I will also be showing how to display to a character LCD screen, and over serial communication with a pair of XBee chips to relay the information to your computer! We ...
Read more

›