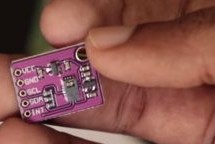 Every time we watch Minority Report we want to make wild hand gestures at our computer — most of them polite. [Rootsaid] wanted to do the same and discovered that the PAJ7620 is an easy way to read hand gestures. The little sensor has a serial interface and can recognize quite a bit of hand waving. To be precise, the device can read nine different motions: up, down, left, right, forward, backward, clockwise ...
Read more

›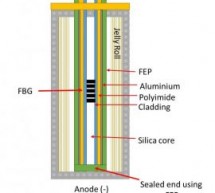 Researchers at the University of Warwick in the UK have developed sensors which measure the internal temperature and electrode potential of Lithium batteries. The technology is being developed by the Warwick Manufacturing Group (WMG) as a part of a battery's normal operation. More intense testings have been done on standard commercially available automotive battery cells. If a battery overheats it becomes a ...
Read more

›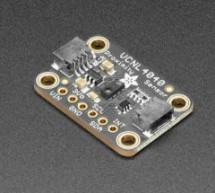 Adafruit has this week announce the arrival of a new product in the form of the Adafruit VCNL4040 Proximity and Lux Sensor – STEMMA QT, which is now available to purchase at an affordable $5.95. The VCNL4040 offers a handy two-in-one sensor, with a proximity sensor that works from 0 to 200mm (about 7.5 inches) and a light sensor offering a range of 0.0125 to 6553 lux. The board measures 25.3mm x 17.8mm x 4. ...
Read more

›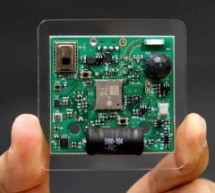 In the era of Internet of Things, we wanted most of our home appliances to become smart. But currently, smart devices may cost much more than their offline counterparts and they often do not communicate with each other. Trying to overcome these limitations, A Ph.D student invented a way to turn entire rooms into smart with a single low-cost device called "Synthetic Sensors". Gierad Laput, is a Ph.D. student ...
Read more

›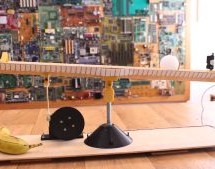 It is a common situation in electronics to have a control loop, that is some sort of feedback that drives the input to a system such as a motor or a heater based upon a sensor to measure something like position or temperature. You'll have a set point — whatever you want the sensor to read — and your job is to adjust the driving thing to make the sensor read the set point value. This seems easy, right? It do ...
Read more

›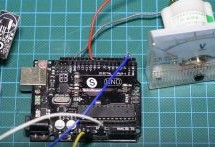 Introduction Sometimes, it is necessary to add a temperature indicator into your projects. Therefore, in this tutorial you will learn how to hack your analog Voltmeter and convert into an analog Thermometer using Arduino and a DS18B20 temperature sensor. DS18B20 Module In the first place, the Maxim DS18B20 digital thermometer provides 9-bit to 12-bit Celsius temperature measurements and has an alarm functio ...
Read more

›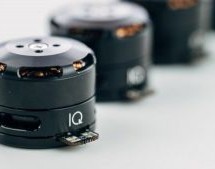 The drone industry is booming, and the technology is just… cool, to put it plainly. Flying robots, many of which are completely autonomous delivering our goods and also spying on us. Makers and hobbyist are getting on the bandwagon, making their customized drones with available parts. With the boom of UAV (Unmanned Autonomous Vehicle) and Drone technology also comes the growth of issues. Electric motors are ...
Read more

›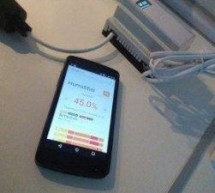 I worked on creating a Internet connected worked on creating a Internet connected last week using my open source WiFi relay project as platform. We observe quite dry air at our house, I suspect this is due to the fact that we use fan coils for heating/cooling. Humidity levels at home are usually below the 30% mark, which poses a health risk along with uncomfortably dry air. I've found these interesting char ...
Read more

›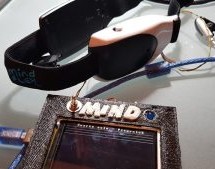 If poetry is your thing, this hack might convince you that your brain is more advanced than the rest of us poor sots. [Roni Brandini] designed a system that prints lines of poetry when you concentrate. The Mind Poetry project uses an EEG headset from Mattel's Mindflex toy and pipes your brain's signals to an Arduino Mega 2560. The system then looks for patterns of brain waves that indicate concentration. As ...
Read more

›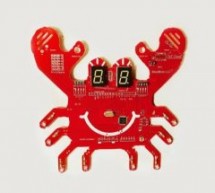 The small development team at Bits4Bots have created a new Arduino compatible development board aptly named the Crabbie thanks to its unique crab inspired shape. Watch the demonstration video below to learn more about the hybrid sensor shield specifically created to introduce children into electronics and programming. The board is equipped with 2 x 8 watt speakers, 8 x 3mm leds, ISCP header, JST-1 battery c ...
Read more

›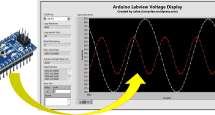 In my previous article, I have made the Bridge Monitoring System using Wireless Sensor Network project, which allows me to display all the related measurements from Arduino on my PC. Therefore, in this article, I am going to explain in details on how to display the Arduino measurements using Laboratory Virtual Instrument Engineering Workbench (LabVIEW). Two analog inputs of Arduino will be measured and disp ...
Read more

›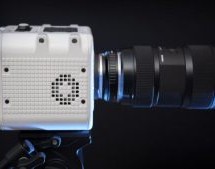 Now that digital imaging sensors are starting to become more freely available to the masses, all kinds of open source projects have been popping up that use them. Most of them are typically fairly limited to things like the Raspberry Pi or development boards like the Arduino and ESP32. But now, there is a new and pretty serious looking open source camera out there. It's called the Octopus, it has interchang ...
Read more

›