SurveilsQUAD (e-CAM20_CUXVR) is a synchronized multiple camera solution for NVIDIA® Jetson AGX Xavier™ Developer Kit that consists of four 2MP camera board and a base board to interface with the NVIDIA® Jetson AGX Xavier™ Developer Kit. Each camera is based on the camera module e-CAM21_CUMI290_MOD, a SONY® Starvis IMX290 color CMOS image sensor.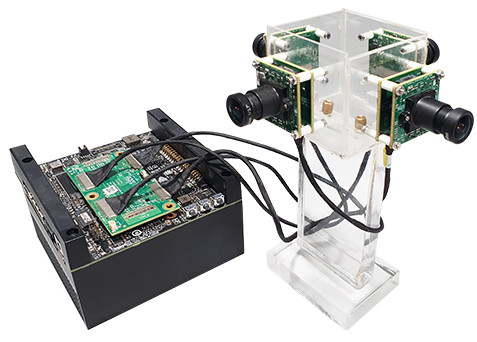 E-con Systems has launched a SurveilsQUAD (e-CAM20_CUXVR) camera system with a V4L2 Linux driver and a sample Linux app with source. The Linux-driven, AI-enabled "SurveilsQUAD" camera system features Nvidia Jetson AGX Xavier or TX2 with 4x 2-megapixel cameras with HD or FHD resolution connected via MIPI-CSI-2.
Just like the robotics focused e-CAM130_CUXVR kit which was launched in January, the SurveilsQUAD has four 4-lane MIPI-CSI-2 connected cameras and is built to function with the Linux-powered Nvidia Jetson AGX XavierDevelopment Kit, but the SurveilsQUAD cameras are 2-megapixel instead of 13MP. This seems like a set back to me, because of performance. The application is surveillance augmented via AI and deep learning applications running on the Xavier module's high-end Nvidia Volta GPU. It supports applications like smart surveillance, parking lot management, intruder detection, and object tracking.
The SurveilsQUAD, which can also function with the developer kit for the lower-powered Jetson TX2, is designed based on E-con's e-CAM21_CUMI290_MOD camera, which integrates a Sony Starvis IMX290 color, 1/28" CMOS image sensor. SurveilsQUAD's 2-megapixel camera supports HD (1280 x 720) and FHD (1920 x 1080) at 30fps in sync mode and 120fps or 60fps in async mode, which hinges on if it is 10-bit or 12-bit output being used. The system utilizes the Xavier Image Signal Processor (ISP) for processing Auto White Balance and Auto Exposure control functions.
Features:
Sensor: 1/2.8″ Optical format CMOS Image sensor
Focus Type: Fixed focus
Resolution: 2.0 MP
Pixel size: 2.9 µm x 2.9 µm
Sensor Active Area: 1945H x 1097V
G sensitivity: 1.3 V @ 12-bit HCG mode, 0.65 V @ 12-bit LCG mode
Output Format: RAW 10/12 bit
Shutter type: Electronic Rolling Shutter
Holder: S-Mount
ISP: External ISP
DFOV : 132°(with the lens provided by e-con)
Read more: AI-ENABLED SURVEILSQUAD CAMERA FEATURES JETSON AGX XAVIER