IoT application development SensiBLE 2.0 by SensiEDGE simplifies cloud connectivity, shortens time to market and accelerate Delivery of Industrialized IoT solution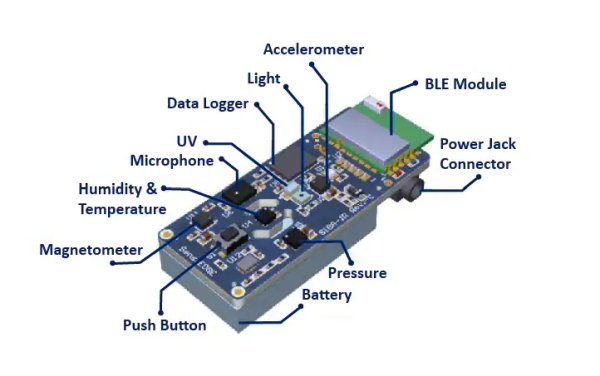 Introducing SensiBLE 2.0, a new portable IoT module in a small form factor (17 x 40mm) powered by a rechargeable Li-Ion battery. Packed with a variety of sensors such as ambient light sensor, UV sensor, pressure sensor, relative humidity sensor, as well as a microphone, SensiBLE 2.0 is a true IoT application accelerator. It features an accelerometer and magnetometer so the device can be used as a digital compass, pedometer or to measure vibration levels.
SensiBLE 2.0 runs on the all-in-one Bluetooth 4.2 module SPBTLE-1S from STMicroelectronics. This is a certified module that includes the BLE v4.2 stack and the low-power ARM® Cortex®-M0 32-bit core. It has been designed to leverage the BlueNRG-1 integrated DC-DC step-down converter in order to achieve low power consumption in active mode. The module runs at 32MHz, which is more than enough for most applications. In addition, the module has 160 KB of flash and 24 KB of embedded RAM with data retention.
SensiBLE 2.0 is fully compatible with STBLESensor application (available for Android and iOS). This program makes it easy to read values and send them to Cloud. Also available to designers is SensiBleWindows, a unique SensiEDGE application for Windows. The source codes and SDK of both programs can be found on the GitHub, and its license allows designers to edit their source codes based on their individual requirements.
Features
Dimensions 17mm x 43mm x 9mm
Bluetooth:

v4.2 Bluetooth Low Energy 2.4GHz
BLE Certified Module SPBTLE-1S
Bluetooth Smart sensor and hub device
BLE Chipset: ST BlueNRG-1
On-Board Antenna
RF Conn/Antenna: Chip Antenna
Internal High-Speed Clock: 32MHZ crystal oscillator
External Low Power Clock: 32.768KHZ
Tx power: +5dBm
Rx sensitivity: -84dBm
Certification CE/FCC/IC/SRRC
BQE Qualified

ARM® 32-bit Cortex®-M0 CPU High performance, ultra-low power processor
Data Logger: 4Mbit SPI_Flash

Serial Flash: AT25XE041B-MHN-T
Sensors

Accelerometer: LIS2DW12
Magnetic sensor: LIS2MDL
Pressure sensor: LPS25H
Relative humidity & temperature: HTS221
Digital MEMS Microphone: MP34DT05-A
Light Sensor: APDS-9250
UV Sensor: VEML6075

User Interface

I/O Expander: FXL6408
RG LED: LTST-C195KGJRKT
User Button: KMR221NG

Power Interface

Rechargeable Battery
Micro – USB on Debugger Board
External Power: 4.25V <Vin <6.5V
SensiBLE 2.0 is an industrial-grade customizable solution for design engineers looking to design IoT products without getting involved in either hardware development or production logistics. A key benefit of SensiBLE2.0 is that it allows developers to focus on their own applications, domain expertise and core competencies, rather than the underlying hardware platform or production logistics when creating products for the IoT.
Read more: SENSIBLE 2.0 NEXT GENERATION OF INDUSTRIALIZATION OF IOT SOLUTION