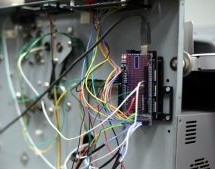 It's a common enough situation, that when an older piece of equipment dies, and nobody wants to spend the money to repair it. Why fix the old one, when the newer version with all the latest bells and whistles isn't much more expensive? We all understand the decision from a business standpoint, but as hackers, it always feels a bit wrong. Which is exactly why [tommycoolman] decided to rebuild the office ...
Read more

›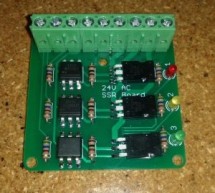 Does the world need another connected thermostat? When my thermostat went on the blink last winter, I looked at Nest, and Ecobee, and the other me-too thermostats, and I decided I would rather build my own. If Nest goes out of business (or even more likely, Google decides to go a different direction), all that cool connected functionality pffft! If I want to control it just inside my house, I don't re ...
Read more

›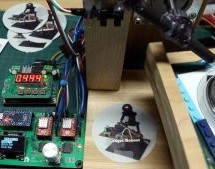 Hackers always have their eye out for a good deal, so when [Gadget Reboot] saw a good price on square stickers he had to pull the trigger. There was just one problem: his logo is a circle. He could have rectified the problem with a pair of scissors on a lazy afternoon, but we think building an elaborate circle cutting machine was a much better use of his time. But this project isn't just for the Giotto wann ...
Read more

›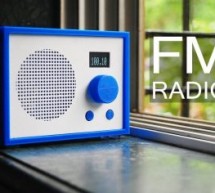 https://youtu.be/oNqWfiP2yg0 Recently, I came across RDA5807 module which is an FM Radio Tuner in a very tiny package. It is very cheap and uses I2C protocol for communication which means that only two wires will be required to talk to the IC. Less wiring! My mom used to listen to the radio every day while cooking food before the radio died. I wanted to surprise her with a radio which I built myse ...
Read more

›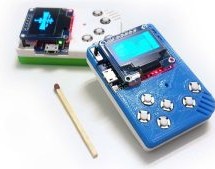 What is part way between a printed circuit board and a rats-nest of point-to-point wiring? We're not sure, but this is it. [Johan von Konow] has come up with an inspired solution, 3D printing an Arduboy case with channels ready-made for all the wires. The effect with his 3DPCBoy is of a PCB without the PCB, and allows the console to be made very quickly and cheaply. The Arduboy — which we originally looked ...
Read more

›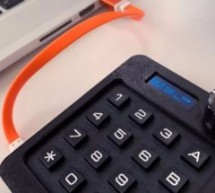 The team over at RetroKits have created a new open source RK-007 MIDI Commander allowing those interested to hack into their MIDI setup. The device requires minimal soldering and set up and is based on an Arduino Pro Micro and easy available parts found online. The Pro Micro is able to be a USBMIDI device so you can plugin the RK007 into the RK005 / RK006 (or just plug it into a computer with a DAW) and inc ...
Read more

›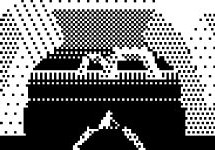 A neat little hacker project that's flying off the workbenches recently is the Arduboy. This tiny game console looks like a miniaturized version of the O.G. Game Boy, but it is explicitly designed to be hacked. It's basically an Arduino board with a display and a few buttons, anyway. [rv6502] got their hands on an Arduboy and realized that while there were some 3D games, there was nothing that had filled po ...
Read more

›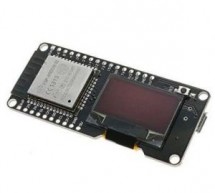 For the long series of articles documenting My Journey into the Cloud I used two small evaluation boards, equipped with an ESP32 32-bit controller, an antenna and a micro USB socket (the latter also serves for power supply input and provides a path for uploading programs). For newcomers, the controller can be programmed using the intuitive Arduino IDE, because the board manufacturer Espressif has provided a ...
Read more

›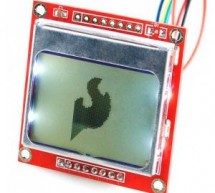 Have you ever been unsure which display you should be using in your next project? This tutorial from educ8s.tv will come in handy for choosing the best display for your each and every Arduino project! There are lots of choices, so let's talk about each one of them. Basically, you have three types of displays: LCD displays, OLED displays, and E-paper displays. LCD displays: LCD (liquid crystal display) is th ...
Read more

›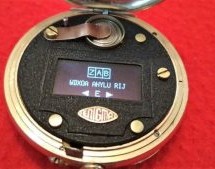 A pocket watch, tucked into a waistcoat pocket and trailing a long chain, is a retro-hip accessory. A pocket watch gutted of its mechanical innards and updated as a smart appliance might be a horological abomination, but would still be a cool hack. A pocket watch converted to a digital Enigma machine is in a class all by itself. [Simon] admits that he has a thing for pocket timepieces, having a sizable coll ...
Read more

›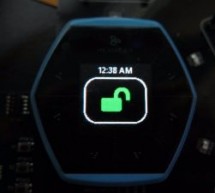 Reinventing the home security system with the IoT method using sensors connected to a Node.JS server. Story The Idea Modern security systems have several disadvantages, some of which are: As a user to you can't customize the system the way you want The panel is in a centralized location, if you can't get to it and you don't have a keyfob handy, there is no way to trigger the alarm or arm it There may be vul ...
Read more

›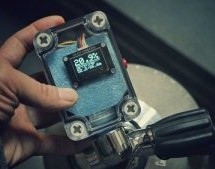 For Hackaday readers who don't spend their free time underwater, nitrox is a blend of nitrogen and oxygen that's popular with scuba divers. Compared to atmospheric air, nitrox has a higher concentration of oxygen; which not only allows divers to spend more time underwater but also reduces the risk of decompression sickness. Of course when fiddling with the ratio of gases you breathe there's a not inconseque ...
Read more

›