In the days before every piece of equipment was an internet-connected box with an OLED display, engineers had to be a bit more creative with how they chose to communicate information to the user. Indicator lights, analog meters, and even Nixie tubes are just a few of the many methods employed, and are still in use today. There are, however, some more obscure (and arguably way cooler) indicators that have been lost to time.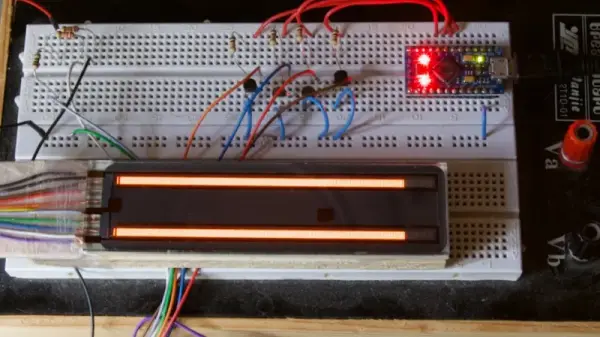 [Aart Schipper] unearthed one such device while rummaging around in his father's shed: a pair of Burroughs Bar Graph Glow-Transfer Displays. These marvelous glowing rectangles each have two bars (think the left and right signals on an audio meter, which is incidentally what they were often used for), each with 201 neon segments. Why 201, you may ask? The first segment on each bar is always illuminated, acting as a "pilot light" of sorts. This leaves 200 controllable segments per channel. Each segment is used to "ignite" its neighboring segment, something the manufacturer refers to as the "Glow-Transfer Principle." By clever use of a three-phase clock and some comparators, each bar is controlled by one analog signal, keeping the wire count reasonably low.
Don't get us wrong, the warm, comforting glow of Nixie tubes will always have a special place in our hearts, but neon bar graphs are just hard to beat. The two do have a similar aesthetic though, so here's hoping we see them used together in a project soon.
Source: NOBLE GRAPHS: DISPLAYING DATA WITH NEON LIKE ITS 1972