Ever electronic device emits a certain amount of electromagnetic fields and we can use this radiation to learn a few things about the circuit. In today's instructable I'm going to show you how to build your own electromagnetic field meter using an Arduino. This device can be used to detect mains voltage, static electricity and radiations from certain devices. It can also be used to detect ghosts :P. So lets ...
Read more

›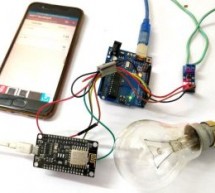 We all know about Electricity energy meters which are installed in everyone's house or offices to measure the electricity consumption. At last of every month, many of us get worried about the high electricity bill and we have to look at the energy meter once in a while. But what if we can monitor our electricity uses from anywhere in the world and get an SMS/E-mail when your energy consumption reaches to a ...
Read more

›
I needed a Lux meter for testing flashlights. There are some good lux meters available in the $15-25 range, but shipping always takes a long time and I needed it now. That's when I realized that I had an unused BH1750 light meter module laying around, which I bought some time ago but never used it. So I grabbed an Arduino, a Nokia 5110 LCD, wired everything up on a breadboard and had a functioning lux meter ...
Read more

›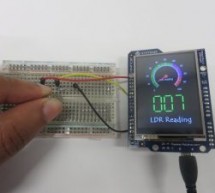 In this project we will monitor the room temperature using a LDR_NSL19_M51 light dependant resistor (LDR) and 4Duino. The resistance of the LDR varies significantly with ambient light hence it can detect surrounding light intensity changes in real time. In this project 4Duino's resistive touch display is used as a means for displaying the detected light intensity using LED digits and an angular meter. HOW I ...
Read more

›
I recently bought a 500ppm LCR meter from Elektor because I didn't have anything for measuring inductors or the ESR (equivalent series resistance) of capacitors, both of which are important for modern electronics, particularly switch mode regulators that have become ubiquitous. It is also more accurate than any of my multimeters and has wider measurement ranges. For example it can measure resistance from 0. ...
Read more

›
Update! Here is a post with the BOM for the project. Sometime ago I came across the Arducam Mini which is quite a nice camera module from UCTronics. It is a small PCB with a two megapixel OmniVision OV2640 sensor, an interchangeable lens and an FPGA to do the heavy lifting of image processing and JPEG encoding. Priced at around 24 Euros (lens included) you can easily buy a few without hurting your wallet an ...
Read more

›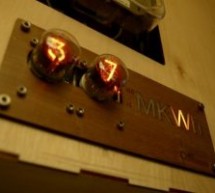 Having recently bought a house, project time has been a bit thin on the ground. As a standard terrace house, the consumer unit and electricity meter were in the entrance hallway, exposed and looking a bit naff. I liked the look of the meter so I quickly created a box that allowed the meter to poke through and leave access to the fuses. The box covering did the job but felt a bit cumbersome with all that spa ...
Read more

›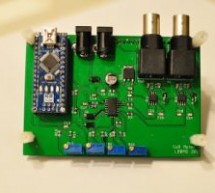 Homebrew SWR and power meter First of all, this SWR meter in this article is not exactly homebrew, as I based the circuit on the schematic in the excellent book Arduino Projects of Amateur Radio. Although I bought the book and respect the copyright of the authors I will share my own schematic here. Why? First, the design in the book is not completely original and is based on similar designs from others. One ...
Read more

›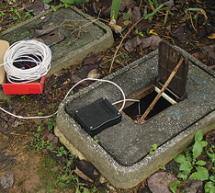 California, where I once lived, is in the midst of a severe drought. Thankfully, I now reside in North Carolina, a much wetter state. But even here there have been years when water was in short supply and people were asked to conserve. Most folks are happy to comply with such requests. But that's not easy to do when information about your usage comes only once a month on your water bill. You could, of cours ...
Read more

›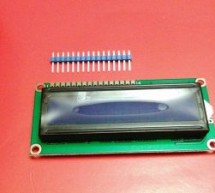 This project lets you measure capacitors in an alone range of measure from 0.000pF to 1000uF. That is, a 16x2 LCD Display will be displaying a sole scale from 0.000pF to 1000uF whose main components will be an Arduino Uno and a 16X2 LCD Display. Step 1: List of Materials 1 16X2 PARALLEL LCD DISPLAY 1 Arduino Uno R3 DIP Edition (Revision 3) 1 Arduino Uno Proto Shield (PCB only) 1 9V Battery Snap with 2.1mm B ...
Read more

›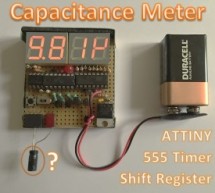 Capacitors are vital components in electronics, but sometimes they are broken, or the value printed on the cap has become unreadable. Because my multi-meter does not have a capacitance measurement, I decided to make one! The principle of measuring capacitance is quite simple. The voltage of a capacitor charging through a resistor increases with time T. The time it takes to reach a certain voltage, is relate ...
Read more

›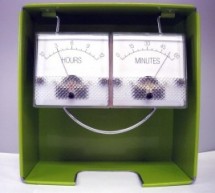 Trinket lends itself very well to building clock projects, its small and easy to hide behind a larger display. And clocks don't need a lot of logic, this example only has maybe 20 lines of code. Adding a digital display via I2C is possible using seven segment or character-based displays (with the library code posted for other projects). This project interfaces Trinket to the the Adafruit DS1307 real-time cl ...
Read more

›