There comes a time in life to put childish things behind and give up nasty habits. Some, like smoking, can be damn hard without constant encouragement. It was time for me to combine my favorite hobby with my driving goal and make this: The Quit Success Meter! For my other Arduino contraptions, take a look at thoughtfix.com Step 1: Parts, Tools, and Component Preparation The links all go to the components I ...
Read more

›
This project brings back the old time Analog VU Meter, with the added functionality of a neat looking clock! When you turn off your music the meters automatically swing into to clock mode. Behind it all is the popular and easy to use Arduino. This is my submission for the Make-to-Learn Youth Contest: What did you make? I made an old style analog VU meter and Clock using 2 analog panel meters, an Arduino, a ...
Read more

›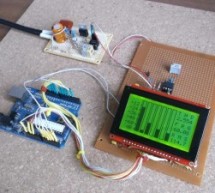 Part 1.  Analog Front-End. Opto-Isolator. Looking at the Power Quality Analyzer display, I was wandering, if there is any error in the measurement results, introduced by transformer. Overall THD picture doesn't change much, suspiciously drawing same chart in the morning and in the evening, when electrical grid load significantly differs. Obviously, to estimate effect of the transformer, I have to repeat mea ...
Read more

›
Biasing AC input using resistor divider and scaling up / down if necessary; Sampling fast and accurately using direct access to Control Registers of ADC and Timer1; Subtract whatever was added at step #1 from result of Analog / Digital conversion and Square; Average / accumulate, filtering following VU specification; Sqrt – take square root, Log10 – transform to dB scale; Display. 1.   Hope, you follow my a ...
Read more

›