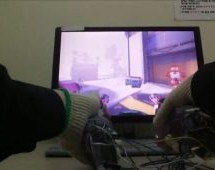 An Overwatch fan by the name of Medist has created his own motion controllers to play as D.Va. The motion controllers were made by wiring an Arduino Leonardo through the cases of two different controllers, which would be modeled after D.Va's pilot controls. The Arduino board would input keyboard and mouse signals to the computer, allowing Medist to map his own triggers and buttons onto his controllers as ke ...
Read more

›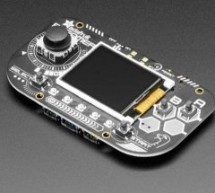 Gamers, coders and electronic enthusiasts looking to own a pocket sized open source handheld games console may be interested to know that the Adafruit PyGamer is now available priced at $39.95. Offering a small games console that can be coded using MakeCode Arcade, CircuitPython or Arduino. The PyGamer is powered by the ATSAMD51, with 512KB of flash and 192KB of RAM, Adafruit has also added 8 MB of QSPI fla ...
Read more

›
This  reaction time game tests the time taken by two players to react, and declare the fastest one as a winner. To do this I am using external interrupts and pin change interrupts in atmega328p. It gives four chance to each play, time of each chance is summed up and then the player with minimum time is declared as the winner. For the demo purpose, I'll be using pseudo random function in it, just to keep tra ...
Read more

›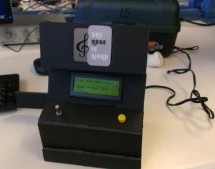 The objective of this project is to provide a multiplayer "pitch tuning" game in which the computer can determine the frequency of players' input notes. [gallery columns="2" size="medium" ids="31217,31218"] The system guides two users through various states in which they are each given the chance to match a tone randomly selected by the computer. Players select their tone by using a dial which controls the ...
Read more

›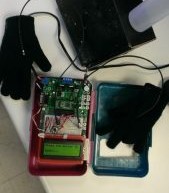 We decided to construct a game for our final project for Microcomputer Architecture. The game, which we named Reflex [gallery columns="2" size="large" ids="31137,31138"] is a simple player versus player reaction game in which the winner is rewarded with a drink of their choice, poured into a cup by a servo.  Flex sensors measure the reaction time of the players, to flex their fingers and make a fist. ...
Read more

›
Programming has always been fun and it just got a lot better with development platforms like Arduino. Almost every programmer out here would have tried to develop some kind of game using the language that they learning/practising. This helps them to tune their programming skills in a fun yet productive way. I have been a big fan of Arduino ever since I got introduced to it and always wanted to try something ...
Read more

›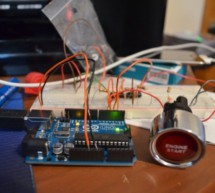 Naturally, the Uno does not natively support keyboard strokes, unlike it's Leonardo brother. Most of Google will tell you you need to do some firmware workarounds and ATMEGA reprogramming just to get it working and the entire ordeal is a mess. If you're like me, you've found that out just after buying one. Here is how to get around all that using a bit of Java coding. The ideal solution would be to purchase ...
Read more

›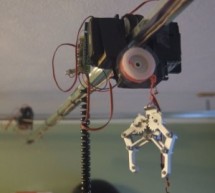 How to build a whole room crane game.  Based on the arcade style 'Crane Game' or 'Claw Machine'.  This is a continuation of a previus instructable titled CRANE GAME in which we built a 2-axis crane game in a door frame.  We have now added a third axis and wireless control.  And made it big. A few technical and functional improvements: Less wires - controllers and batteries move with the motors and are signa ...
Read more

›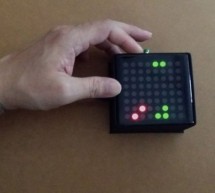 We have built quite a few projects using the Bi-color (Red and Green) LED Matrix Driver Module kits from jolliFactory and have published them as instructables here. Each of these modules uses two MAX7219 Display Driver ICs to drive a Bi-color LED Matrix. These ICs are excellent because they take a lot of work off the micro-controller and simplify the wiring and logic design. These modules are designed to be ...
Read more

›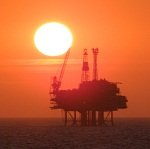 Introduction Having been a CodeProject member for several years, and not having got round to ever publishing an article, left me feeling a bit disappointed in myself. I have thought many a time on what kind of article I can produce. Then after coming across some great articles by jeffb42 here on CodeProject, my problem was solved. I started playing with the Arduino hardware platform about two months ago, af ...
Read more

›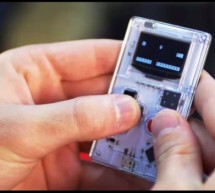 What is Arduboy? Arduboy is an open platform for people to play, create and share games. A game system the size of a credit card. Choose your favorite classic game from the completely free Arduboy Arcade. Built on the popular Arduino software, it's also an excellent way to learn how to program! Because you can learn to make your own games, Arduboy is a game system the size of your imagination! Free Games! E ...
Read more

›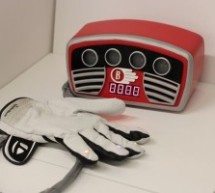 I built this project at at uni as a 3rd year project (with a couple of classmates) at the University of Technology, Sydney.It is aimed at Baby Boomers and targets a skill and level based memory and fine motor skills exercise game. The form is based on Arduino microcontrollers and hardwired with a randomised sequence of lights to test memory skills. It works by presenting a randomised sequence (with visual a ...
Read more

›