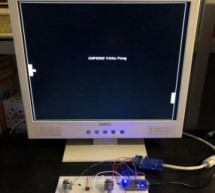 In this Instructables I will show how to build a reproduction of the the classic game Pong for a VGA monitor, using a ESP8266 and few other components. This game is made possible by the EspVGAx library recently published on GitHub by Sandro Maffiodo (aka Smaffer) and, as far as I know, this is the first game exploiting it. The library implements a resolution of 512 x 480 p ...
Read more

›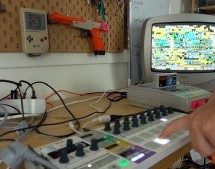 A Super Nintendo that has trouble showing sprites doesn't make for a very good game system. As it turns out, Super Mario World is a lot less fun when the titular hero is invisible. So it's no surprise that [jwotto] ended up tossing this partially functional SNES into the parts bin a few years back. But he recently came up with a project that may actually benefit from its unusual graphical issues; turning th ...
Read more

›
Spoiler! Winter is definitely coming. But make this cool Game of Thrones light up map for a Spring project. The map lights up with a flame effect revealing the sigil of the remaining house in power. What do I know, make it with the sigil of your favorite. https://youtu.be/KWv-nz7mkwI Step 1: Board It Up... This is truly a low budget build. I just used materials and components I had on hand. Ok, I have a lot ...
Read more

›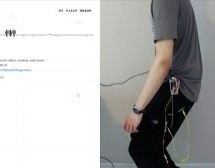 [Ryan] wanted to hack the Google Chrome Dinosaur Game so he could control the dinosaur with his own movements. The game only requires two keyboard presses (up and down arrow keys), so controlling the game with the Arduino Keyboard library only requires a few simple function calls. He uses the Arduino MKR board in his build, but notes any number of other boards would work as well. A force sensor detects his ...
Read more

›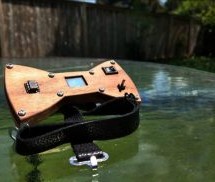 [Greg] loves hacking his bow ties. Back in high school, he added some bright RGB LEDs to the bow tie he wore to prom and even won the male best-dressed award. Recently he decided to try another bow tie hack, this time giving his tie some retro arcade game feels. He decided to use an ATtiny85 and to experiment doing some more lower-level programming to refresh his skills. He wrote all his libraries from scra ...
Read more

›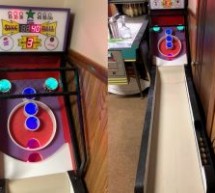 Bowling is great and all, but the unpredictability of that little ball jump in Skee-Ball is so much more exciting. You can play it straight, or spend a bunch of time perfecting the 100-point shot. And unlike bowling, there's nothing to reset, because gravity gives you the balls back. In one of [gcall1979]'s earlier Skee-Ball machines, gravity assisted the scoring mechanism, too: each ball rolls back to the ...
Read more

›
This instructables show how to combine Arduino Esplora and M5Stack to make a NES game console. Step 1: What Is Arduino Esplora? Arduino Esplora is an Atmega32U4 AVR microcontroller board. It is unique Arduino boards, because it built-in various input sensors out-of-the-box, including a joystick, 4 push buttons, a slider, a temperature sensor, an accelerometer, a microphone, a light sensor, etc. And also Ard ...
Read more

›
https://youtu.be/UDwan_kk5Yc This project is my implementation of an alien themed slot machine using two ATmega328P-PU micro-controllers. The slot machine is for entertainment and educational purposes only. I tried my best to make the game simulate a real slot machine as closely as possible. The project is completely built. An enclosure was added after the parts arrived from China and I soldered everything ...
Read more

›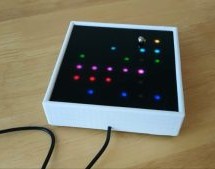 Magnets (especially those ball magnets!) are endlessly fascinating, aren't they? It's almost dangerous to combine them with LEDs, because how are you supposed to get anything done with something like [andrei.erdei]'s Arduino Magnetic Board beckoning from beyond your keyboard? This tons-of-fun board uses ball magnets to light up RGB LEDs as they roll around on the sexy Plexiglas field. Underneath the LED mat ...
Read more

›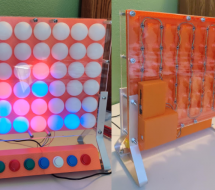 Recreating classic games in software is a great way to get better at coding or learn to code in the first place. If you do it in hardware though, you'll gain a lot more than coding skills. Just ask [Kelly] and [Jack] did, when they built this Arduino-based electronic Connect Four for a school project. We love that their interpretation manages to simplify game play and make it more fun than the original vers ...
Read more

›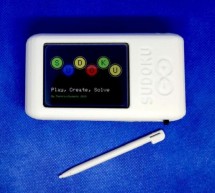 In this post, we will teach you how to create Electronic Sudoku Game: Calling all you Sudoku addicts. Play, Create and Solve Sudoku puzzles using this easy to build Arduino based project. Simple to use with a touch screen and stylus the unit comes preloaded with Sudoku puzzles to play, a help feature to highlight incorrect values and an automated solver button. This project includes a 3D printed case with o ...
Read more

›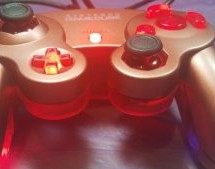 While the Nintendo GameCube stood deep in the shadows of the PS2 in its day, its controller remains a popular target for all sorts of modifications today — many of them involving LEDs, thanks to a translucent bottom and button option. As an avid player of the Super Smash Bros. series, [goomysmash] is of course an owner of the very same controller, which motivated him to write GoomWave, a "versatile and hack ...
Read more

›