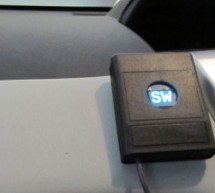 I'm astounded that some cars don't have a digital compass always visible. You either have to launch the navigation app each time which may even disappear when you adjust the radio. In this project, you'll create a digital compass that can be powered by by the cigarette lighter or another source (batteries make it handheld). You could buy one, but where's the fun in that? You'll use an awesome OLED screen (w ...
Read more

›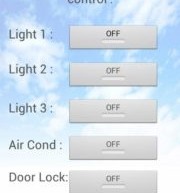 Ever wanted to make your home automated? Wanted to control the lights, fan, and other appliances from your smartphone? Or wanted a tutorial about connected devices and getting started with them? Our DIY Android Home Automation project will show you how to make your home automated using an Android smartphone. This requires no experience with Android programming at all, and a free application is included for ...
Read more

›
Making cool things with an Arduino is something, but making musical instruments out of an Arduino is something else! So behold, here comes the Musical-duino, an Arduino keyboard. To see what this does, check out the demo video at the bottom of this page. They say that "You can become anyone", so why not become Beethoven or Mozart? The only limit is your imagination. The DIY Arduino keyboard or the Musical-d ...
Read more

›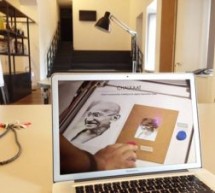 CNC/Laser cutters are invariable tools of modern day fabrication and there are a lot of open source DIY laser cutter projects that you can make. They are now being widely used in industrial applications at a more personal and mass consumer level. But the cutters today have an indirect interface involving external computers. I can explain this better with an example. Imagine you want to cut a leather bracele ...
Read more

›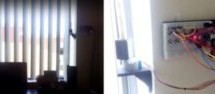 This Arduino Curtain Automation project will let you automate your curtain blinds using just an Arduino and a stepper motor. I just moved to America pursuing my higher studies. Because my dorm is very dark, I wanted to brighten up my room when I wanted to. Since I would be there for only for a month, I couldn't make anything too complicated. So I decided to make myself this DIY Arduino Curtain Automation sy ...
Read more

›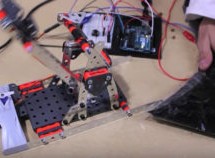 Use an Arduino and a servo to shoot food to your cat! (Also works with other animals). Check out the video below to see how this Arduino Servo Catapult works. While maybe not the most practical application, this project will teach you the basics of servo motors and analog inputs, which can be implemented into more practical projects, like these: Give Your Camera Motion Tracking With Arduino Make a Line Foll ...
Read more

›
In this article, we are going to interface an FC-28 Soil moisture sensor with an Arduino. This sensor measures the volumetric content of water in soil and gives us the moisture level. The sensor gives us both analog and digital output, so it can be used in both analog and digital mode. We are going to connect it in both modes in this article. How Does it Work? The soil moisture sensor consists of two probes ...
Read more

›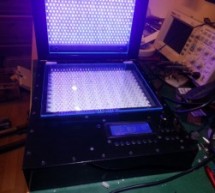 This is a description of how I designed and built my UV exposure box. After experimenting a bit with dry-laminate photo-resist and liquid UV hardened solder mask I decided to stop trying to improve my toner transfer technique and rather build a proper UV radiation unit for making printed circuit boards. I wanted it to be powerful and compact so I decided to use UV LEDs as the UV source. The preferred wavele ...
Read more

›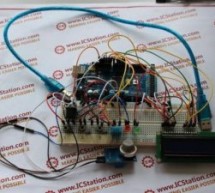 The working voltage of this system is DC5V. It can measure the current temperature, humidity and smoke. It can display real-time data by the 1602 LCD and can realize the sound and light alarm when in the dangerous temperature and humidity. It is a simply and easily to operate monitoring alarm system about temperature humidity and smoke. Functions 1. When connected to the power supply, after the initializati ...
Read more

›
The Geiger–Müller counter is a relatively simple tool to measure ionizing radiation. To increase sensitivity, construction presented here contains three (instead of one as usually) soviet STS-5 lamps. This is important for measurements of natural sources of (low) radiation like soil, rocks (an article about my trip with Geiger–Müller counter on Śnieżka mountain). When high voltage (typically 380-420V) is ap ...
Read more

›
Stepper motors are brushless DC motors which can move in discrete steps thanks to the special coil arrangement inside. They are very popular in DIY and industry projects which require accurate mechanical movement control.  In this SoloPCB Designer project, we are building a dual stepper motor driver shield based on two Allegro A4988 ICs which can supply up to 35V and 2A and provide overcurrent and thermal p ...
Read more

›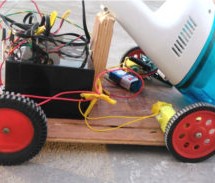 Hi guys, are you a newbie to the world of Robotics or Electronic? OR Are you looking for a simple yet powerful project to make your friends and teachers impressed? Then this is the place. In this project we will use the power of Embedded Systems and Electronics to make our own robot which could help us in keeping our home or work place neat and tidy. This robot is simple four wheeled Vacuum Cleaner which co ...
Read more

›