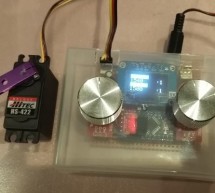 This is something I've already worked on but was never really happy with the result, mainly because the potentiometre that I used was of poor quality and hence non linear and "jumpy"… The problem is simple: I need to have a reliable and easy to use servo tester, that I can use to test/play with a standard RC servo or ESC or anything else that uses the same control protocol. This necessity has arisen again q ...
Read more

›
Initial testing. Ignore the humidity sensor, that was for something else. The vacuum gauge outputs 0-10VDC. This had to be changed to a 0-5VDC range using a potential divider so it was compatible with the Arduino. Initial build used a 10k pot in place of a vacuum gauge to make it simpler. The OLED screen simply plugs in over the arduino which made for a nice compact board. A custom pcb would've looked nicer ...
Read more

›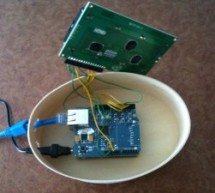 There are a lot of Twitter feed readers around the Web that use Arduino AND a PC to display twits on LCD displays or whatsoever. Then, I decide it was the time to design a solution for performing the same job WITHOUT A PC, and here's the project. In a simple equation: Arduino + Ethernet Shield + LCD Display + Twitter = automatic Twitter feed reader with LCD! The items you need are the following: - Arduino ( ...
Read more

›
Time for something a little more advanced. Direct Port Manipulation. Normally when using Arduino software, the actual logic behind changing the values in pins is abstracted away with digitalRead and digitalWrite. Now, for most people that's just fine. But it has some limitations. For one, it is a little slower than might be practical for some situations and it can only change one pin at a time. But what if ...
Read more

›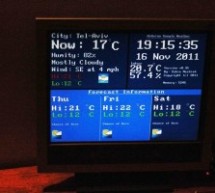 In this project, I am using an Arduino board to show forecast of the weather from Google Weather service on a VGA screen. The display is obviously graphical one, with icons and some colorful text. It is one of those gadgets I wanted to have for some time now – A weather forecasting display that is there just like the wall clock. Yes I know you got nicer looking things on your angry-birds machine... I simply ...
Read more

›
Ever have trouble programming code for seven segment displays? Well they made the 4511 to make things a whole lot easier. What the 4511 does is takes a 4 digit binary input value (ones and zeros), and converts it to a decimal value on a seven segment display, it's a really handy chip. In this instructable I'll show you how to use them with the arduino. Step 1: Materials Parts: 1.) Arduino 2.) 4511 binary se ...
Read more

›
Build a nice looking LCD display with buttons for mounting on the wall. Key Features: 2 line by 24 character LCD display controlled with 4 I/O's (74HC164). Back light control of LCD. 6 Buttons connected to 1 analog pin. LM335 and LM334Z temp sensors. Adjustable temperature offset. Simple software clock. Wall mounted in a picture frame. Step 1: Many times I have gone to a lot of trouble to build a project an ...
Read more

›
This Instructable details how to build a holiday dreidel display for your roof. It uses coat hanger wire, rope light, and an Arduino controller to control a fading demo mode and a "spin" mode. In the demo mode, the symbols fade in and out, going from one to another. In "spin" mode, the symbols flash in sequence with an increasing delay between symbols until the dreidel "stops" on one and flashes. The spin f ...
Read more

›
7-Segment LED Display is a very useful component, but also a very confusing and difficult piece to use for beginners. It won't be difficult once you get it working for the first time. This is what you will get at the end of the tutorial (part one): It basically consists of 7 LEDs, (8 if include decimal point). Just like controlling a single LED, we need to connect each 'segment LED' to a Arduino digital pin ...
Read more

›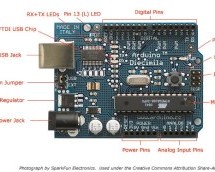 Arduino is an open-source electronics prototyping platform based on flexible, easy-to-use hardware and software. It's intended for artists, designers, hobbyists, and anyone interested in creating interactive objects or environments. Arduino can sense the environment by receiving input from a variety of sensors and can affect its surroundings by controlling lights, motors, and other actuators. The microcontr ...
Read more

›
How many TV shows and movies have some mysterious device counting down to zero those displays are 7 segment displays.With the 7 segment displays you can display any number or some alphabets that your heart desires. At first controlling a 7 segment display seems quite complex but it quickly becomes clear. What follows is a quick guide to control a 7 segment display with a arduino board If you want to jump ah ...
Read more

›
A resolution of 8x8 pixels may not sound like enough for anything interesting, but with the right setup, it is possible to create beautiful, complex animations and even add some interactivity. In the next pages I will detail the steps needed to build the low-res display you see in the video below. Step 1: Parts and Tools [box color="#985D00" bg="#FFF8CB" font="verdana" fontsize="14 " radius="20 " border="#9 ...
Read more

›