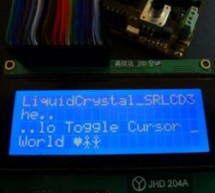 This post is based on the work made previously by tomek in wiring LCD displays using 4 bits. The basic idea is to group the 7 pins that are needed to drive the LCD in only 3 using a shift register. This is a cheap alternative to serial LCDs. The schematic shows that wiring the LCD is a simple operation. It has been drawn in a way that makes it possible to develop this as part of a single sided PCB including ...
Read more

›
I show how to use a standard 16X2 LCD display in three different use cases. 1. With an Arduino Uno 2. With a TI Launchpad MSP430 running Energia 3. Directly on a breadboard on an MSP430G2553 running Energia This LCD display is low cost - I paid $2.26, shipped, on Ebay. It uses the standard Hitachi 44780 controller, and has a pretty blue back light. ...
Read more

›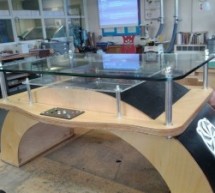 One quick fore note: this is my first Instructable and my first large Arduino project, so if you see any stupid errors or have an idea of how things could be done better, then please let me know. Now that that's out of the way I'll begin, I started designing this around September last year as my A2 Product Design project and thought that it might make a good Instructable once it was finished. The design of ...
Read more

›
This Arduino project will display RSS feed headlines on an LCD via an Arduino and a USB cable. It works quite well, and lets you keep up with the world news while you're sitting at your desk. Many of the values in the code can be changed, and the system can be adapted to display Twitter and other information as well. It uses Python to interface with the Arduino. All of the code and instruction provided is d ...
Read more

›
I had initially planned to do an LCD tutorial a little further down the line, but there was very high demand for it, and I already had a circuit assembled for testing the new LCD that element14 sent me to evaluate. So, this seemed like an appropriate time to roll it out! [box type="note" color=" #202020 " bg="#ffbb00 " font="verdana" fontsize="14" radius="20 " border="#000" float="right" head="Attributes"]T ...
Read more

›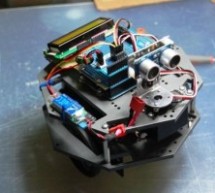 Goals Hello all. I hope to please share a little robot that I have just finished building. There are many Ping Boat, perhaps with a tutorials and display less so without pretension, will illustrate what I could do. I gave myself the goal of realizing a robot that avoids obstacles, hence the use of Ping, who had more autonomy (and less hassle to reload always stylus) and displayed on a LCD display the distan ...
Read more

›
4D Systems makes some really nice serial OLEDS. They aren't hard to use, but the documentation for them is very scattered. This tutorial pulls together the various pieces i've found so that you can get up and running very quickly. Start by skimming through the user manual for your particular 4D OLED. µOLED-128-GMD µOLED-96-G1 µOLED-160-GMD1 The OLED I worked with was the µOLED-128-GMD. The other OLEDs liste ...
Read more

›
In this instructable i will explain how to connect 7 segment display, decoder and arduino. It´s pretty easy. At first we have to learn something about decoder. I´m using BCD to 7 segment decoder. My is D147D, this is old chip, but the newer are similar. Documentation about one of them you can find here . Description of D147D you can see on picture two. There are four pins for sending BCD code to the decoder ...
Read more

›
A monochrome (single colour) LED dot matrix display is used for displaying the Characters and Symbols which is interface with a microcontroller. This project will deliberate on displaying a scrolling text message on a 48×8 LED dot matrix display. The microcontroller used is Arduino Uno which is open source prototype Electronic platform. The 48 columns of the LED matrix are driven individually by six shift r ...
Read more

›
LCD display is great way to display output from your arduino when it not connected to your computer. The common display used in arduino projects is 16×2 parallel LCD display which compatible with the Hitachi HD44780 driver. It can easily recognize with it 16 pin interface. This sketch will print out text message "hello, world" and time in second since last reset. Instruction; 1) Connect all jumper wire as s ...
Read more

›
a.k.a. the gratuitously complicated bidirectionally communicating Arduino-based scrolling Twitter display and notifier. ---- This project was mainly done as an excuse to learn how to use character LCD displays with my Arduino, and figure out how to make a bidirectional serial protocol.  One major design goal was that the hardware would take user input and communicate back to the PC, not just run as a "dumb" ...
Read more

›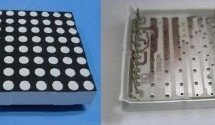 In this project, you shall again use two sets of shift registers. These will be connected to the rows and columns of the dot matrix display. You will then show a simple object, or sprite, on the display and animate it. The main aim of this project is to show you how a dot matrix display works and introduce the concept of multiplexing because this is an invaluable skill to have. Step 1: Things Required for t ...
Read more

›