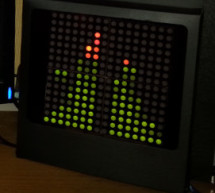 After we came up with the Bi-color LED Matrix Driver Module kit, we have been looking around for interesting projects to work with it. You may be interested in some of the projects we have put up at instructables using this LED Matrix kit. Instructable to build a Arduino (SPI) 7 Bi-color LED Matrix Scrolling Text Display Instructable to build a Arduino based Bi-color LED Matrix Tetris Game Most electronics ...
Read more

›
This sketch connects a voice call from your GSM shield and Arduino to a remote phone number entered through the serial monitor. You'll need to attach a speaker and microphone to hear the connected phone and send your voice. First, import the GSM library #include <GSM.h> SIM cards may have a PIN number that unlocks their functionality. Define the PIN for your SIM. If your SIM has no PIN, you can ...
Read more

›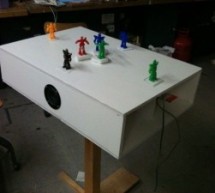 The Musical Table is a toy table that allows kids to play musical phrases by moving toys around the surface. Each of seven switches can play different musical phrases in four bases, making 27 different musical phrases in total.  Some of the phrases are musically related and some of them are not. This toy table can help kids to develop musicality by playing phrases in logical order. The table also allows y ...
Read more

›
In this project, we will learn how to use a speaker (peizo sounder) and use switch button to change the pitch of the sound. Sorry about this one, you might find it a bit difficult to digest at first, and I didn't realise it's actually harder than it sounds. Anyway, spend some time on the code, let me know if you have problem understanding the code, or you have a better solution. [caption id="attachment_4233 ...
Read more

›
Jeopardy style quiz games are favorites for creating excitement and educational instruction at the same time.  Teachers, summer camp counselors, and even industry educators find this type of game to help generate interest and involvement from the participants. The idea behind the game is simple, but sometimes finding a device that will perform the "first to respond" lockout function can be problematic.  Her ...
Read more

›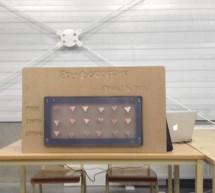 So we haven been working on the new soundgraffiti board. This is an installation wich creates sounds using sprayed water. The connection is made with water. We used copper plates as our sensor. the plates had a cutout line in the middle of 0,1 mm. Once water hit this line it would connect both sides of the plate an close the circuit. The closed circuit sends a 'on' status to the arduino and our laptop with ...
Read more

›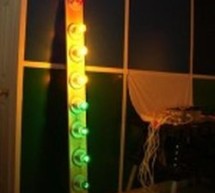 O'K, after having some fun with stereo version of the VU meter I described in my previous blog-post, now it's time to do a serious stuff. Studio grade VU meter !!! 24 steps, equally spaced every 3 dB, covering Extra wide Dynamic Range from -63  up to  +6 dB.  Single (mono) channel this time, no messing around, absolute precision at the stake. Plus, it keeps absolutely Top-Flat linear frequency response from ...
Read more

›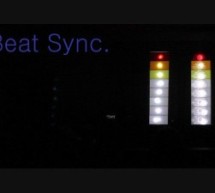 Beat Sync is a single frequency audio spectrum volume meter.  It can isolate around a certain frequency ( I choose the bass ) and display it on a creative 8 segment LED bar graph.  This is meant to be quite simple, yet allowing room for more difficult upgrades.  It is built around the Arduino Open Source Environment. The circuitry is also quite simple. So if you want to show off at your next house party or ...
Read more

›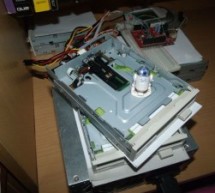 My brother posted a video about this on facebook almost a year ago. Some old floppy drives playing Bach's masterpiece Toccata & Fugue and it got me really interested. So I read about it when the author posted a how-to on his blog and did a couple of tweaking using SammyIAm's Musical Floppy program when the project gained a lot of attention. WHAT YOU NEED 1) Arduino - Ideally, you need the Arduino UNO bu ...
Read more

›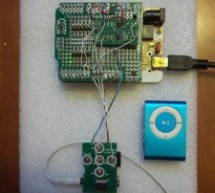 I have added a follow-on to this Instructable: http://www.instructables.com/id/Cheap-and-Easy-MP3-Shield-for-Arduino/ The follow-on shows you how to design, etch and build a PCB shield to connect the MP3 to the Arduino. Replaces the analog switches with a 74HC244. SIngle layer board with large surface mount component design. Only 5 thru holes. Take a look. Ebay abounds with sales for REALLY inexpensive MP3 ...
Read more

›
Goal of this project: Convert a cheap toy piano to work as a midi device and use it with Synthesia (http://www.synthesiagame.com/) Other programs that use midi inputs can also be used. Approach: The pushbuttons of the piano are used to make a simple pull-down circuit for the arduino mega. The arduino interprets the keystrokes and sends serial midi data to the pc. Then this data is send to a virtual midi por ...
Read more

›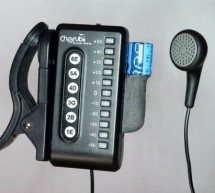 How to modify a guitar tuner so it can be used by a blind person This build uses an Arduino Pro mini microcontroller, (all code is provided). This project was undertaken for the charity Remap, which provides custom-made equipment for people with disabilities. Summary Begin with an LED electronic guitar tuner. I used a Cherub Guitar Mate (WST-550), which cost about £10 from eBay. It was a good choice for thi ...
Read more

›