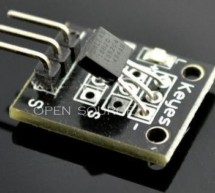 Electronic Brick, Waterproof and other Versions NOTE: There are different-appearing versions but they work the same. This is an electronic thermometer which has high accuracy over a wide range (accurate to ±0.5°C over the range of -10°C to +85°C) (Workable from -55°C to +125°C). You can locate these thermometer chips up to 100M away from your Arduino. Shorter cables can be just 2 wires. NOTE: There must be ...
Read more

›
This instructable will tell you how to make and connect a soft potentiometer to a microcontroller, in particular we will connect it to a Lilypad Arduino. In our case soft potentiometer means a potentiometer made of a textile conductive ribbon. What you need: 1. soft conductive textile ribbon. The important thing here is that the tape must have some resistance along its leght. So if you apply a multimeter yo ...
Read more

›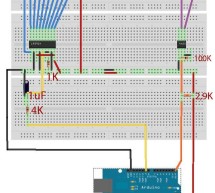 Hello everybody, I've been working on a midi controller for some time now, Midi OUT hasn't been a problem, but for Midi IN i had to take some more time. i've used this circuit for midi input but i've used a 4n25: original thread @ http://www.arduino.cc/cgi-bin/yabb2/YaBB.pl?num=1187962258/ it works great! but for my project i need VU meters, i thought this wouldn't be a problem, because i could easily say t ...
Read more

›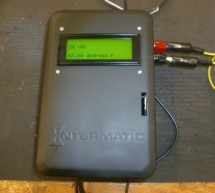 Step 1: The case I dug out an appropriate case from the dumpster, milled out a rectangular hole for the lcd, and drilled holes to mount the LCD and the Arduino. I used brass standoffs and fiber washers to prevent shorts. Then I gave the whole case a quick spray of flat black to cover the scratched and scraped gray that originally covered the case. Step 2: Voltage Divider The first part of the code and elect ...
Read more

›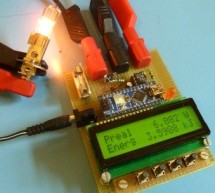 DIY wattmeter with an Arduino It is difficult or sometimes even impossible to measure power and energy with ordinary multimeters. To carry out such a measurement reliable and accurate, a special wattmeter is required. Because these meters are very expensive, a cheaper solution is presented here as a DIY wattmeter based on a Arduino Nano board. Parameters This wattmeter measures the real power, apparent powe ...
Read more

›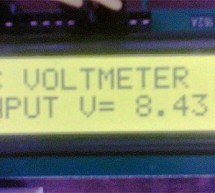 Here is a useful circuit for Arduino lovers and experimenters. It is a simple digital voltmeter, which can safely measure input dc voltages in 0 to 30V range. The Arduino board can be powered from a standard 9V battery pack, as usual. As you may well know, Arduino's analog inputs can be used to measure DC voltage between 0 and 5V (when using the standard 5V analog reference voltage) and this range can be in ...
Read more

›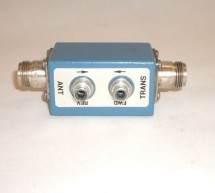 This sketch will readout RF power and SWR from any SWR bridge (for example 'monimatch' type). As this 'monimatch' type of bridge is frequency dependant, the meter must be calibrated for every band. Because my primary interest was for VHF/UHF/SHF,  I have foreseen positions for 6m, 4m, 2m, 70 cm, 23cm and 13cm bands - but you can use the ARDUINO readout on HF as well. If you intend to build a HF or VHF bridg ...
Read more

›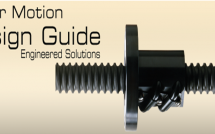 In the manufacturing industry, a wide variety of devices used at home or in the garden has been experiencing challenges in automating linear displacement of any of the items used. For instance, For example, an automatic opening of gates, automatic unlocking and changing positions of mirrors concentrating solar collection might be facing the problem of linear displacement. There is the feature known as the f ...
Read more

›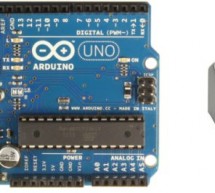 In this project, we will show how you can build an ohmmeter using an arduino. An ohmmeter is a device that can measure resistance. Most of the times now, ohmmeters aren't standalone devices but appear as one of type of measuring device amongst many in a multimeter. An advanced multimeter, today, would have an ohmmeter, voltmeter, ammeter, capacitance meter, continuity tester, and possibly a temperature sens ...
Read more

›
In this project, we will build a liquid level gauge circuit with an arduino. This is a circuit in which a liquid level can be monitored through a gauge. We read the liquid level from the gauge (low, medium, or high), just as you see above. With a microcontroller such as the arduino, building this circuit is a pretty simple feat. The microcontroller can read the analog voltage from the liquid level sensor an ...
Read more

›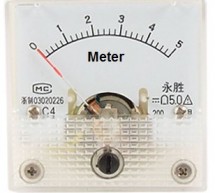 In this project, we will go over how to connect an analog volt panel meter to an arduino so that it can measure and give us a readout of light striking the circuit. In this way, the circuit will function as a light meter. When there is a lot of light shining on the circuit, the meter will deflect greatly. When there is a low level of light hitting the circuit, the meter needle will barely deflect. In this w ...
Read more

›
Over ten years ago, I put up a web page with detailed instructions on building a simple electric motor based on one from the Beakman's World TV show. I called it the "Beakman's Electric Motor" page and over the years it has had hundreds of thousands, if not millions, of hits. Realizing that just building a motor, no matter how cool, wasn't a good science fair project, I added suggestions for using the motor ...
Read more

›