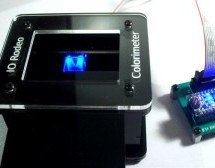 This instructable is a step-by-step assembly guide for the educational colorimeter kit we launched in April 2012 on Kickstarter. Assembly takes from 20-40 minutes. Once assembled the colorimeter can be used in a wide variety of science experiments to measure the absorbance and concentration of a colored solution. The colorimeter kit is an open source hardware project: KiCad files for the electronics, enclos ...
Read more

›

This server room environmental monitoring system is a low cost high performance device with the same onboard features as commercial devices costing hundreds of dollars more. In addition to a low cost platform we will provide low cost sensors for many important devices to insure your equipment stays safe and sound. Full instructions are available at sproutboard.com as well as several kits to create some very ...
Read more

›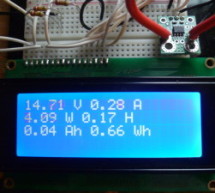 Major corrections and additions made 9/9/2014 For my off-grid Ham Radio and Solar projects, I needed a way to measure volts, amps, watts, amp hours and watt hours. There's a couple of commercial products that can do this, but not with the flexibility I wanted. I designed a Arduino micro-controller based solution that is very extensible. Right now it monitors the above values of attached gear, and I'm thinki ...
Read more

›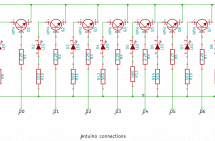 This Arduino project is a simple light meter using a photo-transistor. An LDR would be more appropriate but the photo-transistor is what I has spare at the time. On the other hand the photo-transistor is sensitive to infrared, so its handy for testing remote controls. The project consists of 10 red LEDs driven by 10 BC547 transistors although any general purpose transistor will do. The base of each transist ...
Read more

›
This sketch shows you how to read the values from the accelerometer. To see it in action, open the Arduino serial monitor on your computer and tilt the board. You'll see the accelerometer values for each axis change as you tilt the board. Circuit Only your Arduino Esplora is needed for this example. Connect the Esplora to your computer with a USB cable and open the Arduino's Serial Monitor. Accelerometer to ...
Read more

›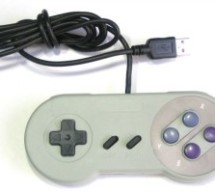 Make a game pad with an accelerometer inside! This project tutorial will show you how you can convert a console game pad into a USB keyboard mouse for playing games on your PC. The USB game pad can be used with nearly any software, such as a MAME emulator, game, simulation software, or for custom user interfaces. We'll start by turning the buttons of the game pad into keyboard buttons, so that pressing 'up' ...
Read more

›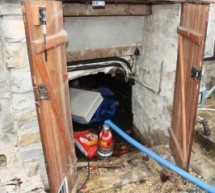 After a bad water damage (our cellar basically filled up whilst we were away for several days), I decided to monitor our water usage for anomalies. Enters Arduino... The idea of this project is to use an arduino to count every drop of water that goes through the water company meter. Said arduino needs to be connected to my LAN so that I can query it on a regular basis, it also needs to be aware of (real) ti ...
Read more

›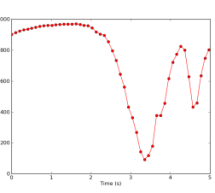 At this year's "Arduinos in the Physics Lab" workshop at the AAPT meeting, one of the participants asked for a simple way of using the Arduino as a tethered A/D converter for data collection direct to a computer. This is my quick & dirty demonstration solution. Here's the code for the Arduino. It waits for a single byte 'N' to arrive on the serial port, then once that byte arrives it sends out N data pa ...
Read more

›
Energino is a plug-load meter that measures the amount of power consumed by whatever DC electrical appliance is plugged into its. It was originally designed to monitor the energy consumption of simple networking devices such as Ethernet switches and WiFi access points, but it can be used to monitor any DC appliance. Energino "sits" between the power supply and the actual device being monitored. Energino is ...
Read more

›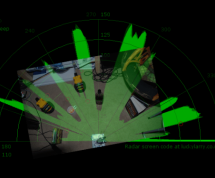 So I had some luck with getting the Sharp Infrared range finder working and I've now plugged this on to my servo rig to see if I get better results on my radar styled display. Check out how to use the Sharp IR range finder here Few things to bare in mind, whilst the code is pretty much the same there are a few subtle differences. Firstly for better readings the Arduino code has a longer delay – but since we ...
Read more

›
This example simplifies the task of collecting data from the Esplora's accelerometer and graphing it with your computer. The Esplora sends keypresses to a connected computer about the state of the accelerometer. If you open a spreadsheet application, you can log the data from the accelerometer. To start and stop the datalogging, press the down pushbutton. The Esplora's LED will indicate the state of the log ...
Read more

›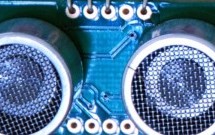 A guide to using the SRF05 Distance Sensor with Arduino in order to calculate distances from objects. In this case I'm also altering the output of an LED with PWM according to how close an object is to the sensor. So the nearer you are the brighter the LED. So if we start with the SRF05, it's an IC that works by sending an ultrasound pulse at around 40Khz. It then waits and listens for the pulse to echo bac ...
Read more

›