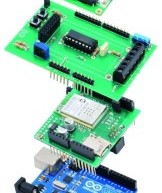 In this post we present the design of a scale that connects to the Internet and automatically sends weight info on a Google Document. The project is composed of Arduino Uno board Wi-Fi shield additional shield that we used to manage data collection and I/O with a clear and comfortable and clear LCD display Velleman scale (or another commercial product) Hardware Taking a look at the diagram, we can di ...
Read more

›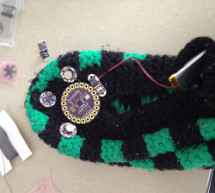 I made a little automatic slipper foot massager with the Lilypad Arduino and some of the Lilypad Vibe Boards for the actual massager. The sensor it uses is a Lilypad Accelerometer that I'm only using as a basic tilt sensor. Essentially it detects when the slipper is in a more vertical position (like when you would kick your feet up to relax) and then turns on the motors. When the slipper is in a more horizo ...
Read more

›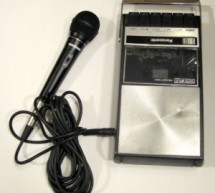 The breathalyzer microphone is a system for the inconscpicuous collection of blood-alcohol content level data sets. In other words, you can measure a person's sobriety with a device, that for all intents and purposes, looks no different than a standard microphone. This tool adds new dimensions of truthiness to any standard interview. It can also easily be adapted for karaoke. Don't be intimated by the numbe ...
Read more

›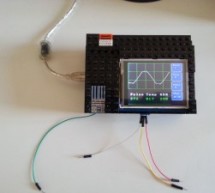 This instructable will show you how to build a portable Touch Screen Oscilloscope for less than 40 U$! The oscilloscope is one of the most powerful electronic instruments that is available to electronics hobbyist, experimenters, and engineers. It is mainly used to measue time-varying signals. Any time you have a signal that varies with time( slowly, quickly, and /or periodically ) you can use an oscilloscop ...
Read more

›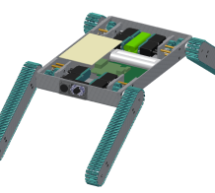 Finalized Prototype Shown below is the finalized prototype. The purpose of the prototype was to demonstrate the feasibility of a small, highly maneuverable search and rescue robot. As such, the completed prototype was successful. Capabilities include a ground speed of 10 inches per second, battery life of 50 minutes, wireless range of between 50 and 150 feet (depending on interference), weight of 14.5 pound ...
Read more

›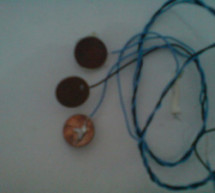 I found a pressure sensor matrix that we could adapt to a pressure sensor patch on the stomach of the women in labor on this webpage (see below). It gives instructions how to build a pressure sensor by using two pieces of cloth and conductive thread! If I understand it right, you just have to sew everything together in the explained way and connect it with external pull-up resistors! They even provide the A ...
Read more

›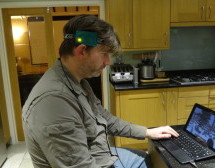 My kids wanted to have a head controlled mouse for playing Minecraft - they wanted to move their heads and have the field of view move. I decided that was a challenge I couldn't resist, so I decided to build a movement controlled mouse using an arduino and a gyroscope chip. Components A-Star 32U4 Micro - a tiny Arduino Leonardo clone LSM9DS0 Breakout board - a combined gyroscope, accelerometer and magnetome ...
Read more

›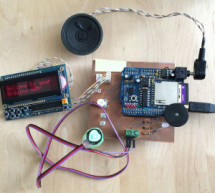 My partner and I wanted to make heart rate monitor that does more than simply measure a user's heart rate. Our heart rate monitor talks! Each button gives a verbal description of its functionality and makes the measurements visible on the screen. This monitor will save the last four readings, display them, average them, and also offer some inspirational quotes! Step 1: What you need Arduino Uno Pulse Sensor ...
Read more

›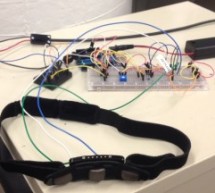 Technologies for rudimentary physiological sensing are getting cheaper and easier to implement. Consider, for instance, these non-contact sensors from UCSD which can be used to take an EEG through hair or an ECG through a T-shirt! One can even make a simple oscilloscope to digitize, store and view the signal using only a Tiny45 micro-controller and a laptop: tiny45 oscilloscope Cool general-purpose commerci ...
Read more

›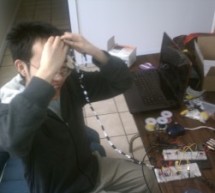 Introduction Our goal was to build a brain-computer interface using an AVR microcontroller. We decided that the least invasive way of measuring brain waves would be using electroencephalography (EEG) to record microvolt-range potential differences across locations on the user's scalp. In order to accomplish this, we constructed a two-stage amplification and filtering circuit. Moreover, we used the built-in ...
Read more

›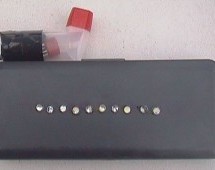 What is a breathalyzer you may ask? It is a device for estimating blood alcohol content (BAC) from a breath sample.In simple terms it is a device to test weather a person is drunk or not. As the title suggests it runs on the arduino.Our breathalyzer uses the MQ-3 alcohol sensor from sparkfun.It is a simple and fun to do project. This instructable explains how to create your own breathalyzer , making a shiel ...
Read more

›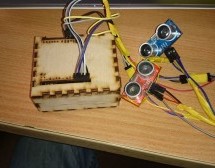 In this project you can cover your eyes and let your smartphone navigate you to avoid obstacles, the application is mainly a DIY navigation device for blind people. I knew that 1Sheeld is about to launch a new text to speech shield, and so I contacted them to let me use it in this project and they accepted since I'm one of the early Kickstarter backers :D By using 1sheeld I made the text to speech part by o ...
Read more

›