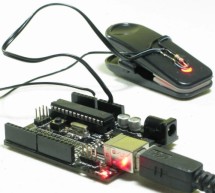 Movies look cool with those EKG (electrocardiogram), the one that beeps and detects heart activities. A few months ago, we had to shoot a hospital scene for our school project. We needed an EKG instrument. To keep the movie authentic, we didn't want to fake the readings so we made the next best thing, a pulse monitor. Since my dad is a doctor he gave me some advice to design the pulse monitor. Let me clarif ...
Read more

›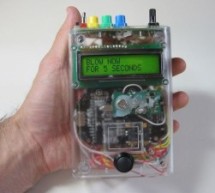 *** Additional info at http://droidalyzer.com/talkingbreathalyzer/index.html *** A customizable Breathalyzer that talks and tells you how much you've had to drink. It's also open source and can easily be modified with your own text on the LCD screen and audio MP3 files. When tethered to a PC with a USB cable, it has additional features including character animations, Breathalyzer Tweets, text to speech, wea ...
Read more

›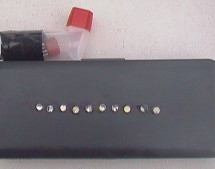 What is a breathalyzer you may ask? It is a device for estimating blood alcohol content (BAC) from a breath sample.In simple terms it is a device to test weather a person is drunk or not. As the title suggests it runs on the arduino.Our breathalyzer uses the MQ-3 alcohol sensor from sparkfun.It is a simple and fun to do project. This instructable explains how to create your own breathalyzer , making a shiel ...
Read more

›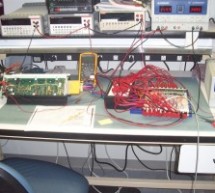 I have been researching a project which will help me with my understanding of electronics, networking, and programming.  I decided to build an online thermometer which could be used in applications that need temperature monitoring.  I currently work in a lab environment where I test, troubleshoot, and calibrate equipment which is installed in nuclear power plants . Each module must have a burn in time rangi ...
Read more

›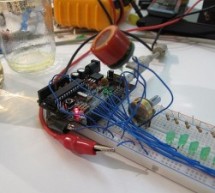 During the First Meeting of Electronic Arts in Florianópolis, we built a Breathalyzer using the Alcohol Gas Sensor MQ-3 and a Arduino Board to use in the last day of the meeting, in which we gave a party. You can see a quick video two posts below. Last days I received many emails asking for the code or how to make one, so I decided to build the sensor again, take pictures/videos and make a tutorial showing ...
Read more

›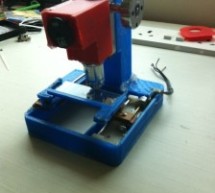 This is an easy-to-implement product modification that will be extremely useful for clinicians, pathologists, researchers or other microscopy enthusiasts interested in capturing whole slide images or creating virtual slides for later use. The device allows one to take multiple images of the slide under high magnification, which can later be stitched together on a local or remote computer, paving the road fo ...
Read more

›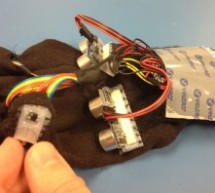 HandSight is a prototype glove to aid the blind. It can sense the lightness or darkness of a surface with tactile feedback from a vibration motor for each individual finger. It can also sense distance from physical objects or obstructions and indicate direction and distance with the same vibration feedback. It supports additional modes, and the possibilities are nearly endless. The glove can connect over Bl ...
Read more

›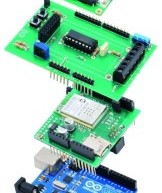 In this post we present the design of a scale that connects to the Internet and automatically sends weight info on a Google Document. The project is composed of Arduino Uno board Wi-Fi shield additional shield that we used to manage data collection and I/O with a clear and comfortable and clear LCD display Velleman scale (or another commercial product) Hardware Taking a look at the diagram, we can di ...
Read more

›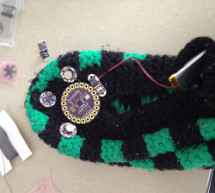 I made a little automatic slipper foot massager with the Lilypad Arduino and some of the Lilypad Vibe Boards for the actual massager. The sensor it uses is a Lilypad Accelerometer that I'm only using as a basic tilt sensor. Essentially it detects when the slipper is in a more vertical position (like when you would kick your feet up to relax) and then turns on the motors. When the slipper is in a more horizo ...
Read more

›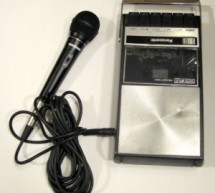 The breathalyzer microphone is a system for the inconscpicuous collection of blood-alcohol content level data sets. In other words, you can measure a person's sobriety with a device, that for all intents and purposes, looks no different than a standard microphone. This tool adds new dimensions of truthiness to any standard interview. It can also easily be adapted for karaoke. Don't be intimated by the numbe ...
Read more

›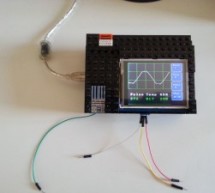 This instructable will show you how to build a portable Touch Screen Oscilloscope for less than 40 U$! The oscilloscope is one of the most powerful electronic instruments that is available to electronics hobbyist, experimenters, and engineers. It is mainly used to measue time-varying signals. Any time you have a signal that varies with time( slowly, quickly, and /or periodically ) you can use an oscilloscop ...
Read more

›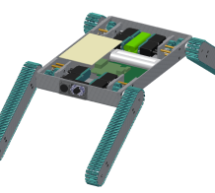 Finalized Prototype Shown below is the finalized prototype. The purpose of the prototype was to demonstrate the feasibility of a small, highly maneuverable search and rescue robot. As such, the completed prototype was successful. Capabilities include a ground speed of 10 inches per second, battery life of 50 minutes, wireless range of between 50 and 150 feet (depending on interference), weight of 14.5 pound ...
Read more

›