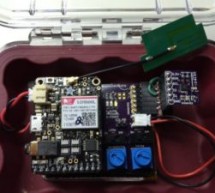 I have been collecting data from Raleigh's trails and parks for the last couple years.  My primary platform has been a custom Arduino board I developed for low-cost (hey, these things may get damaged or stolen) and long battery life.  I wanted a connected sensor to provide current data and, after looking at various technologies, I have settled on cellular as the most convenient. This sensor uses an off-the ...
Read more

›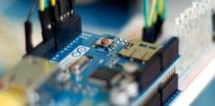 In a previous article we showed you how to control digital pins over over serial, and showed how such a simple thing can be so powerful. One major downfall with that is you need to be nearby to send commands… So today we are going to look at doing the same thing, but this time we will be doing it over the internet using the Arduino Ethernet Shield. As per our usual style, I am going to make this as simple a ...
Read more

›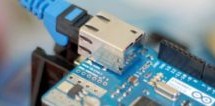 Yesterday we covered how you would go about controlling pins of your arduino over the internet using the Arduino Ethernet Shield set up as a server. Today we are going to take a look at using the shield as a client to get information off of a web page, and report back. I used this method a few months ago when I made the Nixie Twitter follower counter dubbed Twixie. The ethernet shield can be used to access ...
Read more

›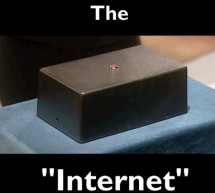 You've bought your first Arduino or you're planning to get this great little device? Obi Wan would say: "That's good. You have taken your first step into a larger world." Same thing for me! Congratulations! You'll see, as soon as you master the basics, you'll have so much fun with this little device. There are so many tutorials and books outside, so why another? Maybe you think learning should be funny or a ...
Read more

›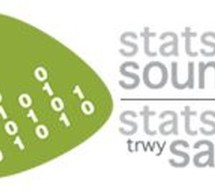 This walk-through will show you how to build a sensor to monitor your plant's environment and use Stats in Sound's ERC-20 app to turn this data into music, allowing you to listen to your plant's reaction to it's environment.  For more information on this project, please visit www.statsinsound.org.uk. Below is a sample of music generated by the ERC-20 app, monitoring a happy healthy chilli plant. You will ne ...
Read more

›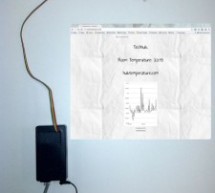 This is how to push high resolution real-time data from Arduino-based temperature sensor to your web page without any server-side coding. Arduino is a great device for collecting, storing and transferring data from various sensors but there are times you need to make your data accessible from any place over the internet, like I did for room temperature in my study. That's when this solution may come handy. ...
Read more

›
This example shows you how to make repeated HTTP requests using an Ethernet shield. This example uses DNS, by assigning the Ethernet client with a MAC address, IP address, and DNS address. It connects to http://www.arduino.cc/latest.txt. The conent of the page is viewable through your Arduino's serial window. Circuit The Ethernet shield allows you to connect a WizNet Ethernet controller to the Arduino via t ...
Read more

›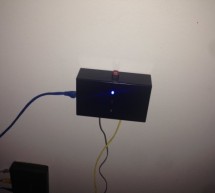 THE SETUP For an interface I thought 3 LEDs would be simple enough: Blue for everything is fine (as blue LEDs are cooler than green ones); red for something is wrong; and yellow for the modem and router are being restarted. I added a button to do the actual restarting as I wanted it to only be done deliberately. For the internals I went with: Arduino mini pro clone 5v ENC28J60 Ethernet connector (datasheet) ...
Read more

›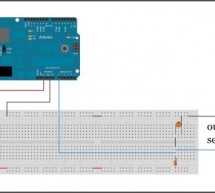 Using the Arduino development board (http://arduino.cc) has become a very popular way to create hardware prototypes that bridge the divide between the physical world and the Internet. This article outlines how to use an Arduino, some off-the-shelf electronic parts, the Processing programming language, and Google Documents to create a push-button reference desk transaction tally device. The design: plugged i ...
Read more

›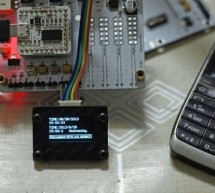 The resolvent of clock synchronization over internet. by PKJ, The web−based clock management system allows you to monitor clock status from wherever they are and centrally change settings. and this small device is built with PoE technology, thus IP clocks get their time, data and power from the same network that supports your other IP endpoints. Author: https://www.facebook.com/pan.kejia Editor: https://www ...
Read more

›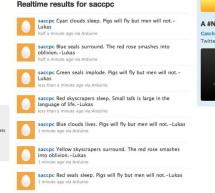 This is a project that was inspired by Marc de Vinck's Kitty Twitty Cat Toy http://makezine.com/22/kittytwitty/ . It incorporates an RFID reader and the BlinkM, a programable RGB LED. The lamp tweets random colored poems when it detects one of the three RFID cards which each represent one of the primary colors of light. These colors can be mixed allowing you to make seven different colors of poems. An examp ...
Read more

›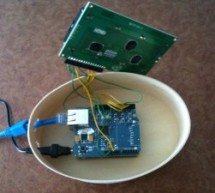 There are a lot of Twitter feed readers around the Web that use Arduino AND a PC to display twits on LCD displays or whatsoever. Then, I decide it was the time to design a solution for performing the same job WITHOUT A PC, and here's the project. In a simple equation: Arduino + Ethernet Shield + LCD Display + Twitter = automatic Twitter feed reader with LCD! The items you need are the following: - Arduino ( ...
Read more

›