Alexa, Put the Kettle On!
Make a smart kettle for under £60 using Alexa and Arduino.
Introduction
Why make two trips to the kitchen, or hang around waiting for the kettle to boil when you can just ask Alexa to put the kettle on?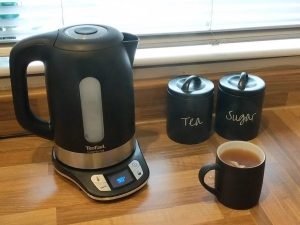 This project uses as few components as possible and is really easy to follow but it does involve tinkering with mains powered devices and water. So be careful and always make sure the kettle is unplugged when working on it! You will need to know how to solder to complete this hack.
Try it for yourself
I've published a demo version of the Skill HERE. If you add this to your Alexa account then visit the Shiftr Namespace HERE you will be able to say "Alexa, put the kettle on" and see a blip move around the node map to the device brewTime-TEST. You can also see the state of the request in the top left corner. The device brewTime-01 is the kettle in my house, you can't control this but you can see it's state.
Prerequisites
An Amazon developer account, create one here if needed
An Alexa-enabled device associated with the above account
An AWS account, create one here if needed
How the services communicate
The software
Let's get your MKR1000 talking to Alexa before we start hacking the kettle. This involves creating an Alexa Smarthome Skill, an AWS Lambda function to handle the requests from Alexa and using Shiftr.io to communicate with the MKR1000.
Setup a Namespace on shiftr
This service allows your MRK1000 to talk to AWS via a simple protocol called MQTT.
Click New Namespace, give it a name and click Create
Click on the Namespace Setting Page link and click Add Token
Leave everything as default and click Create Token
Make a note of your key and secret, you'll need these later.
Setup LWA
First, you need to create an LWA security profile. Here's how:
Click on Developer Console in the top right corner if you are not redirected
Click on Apps & Services, in the menu then click Login with Amazon in the submenu. (link)
Click on Create a New Security Profile
Fill in all three fields to create your security profile and click Save. The name and description are up to you and the privacy URL can just be http://example.com/privacy
On the cog icon, click on Security Profile
Make a note of Client ID and Client Secret, we will need these later.
*** Leave this tab open, we will need to come back here later!
Create the skill
This is super easy! The steps here will provide you with the bare minimum required for a working Smart Home skill.
Read more: Alexa, Put the Kettle On!
Project Ratings:
Related posts