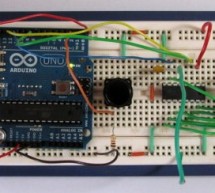 In this tutorial you will build a dice that is shaken by holding the button in and thrown by releasing the button. The shake, throw and number thrown are animated and displayed on a seven segment display. A 74HC595 IC is used to interface the 7-segment display to the Arduino, using only 3 Arduino digital pins. Prerequisites Know how to use a DIP IC, e.g. from tutorial 17 – Electronic Dice. Read about seven ...
Read more

›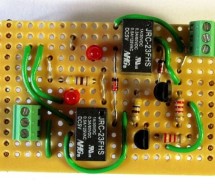 In this Arduino project, you will build a small relay shield from stripboard. The shield can have one or two relays fitted to it. Connect the Arduino and relay shield to your PC via a USB cable. Download the PC software and use it to switch anything on and off that is attached to the relays. The shield is based on the Tiny Stripboard Shield for Arduino project. This video shows the Arduino shield project an ...
Read more

›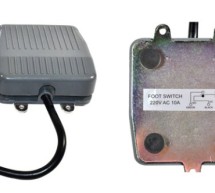 This foot pedal plugs into the Arduino case which plugs into your PC via microUSB cable. Arduino microcontrollers can easily be used to power fun projects like robots and even sending tweets to Twitter but they're versatile enough to turn up in the strangest of places – like under your feet. We had a question from a reader about whether it was possible to create a foot-operated mouse switch to help reduce h ...
Read more

›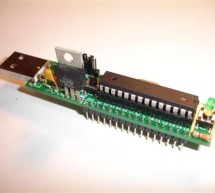 I have a device which provides a USB port. If I attach it to a Windows PC it is recognized as a "CP2103 USB to UART Bridge Controller". According to the device documentation, it should communicate in serial format at 38400bps.I have to talk to this device with a atmega microcontroller. Since the USB pinout is different from the serial UART of the uC, firstly I thought I would need a circuit to convert the s ...
Read more

›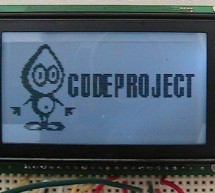 Introduction This is the second article in a three part series I am writing on the Arduino hardware platform. This article focuses on wiring an Arduino to a character LCD and a graphic LCD, and includes static and animated demos to show off the capabilities of each display. Character and Graphic LCDs After I initially discovered the Arduino platform, I immediately noticed a wide variety of components that c ...
Read more

›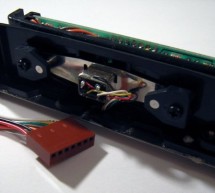 Everyone has used a magnetic card reader, I believe. I mean, who carries cash these days? They're not difficult to get your hands on, either, and during a trip to my favorite local electronics shop, I found a bin full of these guys. So....of course, I picked one up and brought it home to see what sort of stuff I could do with it and an AVR.This instructable will show you how to connect a Magtek magnetic car ...
Read more

›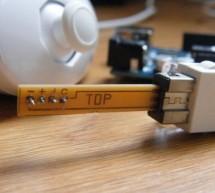 This tutorial is for all those people who have an arduino and want to use there Wii nunchuck as an input device, but dont realy feel like cutting open the cord and ruining the nunchuck FOREVER!!!!!!!!well youve come to the right place! Step 1: Supplies These are the supplies you will need most can be found at radioshack and at hardware stores. if you cant find any etchant solution i made my own on STEP 6. + ...
Read more

›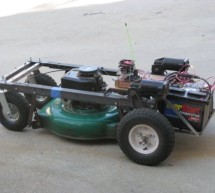 What this is: This instructable will show you how to make your Arduino into an R/C interface that you can use for just about anything requiring remote control. I will also show you how I built an R/C lawnmower using my Arduino, a cheap R/C transmitter and receiver pair, and a couple of electric-wheelchair motors from Ebay.  I have used this interface to control anything from basic LED's to Bipolar stepper m ...
Read more

›
This post is about an arduino-based intervalometer I built for my camera, a Fuji S9600 dSLR. I decided to go for a very simple interface: a rotary switch in the middle of a plastic box which would allow me to select 12 pre-defined intervals. I went for a switch and not a potentiometer because I wanted to be certain about the option I select: the reassuring "click" of the rotary switch does exactly that! Als ...
Read more

›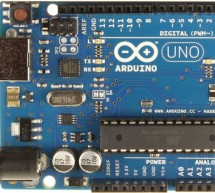 This Instructable explains how to send an SMS from an Arduino using the Internet. There are many ways to approach this and I will explain one of the different methods used to accomplish this task. Some major points needed for my project: I have a standard Ethernet shield, and ENC28J60 Ethernet module, and I needed my program to work with both and also over a wifi connection (using the ESP8266 - I just order ...
Read more

›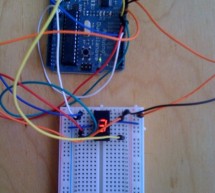 I've had an Arduino Duemilanove now for a couple of weeks. If you're not familiar with the Arduino, it is "an open-source electronics prototyping platform based on flexible, easy-to-use hardware and software". It has a small microcontroller, a USB port to connect to your computer for programming, a power socket for providing power when the USB cable isn't connected, and various digital and analog input and ...
Read more

›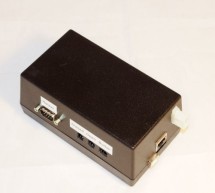 Although there are many garage door projects on Instructables using Arduinos, I needed/wanted something different. Last year, we had a warm summer and when I would come home after work, I would leave the garage door open about 1 foot so it could cool off. The trouble was that several nights I left the garage door open overnight :-(  So I thought, I could use an Arduino with a real-time clock (RTC) to automa ...
Read more

›