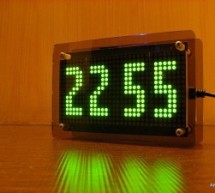 Wise Clock 3 is an open-source, highly hackable geeky clock that shows a lot more than the time. Its main function is to display user-editable quotations retrieved from an SD card (like those used in photo cameras). In addition, Wise Clock 3 can show the time in "Pong" mode or "Pacman" mode. It can also display the date, including the day of the week and the temperature. Another catchy function is to show a ...
Read more

›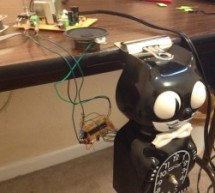 Is your analog clock just not doing enough stuff? Want to do digital things with an analog clock? This tutorial will show you how to make a Kit Cat Clock play a "meow" sound clip, at precise time intervals, using the Atmega 328P-PU via the Arduino Uno development board. In my example, the meow will occur hourly. This doesn't have to be a Kit-Cat clock either, this idea may work with other clocks that use a ...
Read more

›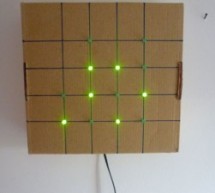 A Binary Clock! I was recently looking at some binary clocks and I felt like Why not? I have everything to make one and I don't have a clock in my room. So I decided to build one and here it is. Hope you Like it and maybe build your own. It's a cool project because it's your very own, unique clock, it's easy to make, it's highly customizable in both size/shape and firmware/functions, it is Arduino based/com ...
Read more

›
Ever since my addressable RGB LED strips (WS2812B) came from Aliexpress, I've been fascinated with LED projects. Following up on my success with my Charlieplexed LED clock, I wanted to create something with more Jazz.. While browsing google images, I came across an instructable for an Arduino Infinity Mirror and the brain cells started working in overdrive. Why shouldn't I make an infinity mirror, that's al ...
Read more

›
Hello, and welcome to my instructable for a washing machine countdown timer. The timer is operated with the very popular Arduino micro controller. See here for more information. Arduino Home Page Aim The aim of this project is to be able to delay the start of the washing machine by a few hours. This is to provide a cost saving and a convenience. Purpose 1) To be able to take advantage of off peak electricit ...
Read more

›
Timer interrupts allow you to perform a task at very specifically timed intervals regardless of what else is going on in your code.  In this instructable I'll explain how to setup and execute an interrupt in Clear Timer on Compare Match or CTC Mode.  Jump straight to step 2 if you are looking for sample code. Normally when you write an Arduino sketch the Arduino performs all the commands encapsulated in the ...
Read more

›
Today we are going to make a real time clock Arduino shield. Doing so will give you a simple way of adding … real time capability to your projects such as time, date, alarms and so on. We will use the inexpensive Maxim DS1307 real-time clock IC. First of all, we need create our circuit diagram. Thankfully the Maxim DS1307 data sheet [pdf]has this basics laid out on page one. From examining a DS1307 board us ...
Read more

›
Introduction Time for another instalment in my highly-irregular series of irregular clock projects.  In this we have "Clock Four" – a scrolling text clock. After examining some Freetronics Dot Matrix Displays in the stock, it occurred to me that it would be neat to display the time as it was spoken (or close to it) – and thus this the clock was born. It is a quick project – we give you enough to get going w ...
Read more

›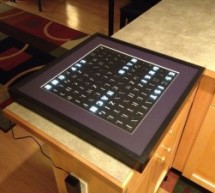 While in Germany last year, I saw a world clock in a store similar to this one in a store that was priced at 900€. I read several instructables online on how to create a World Clock so I decided to give it a shot. I want to thank the following Instructables that I used as a starting point to create mine: drj113's The Wordclock Grew Up! - An excellent tutorial that was the wiring foundation for my clock's PC ...
Read more

›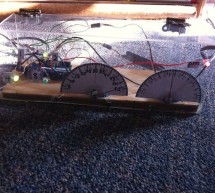 I was inspired by the digital/ analog clock to make my own special clock as my second instructable. I browsed the internet and found that servo clocks are rare and binary are common. So i decided to combine the two and this is what I made. I know it looks crappy but I'm an amateur and its decently accurate the worst I've seen it is a minute forward or behind. It even tells if its am or pm. I hope you all en ...
Read more

›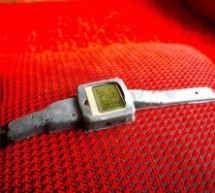 My goal for this project is to make a watch with selectable dials, stopwatch and millidays. This idea started with an Aprils fools prank about metric-time. (http://www.youtube.com/watch?v=K35xG1buyFA) First I wanted to make a metric clock but soon this idea evolved from a metric watch into an open course watch. I knew that it would be hard (or impossible) to make the watch small enough to really wear, but I ...
Read more

›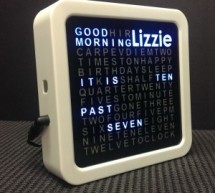 Build a unique personalised gift that's cool and reflects the character of the recipient. What's different about this Word Clock is that it is small enough to sit on a bedside desk, displays the recipients name and has personalised messages that appear at different times ie. Happy Birthday, Carpe Diem, Good Morning or whatever you choose. Great for people of all ages who enjoy something a little unique. Ple ...
Read more

›