I made this project on the same night that my Arduino Duemilanove arrived from Cool Components. After being an Instructables member for about a year I though it was time I should contribute. There is another Arduino traffic light project similar to this, but it is much more complex; mine is aimed at beginners and children (who already know the basics). As a beginner to the Arduino I had spent a fair a ...
Read more

›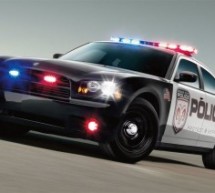 **DISCLAIMER** I do not and will not take responsibility for anyone who gets in trouble for this, by either imitating emergency personnel, or using without a permit/lisence. Updates! -I have shortened the code -Changed 16 LED's to 8 -Changed/added more flash patterns -Renamed variables As promised, this is the ATMega 2650 version of the police lights I originally did on my Duemilanove. What you will need: 4 ...
Read more

›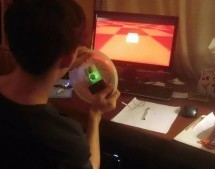 If you haven't noticed, as soon as you clicked into this instructable, you are now following me if you weren't already, you Favorited the instructable, and you voted for this instructable in all contests it is entered in. Then the buttons all dissappeared. It's okay though. If you really want to, you can still go onto your page and unclick all of them or you can test your speed and try to unclick them befor ...
Read more

›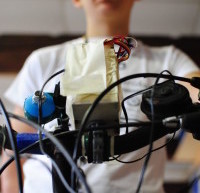 The project consists in a Arduino that gets the speed of the bike from a dynamo and it controls a laser which points always to the point where the bike is gonna stop if it continues going at the same speed. Used Hardware: Arduino mini Atmega328 Laser Servo Dynamo Battery pack 4 x 1,5 V Remove these ads by Signing Up Step 1: 1 Step: Build up an Mini Arduino Board Build up an Mini Arduino Board or if you use ...
Read more

›
This system is upgraded version of previous project... You will be able to track your car after you build this system, you will call the device then it will send you an sms which includes LAT, LON and Google Map link for just one touch to see where it is. Before you start to build them, you should connect the Wavecom to PC to adjust Serial Com. Baud Rate to 9600 then make it save this configuration via AT c ...
Read more

›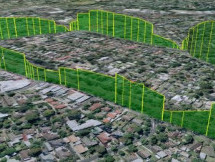 Ever wondered what goes on under the hood of your car? Wish you could peek inside the engine management system and read values from it? Annoyed that your dashboard displays a cryptic "Check Engine" light (yep, the engine is still there) but gives absolutely no explanation what the problem might be? You don't need a US$10,000 diagnostic console or even a laptop computer to get access to useful data from your ...
Read more

›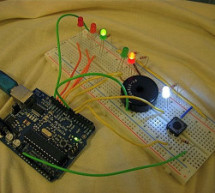 THIS PROJECT IS STILL A WORK IN PROGRESS FEEDBACK APPRECIATED!!!This tutorial will step you through the process of creating a set of controlable and configurable traffic lights whilst also teaching you the basics of Arduino. Some knowledge is needed and I highly recommend reading and following through on most if not all of the pages of the following document, created by the wonderful Arduino.cc people! Ardu ...
Read more

›
As seen in MotoGP Race, the rider is seen riding through corners while laying aside his bike to the left and right. But there is an interesting moment when the motor looks to collapse sideward, the front views remain horizontally. How could that be? Such onboard camera applies GYRO system, where the camera will be fixed perpendicular to the gravity of the earth. Step 1: BUILD YOUR OWN GYRO CAMERA We could b ...
Read more

›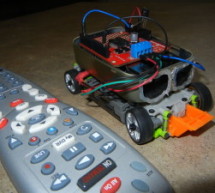 Nothing is worse than loosing the controller that came with your remote control car. Replace that sucker with an arduino and the one remote that always seems to be around, the TV remote! Remove these ads by Signing Up Step 1: Materials The materials for this project are pretty straight forward. You're gonna need... - A remote control car. The one I used has one small DC motor to drive the car and a small st ...
Read more

›
Hi guys! So for my electronics class this year we were tasked with creating some kind of electronic gadget in order to demonstrate what we learned over the semester. Being a car-loving type of guy, I decided to get a cheap RC car and see in what ways I could hack it using an Arduino Leonardo I had leftover from lab. Having an infrared proximity sensor handy, I thought It would be nice to use the sensor to b ...
Read more

›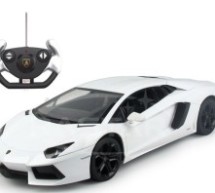 Hi there, You're going to transform any RC toy car into a big message writer that can be used to transform your city squares into witty messages, political statements or beautiful drawings, and for less than 20$. The idea is to drop a trail of powder or paint behind the car to write the message. Every RC car is different, and you'll be using your creativity and improvisation skills to create your machine. T ...
Read more

›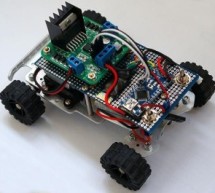 This is a simple project of Android Bluetooth Car with Bluetooth control. Arduino controller is used To control the car used Android-device with a built-in accelerometer. Tilt forward - car goes forward, tilt to the left - car turns to the left, tilt back - car goes back. Speed of movement or rotation depends on how much you tilt the device. Sensitivity and value of the tilt set in the configuration Android ...
Read more

›