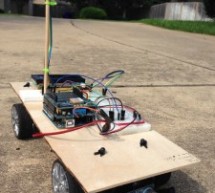 A few months back I started playing around with Arduino micro controllers as a learning exercise (and for fun); this project is the culmination of that. The goal of the project was to create a vehicle that can autonomously navigate through a series of waypoints (GPS coordinates) while avoiding any obstacles it encounters along the way. The project uses an assortment of electronic sensors and components, and ...
Read more

›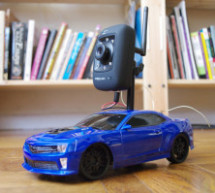 The Internet Controlled RC Car allows you to remotely drive around a small rc car from wherever you may be and see where it is going. This is fun because you can remote explore whatever space you leave it in, or hand over the keys - so to speak - and allow someone to drive around your space. This is also a great building block for a telepresence robot. This project is also a great beginner project for someo ...
Read more

›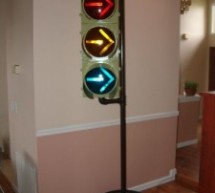 I had a traffic light that I was refinishing.  The only thing left to do was to build the controller for the light's signal patterns.  To give it a twist I incorporated a remote control.  This was also the perfect opportunity for me to try out an Arduino.  I wanted to use the Arduino becuase it was easy to use on both MAC and Windows. Step 1: Define the Project To start an electronics design project first d ...
Read more

›
Have an old toy car? I hacked mine using Arduino and an H bridge circuit to control the motors, used my Sony Z1 Android phone to control it with the recent 1Sheeld I got from Kickstarter. I thought to use the Gyroscope sensor in to drive it but after experimenting, I used the gravity sensor instead, will explain in details why later in step 5. Step 1: Required stuff Required components: 1- Android smartphon ...
Read more

›
Build this autonomous driving robot car based on a old RC toy car. I removed the radio control board from the car and replaced it with a brain in the form of an Arduino UNO board (plus a motor driver board) and gave it an ultrasonic distance measuring module to see the world through. Step 1: Components Radio controlled toy car Arduino Uno Motor driver board (2 channel) Ultrasonic sensor distance measuring m ...
Read more

›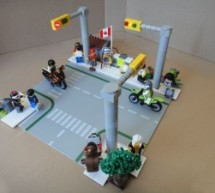 Video not playing? See it on YouTube: http://www.youtube.com/watch?v=q0tiiWwC6Zo Background Every Christmas we set up a large LEGO train layout in a section of the living room. This year, I ended up winning an eBay auction for a number of older-model LEGO road plates, one of which included a T-intersection. At about the same time, I saw a web magazine article on how to get started programming an Arduino emb ...
Read more

›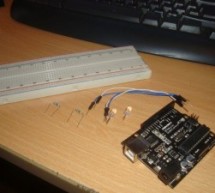 This was one of the first programs i wrote for the arduino after having it a few days :) we will be making l.e.d police lights with minimal materials Step 1: You will need. You will need Arduino (or suitable clone) Breadboard 2x 240ohm resistors 1x Clear Red l.e.d 1x Clear Blue l.e.d Some Jumper Cables Step 2: Place Components Onto Breadboard Place the components onto the breadboard as the diagram shows Ste ...
Read more

›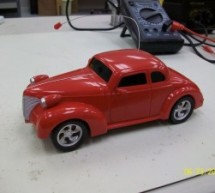 This instructable shows how to modify an inexpensive RC car so it can be controlled by an on-board microcontroller.  You can program the controller to make the car do any number of driving patterns and stunts.  Once you have the car being controlled from the on-board controller, you can add sensors for light and sound and make the car do things like line following. Step 1: Gather Materials and Tools I used ...
Read more

›
GoFly is a project based on PNA (car navigation devices with Windows CE), LK8000 tactical fligh computer software and variometer (altimeter) external input based on Arduino board and pressure sensor. Why? -You can build this for about 150$, -Your ordinary PNA (Personal Navigation Assistant) changes to really nice, high end flying computer, with lot of features and Arduino based altimeter and variometer let ...
Read more

›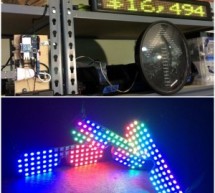 The Arduino Yún is a curious addition to the Arduino family. There is a fairly widespread community surrounding the Arduino concept, platform and software. There's another popular community dedicated to hacking and improving inexpensive wireless routers, which often run Linux. The Yún combines the two...it's basically an Arduino Leonardo housed on the same PCB as an Atheros AR9331 wireless router (commonly ...
Read more

›
I just got a new go kart engine, i went from 6hp to 10hp. This new kohler engine I got I think was not built to put on a go kart, so I had some trouble finding a way to attach the gas petal. Well after a few days of not really figuring anything out, I remembered that I had gotten an arduino about a week ago, and maybe I could use this to help me out. Step 1: Power and safety circuit below is a diagram of ho ...
Read more

›
Build a simple Arduino powered Traffic Light with us! This instructable is meant to walk you through almost every step, but there are a few assumptions. Read over the intro and the first step to make sure you are fully prepared! This is the breadboard version, a more realistic traffic light will be generated soon. Please leave comments - tell us if things are confusing! Other Helpful Things: - Good lighting ...
Read more

›