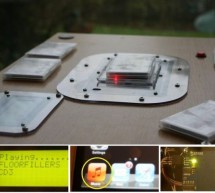 NOTE: This instructable is now slightly old and a better machine has been made with lower cost parts and much better software that automatically allows you to "pair" new cards with new tracks as they are added to the iPod playlist. iPod playback track selection simply by putting RFID "bricks" on a table. - An iPod Touch controlled by Arduino via the serial protocol intended for use by docking stations and o ...
Read more

›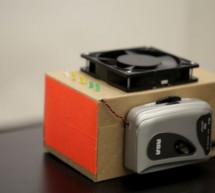 You always wanted to be a Disc-Jockey. You know nothing about beats, delays or mixing but, damn, scratching is like the coolest thing ever invented! If this is also your case, follow this instructable to build a low-fi DJ set: the DIY Turntable as featured on Gizmodo and Engadget, and take the chance to recycle your old cassette player into a new cool instrument. Step 1: Materials Minimum: - Cassette player ...
Read more

›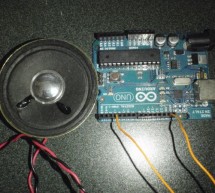 I am not a big fan of programming. I may like it but, I try to keep it down to a 555 timer like in this ible. However, when it comes to synths, well, I just NEED programming. One day, while exploring Synthesizers, I came across something known as chiptunes. I decided to listen and found the music just totally awesome. And so I tried to make it with Arduino. Unfortunately, it didn't fit the Arduino code. For ...
Read more

›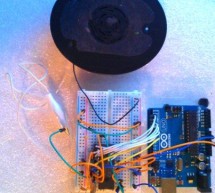 The GI SP0256 chip is an early 1980s bit of technology. It's a 5V (to 7V) NMOS chip which is compatible enough with the 5V TTL circuity common in that era. 5V TTL disappeared for a while, then came back with the Atmel _28-based Arduino boards, many of which run at 5V. The SP0256 chip contains a [crude] electronic model of the human voicebox, and the -AL2 variant comes with 59 English language phonemes built ...
Read more

›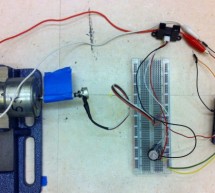 Introduction:      As a group, we feel that everyone should be able to enjoy the things they love to do despite their limitations. Our project is designed to enable people who are unable to use their legs to operate the pedals of a piano and to be able to do so by simply attaching a motion sensor to any moving part of their body. Depending on how they move, the motion sensor will send a signal to the Arduin ...
Read more

›
When I first became aware of Arduino, a theremin seemed like a natural project: sensor + actuator. It turned out to be quite affordable and fun to make. It is a naive design, using just one photocell and some hacked headphones. After some experimentation, I decided that a self-calibrating function was essential if I wanted repeatable performance in different light levels. Also, ...
Read more

›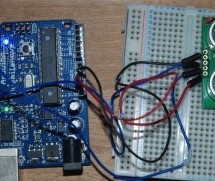 My last theremin involved a small speaker. Now I've replaced the speaker with my PC, using processing to pick up the values from the SRF05 ultrasound sonar distance sensor and play different notes accordingly – which gives multiple possibilities and far better sounds. So to start with check out my previous theremin, the circuit is the same except for removing the speaker and the Arduino code now prints valu ...
Read more

›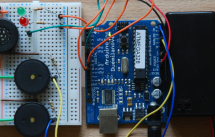 Had a quick look round at turning a piezoelectric speaker in to a sensor that will detect a tap or knock. I also then had a search around for setting the output of a speaker to a different note. Combining this has given me a small basic Arduino drum machine and a headache to my girlfriend. First of all a piezoelectric speaker works kind of like a guitar string in that it vibrates to generate sound. Typicall ...
Read more

›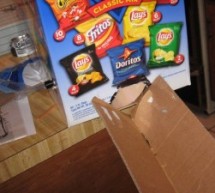 Tired of having to find the dog food to feed the dog? Tired of having to get up early so your dog doesn't attack you for his food? Are just plain lazy? If you answered yes to any of these questions, this instructable is for you. Powered by the intelligent Arduino, this gadget will automatically dispense measured amounts of dog food at user designated times. No longer the days of manually feeding your dog. J ...
Read more

›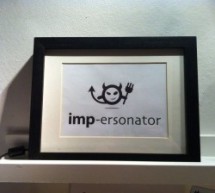 This Instructable will demonstrate how to make a remotely activated sound file player. It uses an Electric Imp, an Adafruit Wave shield and an Arduino Uno The Electric Imp enables you to quickly connect devices (including arduinos) to the internet through your Wifi network. The Adafruit Wave shield makes it simple to play audio files from an SD card using an arduino. When I first came across the Electric Im ...
Read more

›
This Instructables is about upgrading a plush toy to give it the ability to sing when baby presses its belly. Most importantly : it will not play a stupid pre-recorded music, but actually sing mommy's songs, with mommy's voice ! This project started with two goals in mind: customizing a nice gift for my baby, and raising support from my wife in my electronics hobby :-) [box color="#985D00" bg="#FFF8CB" font ...
Read more

›
X-Track is a prototype wireless device which connects you to the music, by providing entertainment with its bright beat-synched LEDs and tracking your moves so that you can later learn how much you enjoyed the night, and which parts were especially moving you. Remote wireless visualizations fully synced to the beat: * Supporting dynamic control of song playback. ** You can adjust tempo and the visual will a ...
Read more

›