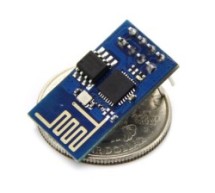 Esp8266 Introduction: This is WiFi serial transceiver module, based on ESP8266 SoC. ESP8266 module is a TTL "Serial to Wireless Internet" device. Providing your microcontroller has the ability to talk to a TTL serial device (most do) you'll be in business. It is a highly integrated chip designed for the needs of a new connected world. It offers a complete and self-contained Wi-Fi networking solution, allowi ...
Read more

›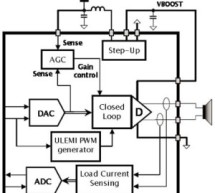 Description The DAC34SH84 is a very low-power, high-dynamic range, quad-channel, 16-bit digital-to-analog converter (DAC) with a sample rate as high as 1.5 GSPS. The device includes features that simplify the design of complex transmit architectures: 2× to 16× digital interpolation filters with over 90 dB of stop-band attenuation simplify the data interface and reconstruction filters. Independent com ...
Read more

›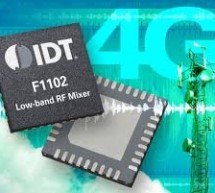 IDTF1150 Dual RF to IF Downconverting Mixer The F1150 dual channel device is designed to operate with a single 5V supply. It is optimized for operation in a Multi-mode, Multi-carrier BaseStation Receiver for RF bands from 1700 - 2200 MHz with High Side Injection. IF frequencies from 50 to 450 MHz are supported. Nominally, the device offers +40 dBm Output IP3 with 335 mA of ICC. Alternately one can adjust 4 ...
Read more

›
The Arduino Wireless shield allows your Arduino board to communicate wirelessly using Zigbee. This documentation describes the use of the shield with the XBee 802.15.4 module (sometimes called "Series 1" to distinguish them from the Series 2 modules, although "Series 1" doesn't appear in the official name or product description). A Simple Example You should be able to get two Arduino boards with Wireless sh ...
Read more

›
I built a remote-controlled robotics platform using a 4WD mobile platform, an Arduino (Seeeduino Mega), an Adafruit motor shield, and two XBee radios for communication. There are also some super-bright white LEDs on the front for headlights. The point of the project was to show how an XBee radio can be used to send joystick sensor data without using a microcontroller on the remote. The vehicle is very easy ...
Read more

›
BTW!!!!! This instructable is awsomeeeeeeThis is a very simple but at the same time a very hard project depending on your skill level. Lets get to building! What this is, is a wireless animatronic hand that doesn't need a computer to operate. The user wears a control glove and can control the animatronic hand precisely. Bellow are some pictures of the final product: Step 2: Control Glove Materials: Arduino ...
Read more

›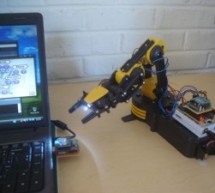 UPDATE: Added Schematic, Top Layer PCB, Bottom Layer PCB, and both Top, Bottom PCB images When I finished the  "RevIO" - an Arduino Clone that has the different way of exposing pins usage. I decided to go further to the next project. To test my "RevIO" board that it could do the bigger task than just blinking the LED! I modified the Wired Robotic Arm Edge to Wireless controlled, using my "RevIO" and DIY Thr ...
Read more

›
As the name implies, the Arduino Wireless SD shield serves two functions. Foremost, this shield allows you to easily interface with Xbee transceiver modules to create mesh networks, and other wireless devices. Secondly, the micro SD socket allows you to store and access a large amount of data. Whether using these functions by on their own or together, this chip greatly enhances the capabilities of a standar ...
Read more

›
 glossary A B C D E F G H I J K L M N O P Q R S T U V W X Y Z A ACCELEROMETER: tutorial on using the Memsic 2125 accelerometer with Arduino/Freeduino ACCELEROMETER: another post on using the Memsic 2125 Rad*o Sha*k variant accelerometer with Arduino/Freeduino ACCELEROMETER: article on using the LIS3LV02DQ 3-axis accelerometer with Arduino/Freeduino ACCELEROMETER: an excellent article on using the ADXL330 wi ...
Read more

›
The Arduino system offers an easy and open-source method for programming microcontrollers. Normally this means using a serial cable or USB cable attached directly to the microcontroller project. But what if your project is floating in a weather balloon, glued to the bottom of a swimming pool or baked into a loaf of bread? It would be great to upload code changes wirelessly, and even greater if you could do ...
Read more

›
This is one small project which I had done with Abhinav Gupta some months back. In this experiment, I graduate from using simple RF communication to Xbee! Whoa! Ok, so here is the basic problem statement. I need to develop a temperature sensing system such that the temperature from the sensor node is relayed to a co-ordinator sensor and then the co-ordinator node shows the user in a simple graphical form. F ...
Read more

›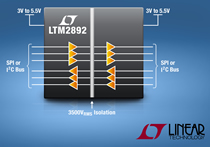 Description The LTM®9011-14/LTM9010-14/LTM9009-14 are 8-channel, simultaneous sampling 14-bit A/D converters designed for digitizing high frequency, wide dynamic range signals. AC performance includes 73.1dB SNR and 88dB spurious free dynamic range (SFDR). Low power consumption per channel reduces heat in high channel count applications. Integrated bypass capacitance and flow-through pinout reduces overall ...
Read more

›