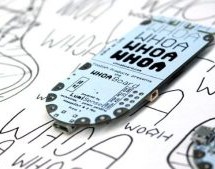 Whoa? Turn any EL (Electro-Luminescient) material into a touch sensor with no additional hardware. It's an open prototyping platform for wearable electronics! Open source and Arduino IDE compatible. There are many different EL materials, including EL paint, EL panels, EL tape, EL wire.  They have been integrated into a variety of applications, from motorcycle jackets, to masks, to cars. The Whoa Board makes ...
Read more

›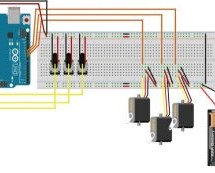 Hi there. This is my first instructable, so I hope you will be patient with me if I make any mistakes setting it up.It is written for beginners like myself, so the more advanced among you can skip a lot of this and just get to wiring it up. The goal I set myself was to be able to control the robot shown in this web site: http://bocabearingsworkshop.blogspot.co.id/2015/08... I needed to be able to control 3 ...
Read more

›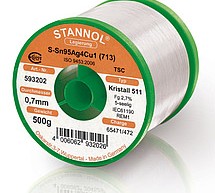 ou, who are at production of electronic devices, know, how important is a choice of a suitable solder. A designer of a given device might not focus on a solder used at soldering of the first protoype, bu tin a production it will manifest itself – sooner or later. Not that some solder would be miraculous and otherone unusable, but each one is suitable for something else. Similarly lie in other segments, even ...
Read more

›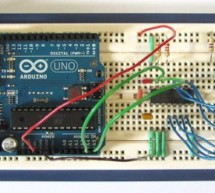 This tutorial shows how to interface eight LEDs to an Arduino using only two Arduino pins. This is made possible by using a PCF8574 I/O expander IC. A "Knight Rider" display is shown on the LEDs. Prerequisites Complete tutorial 4 – Arduino Knight Rider. Be able to use DIP IC packages, e.g. from tutorial 17. Components In addition to an Arduino Uno board, USB cable, wire links and a breadboard, you will need ...
Read more

›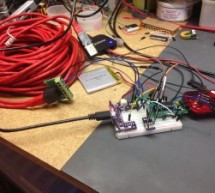 I came across a stash of iButton T-sense 1-wire sensors.. so I grabbed a couple and decided to check out 1-wire. Maxim makes a 1-wire device called the DS18B20. It's a 9-12 bit temperature sensor with the possibility of being powered by parasitic power from the data line. This cuts the signal path down to a single DQ line and a return. A company called iButtonLink produces a nice little wrapper around this ...
Read more

›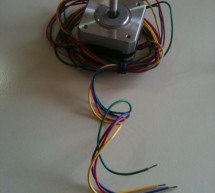 I've seen a number of tutorials about how to build the platform for a 3-axis CNC milling machine.  I have not seen anyone tackle the tricky subject of the electronics. Here now is my attempt to do so. Step 1: Parts You'll need: - an arduino. I chose duemilanova. (depends on the board you get) - 3 stepper motors.  I chose NEMA 17s . ($15/ea) - 3 EasyDrivers from Sparkfun . ($15/ea) - some Cat5 ($2?) - a 12V ...
Read more

›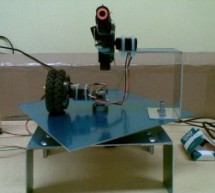 *NOTE* THIS PROJECT IS DONE BY A GROUP OF STUDENTS FROM SINGAPORE POLYTECHNIC. Concept: Trigger gun when laser is blocked by intruding object. Note: Tilting is included for expandability but not used in this project. Skill Level: Basic soldering and basic metal works Things You Need: Toy Gun(Any will do, preferably a semi-auto) Continuous Rotation Servo Motor Servo Motor Servo Arms and Wheels Arduino Metal ...
Read more

›
 glossary A B C D E F G H I J K L M N O P Q R S T U V W X Y Z A ACCELEROMETER: tutorial on using the Memsic 2125 accelerometer with Arduino/Freeduino ACCELEROMETER: another post on using the Memsic 2125 Rad*o Sha*k variant accelerometer with Arduino/Freeduino ACCELEROMETER: article on using the LIS3LV02DQ 3-axis accelerometer with Arduino/Freeduino ACCELEROMETER: an excellent article on using the ADXL330 wi ...
Read more

›
I just got a new go kart engine, i went from 6hp to 10hp. This new kohler engine I got I think was not built to put on a go kart, so I had some trouble finding a way to attach the gas petal. Well after a few days of not really figuring anything out, I remembered that I had gotten an arduino about a week ago, and maybe I could use this to help me out. Step 1: Power and safety circuit below is a diagram of ho ...
Read more

›