During experiments with digital voice mode in hamradio I discovered a nice project describing an adapter for D-Star, DMR and other digital modes based on an Arduino Due and a little PCB to be put on top. This unit is called the Multimode Digital Voice Modem or MMDVM (see [1]). It seems that this is getting quite popular because hard- and software is Open Source. The units can be ordered from Bruce, VE2GZI f ...
Read more

›
How to work with Light Emitting Diode (LED) in Proteus In this post we will be learning on how to use the "Light Emitting Diode (LED)" component in Proteus simulation software. In case you have not got on through the basics of Proteus, here is the link – Proteus PCB Design and Simulation Software – Introduction. Note:- You may also read our 1st chapter on Proteus Tutorial Series – Switches and Relays in Pro ...
Read more

›
Description Stepper motors are ubiquitous in hobby robotics projects: If you make a robotics or automation project today, it is very likely you will use them. Almost all DIY projects from 3D printers and CNC mills, to air hockey and juggling robots use them. However in industrial automation, brushless servomotors have taken over, and it's clear why: They don't lose steps, are much more powerful, efficient, ...
Read more

›
This one is an interesting one, it's something we've been looking at for a while and figuring out how to solve it. We have sets of speakers and projectors and the users keep losing the remotes, or misplaced/stolen. Usually this wouldn't be a problem, we'll just contact the supplier or manufacturer and order replacements. Except we can't any more. We have a set of Vision AV-1000 wall mounted active speakers, ...
Read more

›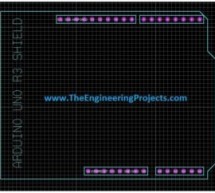 Hello friends, hope you all are fine and having fun with your lives. Today, I am going to share an informational tutorial about top 10 PCB design Software. These PCB design software are used for designing PCBs. In all engineering projects especially related to electronics, PCB designing is an important task and in order to design the PCB we have to use some software. There are many software available in mar ...
Read more

›
espthernet It's pronounced "e-s-peethernet" - a party trick, not a legitimate engineering solution. ESP8266 + I2S = Software-based 10-Base-T Ethernet Driver For a detailed overview of how this project works, please see the Hackaday article. For a rough idea of what's going on, checkout the youtube video: Overall Discussion This is a relatively unreliable and coincidentally functional ESP8266 Ethernet driver ...
Read more

›
Li-Fi (/ˈlaɪfaɪ/; short for light fidelity) is a technology for wireless communication between devices using light to transmit data. In its present state only LED lamps can be used for the transmission of visible light.[1] The term was first introduced by Harald Haas during a 2011 TEDGlobal talk in Edinburgh.[2] In technical terms, Li-Fi is a visible light communications system that is capable of transmitti ...
Read more

›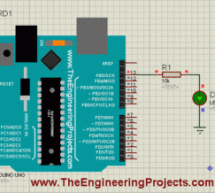 Hello friends, I hope all are fine and having fun with your projects. Today, I am going to share a very Simple Arduino LED Example in Proteus ISIS. I have designed a very basic example in Proteus in which I am going to blink single LED first using Arduino and then I am going to blink multiple LEDs in Proteus. When you start working on Arduino then Arduino LED example is the first example which you must try ...
Read more

›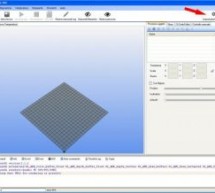 To create a PCB with 3Drag , by milling , it is necessary to have the G-Code files  for the tracks patterning and for the holes relating to the printed circuit board itself. In this section we describe how to obtain these G-Code files  using a specific plugin for the popular PCB design software " EAGLE ". Note: This operation can be done only if the PCB you want was created with EAGLE . The PCB- gcode plugi ...
Read more

›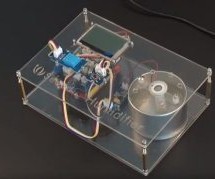 Let's see the video first. In today's society, more and more attention to the quality of life, pursue the healthy and comfortable living environment. So we made this device to monitor the indoor temperature and humidity, when the humidity falls below the safe values, it will automatically open the humidifier. Step 1: What You Need Arduino/Seeeduino • Grove – Temp&Humi Sensor • Grove – Button • I2C_LCD • ...
Read more

›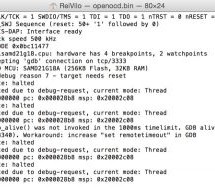 Arduino M0 Pro The Arduino M0 Pro —initially called Zero Pro— board is a major revision of the Arduino line as it is the first Arduino board to feature a debugger. The board is designed around the 32-bit ARM Cortex-M0+ SAMD21 from Atmel and built in Italy. The EDBG chip from Atmel provides the debugging capabilities. The SAMD21 MCU features 256 kB of Flash and 32 kB of RAM and runs at 48 MHz. This is a huge ...
Read more

›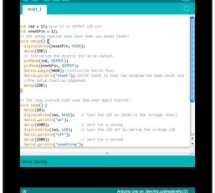 If you want to RESET Arduino from the beginning without manually pressing the RESET button, there are a few ways. Here are two ways, using minimal wiring / circuitry. Step 1: Using 1 wire connected to the RESET pin 1. electronically, using only 1 wire connecting an OUTPUT pin (12 in this example) to the RESET pin. (see the circuit) In this example, pin 13, connected to the internal LED pin 13 is blinking. P ...
Read more

›