Arduino, the renowned provider of hardware, software, and digital services, has announced that its Arduino Cloud services have now achieved ISO/IEC 27001:2013 (ISO 27001) certification. This significant milestone underscores Arduino's commitment to integrating security as a fundamental part of its development lifecycle.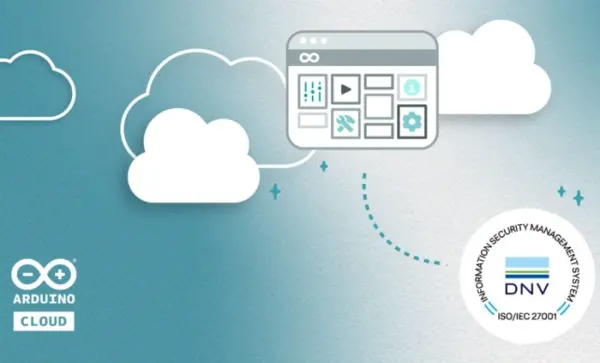 ISO 27001 is a globally recognized standard that outlines a framework for establishing, implementing, maintaining, and continually improving an Information Security Management System (ISMS). The standard stipulates the requirements for managing information security risks and safeguarding sensitive information within an organization. ISO 27001 adopts a systematic and risk-based approach to ensure the confidentiality, integrity, and availability of information assets.
"ISO/IEC 27001 is the world's best-known standard for information security management systems (ISMS). It defines requirements an ISMS must meet. The ISO/IEC 27001 standard provides companies of any size and from all sectors of activity with guidance for establishing, implementing, maintaining and continually improving an information security management system.
Conformity with ISO/IEC 27001 means that an organization or business has put in place a system to manage risks related to the security of data owned or handled by the company, and that this system respects all the best practices and principles enshrined in this International Standard."
Arduino Cloud security certification
Arduino's CIO, Stefano Visconti, expressed his satisfaction with the achievement, stating, "This certification and the review from an external auditor are helping us to ensure that our internal security processes are robust and complete, fully aligned with the ISO27001 standard, so that we can offer secure and reliable services in Arduino Cloud."
The certification was awarded by DNV, a global quality assurance and risk management company. Massimo Alvaro, Italy Managing Director for Business Assurance at DNV, praised Arduino Cloud for its proactive approach to managing and protecting their information assets and mitigating security events. He said, "We are all experiencing the crucial importance of information security, and we can only be pleased to give the ISO 27001 certification to Arduino Cloud."
Arduino's compliance with ISO 27001 is a testament to its commitment to maintaining the highest possible security posture for Arduino Cloud services. This ensures the best possible protection from cybersecurity risks for Arduino Cloud users. The certification is a significant step forward in Arduino's ongoing efforts to provide secure and reliable services to its customers.
In conclusion, the ISO 27001 certification of Arduino Cloud is a clear demonstration of Arduino's dedication to information security and risk management. It is a significant achievement that will undoubtedly enhance the trust and confidence of Arduino Cloud users in the security of the services provided.
Source: Arduino Cloud receives ISO 27001 security certification