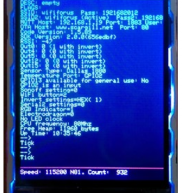 How about a cheap serial terminal for less than a fiver all-in? In a previous blog entry I've been working on more developments for the increasingly powerful home control system using an Arduino as a kind of universal I2c peripheral to the ESP8266. The reason for that is just the vast range of driver software our there and the fact that from China you can get an Arduino-Nano-type-board for under £2. There a ...
Read more

›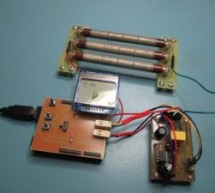 In the previous posts I've described a simple Geiger–Müller counter and various experiments with this device. Today I would like to present Arduino project to communicate with a Geiger-Muller counter, gather data and present it to the user. The device is based on Arduino Uno, Nokia 5110 LCD and homemade shield. Currently it's possible to show two layouts: bar graph of the pulses in one minute interval and h ...
Read more

›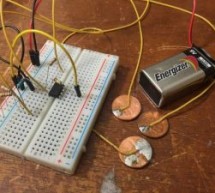 I made surprisingly good ECG from a single op-amp and 5 resistors! An ECG (electrocardiograph, sometimes called EKG) is a graph of the electrical potential your heart produces as it beats. Seven years ago I posted DIY ECG Machine on the Cheap which showed a discernible ECG I obtained using an op-amp, two resistors, and a capacitor outputting to a PC sound card's microphone input. It didn't work well, but th ...
Read more

›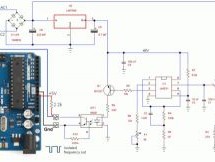 This blog is dedicated to electronic projects and software due to the author's enthusiasm for these activities. The main aim is to share to other enthusiasts the experience in electronic design of the author who disclaims all responsibility. All presented projects are realized and fully tested by the author who intends to preserve the intellectual property of the projects or information, whose utilization i ...
Read more

›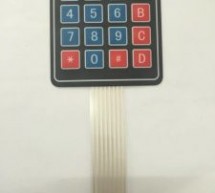 Step 1: Introduction Description: This keypad consists of 4 rows x 4 columns of buttons. It is ultra-thin that it provides an useful human interface component for microcontroller projects. Convenient adhesive backing provides a simple way to mount the keypad in a variety of applications, such as menu selection, security systems, data entry for embedded systems and so on. Specifications: Maximum rating: 24VD ...
Read more

›
During experiments with digital voice mode in hamradio I discovered a nice project describing an adapter for D-Star, DMR and other digital modes based on an Arduino Due and a little PCB to be put on top. This unit is called the Multimode Digital Voice Modem or MMDVM (see [1]). It seems that this is getting quite popular because hard- and software is Open Source. The units can be ordered from Bruce, VE2GZI f ...
Read more

›
How to work with Light Emitting Diode (LED) in Proteus In this post we will be learning on how to use the "Light Emitting Diode (LED)" component in Proteus simulation software. In case you have not got on through the basics of Proteus, here is the link – Proteus PCB Design and Simulation Software – Introduction. Note:- You may also read our 1st chapter on Proteus Tutorial Series – Switches and Relays in Pro ...
Read more

›
Description Stepper motors are ubiquitous in hobby robotics projects: If you make a robotics or automation project today, it is very likely you will use them. Almost all DIY projects from 3D printers and CNC mills, to air hockey and juggling robots use them. However in industrial automation, brushless servomotors have taken over, and it's clear why: They don't lose steps, are much more powerful, efficient, ...
Read more

›
This one is an interesting one, it's something we've been looking at for a while and figuring out how to solve it. We have sets of speakers and projectors and the users keep losing the remotes, or misplaced/stolen. Usually this wouldn't be a problem, we'll just contact the supplier or manufacturer and order replacements. Except we can't any more. We have a set of Vision AV-1000 wall mounted active speakers, ...
Read more

›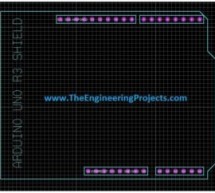 Hello friends, hope you all are fine and having fun with your lives. Today, I am going to share an informational tutorial about top 10 PCB design Software. These PCB design software are used for designing PCBs. In all engineering projects especially related to electronics, PCB designing is an important task and in order to design the PCB we have to use some software. There are many software available in mar ...
Read more

›
espthernet It's pronounced "e-s-peethernet" - a party trick, not a legitimate engineering solution. ESP8266 + I2S = Software-based 10-Base-T Ethernet Driver For a detailed overview of how this project works, please see the Hackaday article. For a rough idea of what's going on, checkout the youtube video: Overall Discussion This is a relatively unreliable and coincidentally functional ESP8266 Ethernet driver ...
Read more

›
Li-Fi (/ˈlaɪfaɪ/; short for light fidelity) is a technology for wireless communication between devices using light to transmit data. In its present state only LED lamps can be used for the transmission of visible light.[1] The term was first introduced by Harald Haas during a 2011 TEDGlobal talk in Edinburgh.[2] In technical terms, Li-Fi is a visible light communications system that is capable of transmitti ...
Read more

›