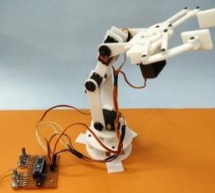 Record and Play 3D Printed Robotic Arm using Arduino Robotic Arms have proved themselves useful and more productive in many applications where speed, accuracy and safety is required. But to me, what's more than that is these things are cool to look at when they work. I have always wished for a robotic arm that could help me with my daily works just like Dum-E and Dum-U that Tony stark uses in his lab. These ...
Read more

›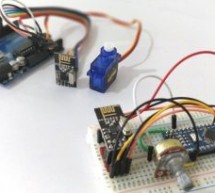 Arduino NRF24L01 Tutorial to Control Servo Motor While Internet of things (IoT), Industry 4.0, Machine to Machine communication etc are getting increasingly popular the need for wireless communication has become incumbent, with more machines/devices to speak with one another on the cloud. Designers use many wireless communication systems like  Bluetooth Low Energy (BLE 4.0), Zigbee, ESP43 Wi-Fi Modules, 433 ...
Read more

›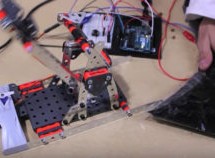 Use an Arduino and a servo to shoot food to your cat! (Also works with other animals). Check out the video below to see how this Arduino Servo Catapult works. While maybe not the most practical application, this project will teach you the basics of servo motors and analog inputs, which can be implemented into more practical projects, like these: Give Your Camera Motion Tracking With Arduino Make a Line Foll ...
Read more

›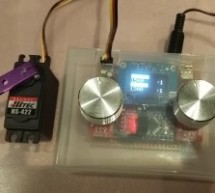 This is something I've already worked on but was never really happy with the result, mainly because the potentiometre that I used was of poor quality and hence non linear and "jumpy"… The problem is simple: I need to have a reliable and easy to use servo tester, that I can use to test/play with a standard RC servo or ESC or anything else that uses the same control protocol. This necessity has arisen again q ...
Read more

›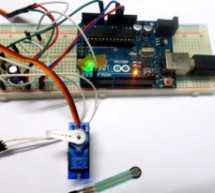 In this tutorial we will develop a circuit using Force sensor, Arduino Uno and a servo motor. It will be a servo control system where the servo shaft position is determined by the weight present on the force sensor. Before going any further let's talk about about the servo and other components. Servo Motors are used where there is a need for accurate shaft movement or position. These are not proposed for hi ...
Read more

›
This Instructable brought to you by the kind folks a Rachel's Electronics Visit  www.rachelselectronics.com  for cool electronics kits and breadouts! This hobby servo hack will add shaft position feedback by tapping into the servo's own internal potentiometer. The only parts that need are wire and a little bit of solder, making this hack practically free. Common electronics workshop tools are required, so i ...
Read more

›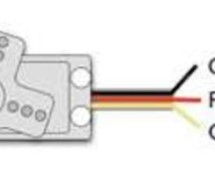 Hey everyone. I hope you will be fine. As you know that last time, we had started Arduino UNO course and given you a brief introduction how to simulate the LED blinking via Arduino UNO and its implementation in proteus ISIS. Now, today we are going to implement Servo Motor Simulation via Arduino UNO in proteus ISIS. What is Servo Motor? With the help of servo motors you can position the motor shaft at a spe ...
Read more

›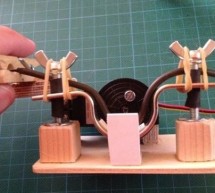 This instructable shows you how to make a pump using a servo motor and an Arduino Uno to transfer small amounts of liquids. The pump is a peristaltic pump which consists mainly of a motor, flexible tubing and a circular pump casing. Two rollers attached to a turning rotor press the flexible tube to the circular pump casing wall. As the rotor turns, the part of the tube under compression is pinched closed th ...
Read more

›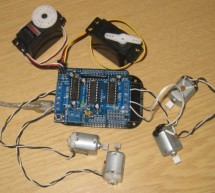 This post starts a small (or larger?) series of tutorials using the Arduino Motor/Stepper/Servo Shield with the FRDM-KL25Z board. That motor shield is probably one of the most versatile on the market, and features 2 servo and 4 motor connectors for DC or stepper motors. That makes it a great shield for any robotic project The series starts with a tutorial how to drive two servo motors. And if this is not wh ...
Read more

›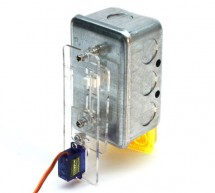 This Instructable is all about one of life's simple actions, flipping a light switch on and off. At oomlout we do it many times a day, so many in fact it came to a point where we asked ourselves "Can't we get an Arduino to do this?". Of course we can, what follows is how we went about doing it. With the help of some acrylic, nuts and bolts and a small hobby servo we have made a great little switcher (we're ...
Read more

›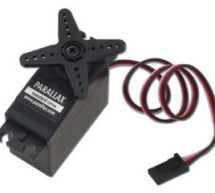 In this instructurable I will expalin and show you how to make a Parallax servo rotate 360º. And againI have search the internet to see tutorials clear enough to make this posible with no luck. Don't get me wrong they are some how good but not clear. This mod will help you to use the mod servo for robots that need a fully 360º rotation servo. Also some of the pictures were taken from other instructurables a ...
Read more

›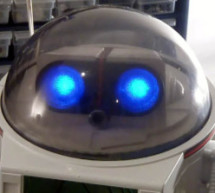 *Check back for more updates on this build :) So, have you heard of the Omnibot? Well! Any kid from the 80's will remember how amazing this robot was. For you young kids, this robot was released in the early 80's by Tomy. The robot was "programmable", in the sense that the actions were recorded to a casette tape. As you operated the robot over its remote control, the casette would record tones for each acti ...
Read more

›