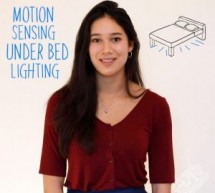 Ever tried to get out of bed quietly at night only to trip over something and wake up the whole house? Motion sensing night lights installed discreetly under your bed provide low-level light bright enough to guide you around those stray LEGO bricks but dim enough so you're not woken up fully. As well as sensing motion, it's also possible to programme the lights to a colour of your choice for a fixed (or ind ...
Read more

›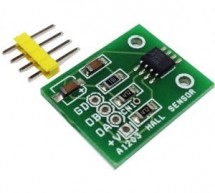 The A1230 is a dual-channel, bipolar switch with two Hall-effect sensing elements, each providing a separate digital output for speed and direction signal processing capability. The Hall elements are photo lithographically aligned to better than 1 µm. maintaining accurate mechanical location between the two active Hall elements eliminates the major manufacturing hurdle encountered in fine-pitch detection ap ...
Read more

›
The HMC5883is a digital compass designed for low-field magnetic sensing.This device has a wide magnetic field range of +/-8 Oe, and an output rate of 160 Hz. The HMC5883 sensor includes automatic degaussing strap drivers, offset cancellation, and a 12-bit ADC that enables 1° to 2° compass heading accuracy. All I²C Mini Modules are designed to operate at 5VDC. In this tutorial we are going to explain the det ...
Read more

›
Introduction Besides looking damned good on an otherwise bland and ordinary desk, this project is about more than just being attention grabbing eye candy.  It's about demonstrating a small portion of our single board computer capabilities by hooking up a color sensor, RGB light strip, and enclosing it in a nice looking wooden enclosure.  We're dubbing it the "aurora boxealis", and it's made to stand out fro ...
Read more

›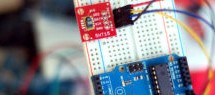 The SHT15 is a digital humidity sensor that outputs a fully calibrated humidity reading. And… because what we are measuring is actually relative humidity, and relative humidity being relative to temperature, the SHT15 has a builtin digital thermometer. This makes things much easier to work with than sensors without a thermometer onboard. You can pick one up from sparkFun here. Hooking it up The SHT15 uses a ...
Read more

›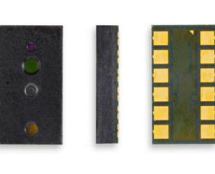 The VL6180X is the latest product based on ST's patented FlightSense™technology. This is a ground-breaking technology allowing absolute distance to be measured independent of target reflectance. Instead of estimating the distance by measuring the amount of light reflected back from the object (which is significantly influenced by color and surface), the VL6180X precisely measures the time the light takes to ...
Read more

›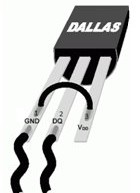 Note: When referring to Arduino below, this works in the same way on the emonTx which is arduino-based. The DS18B20 is a small thermometer with a built in 12bit ADC; it can be easily connected to Arduino digital input. The sensor communicates over a one-wire bus and requires little in the way of additional components. The sensors have a quoted accuracy of +/-0.5 deg C in the range -10 deg C to +85 deg C. Ha ...
Read more

›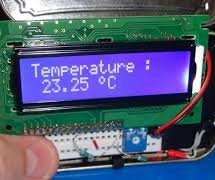 As part of the CanSat Primary Mission, we need to measure temperature.  For this our starter kit has given us an Arduino Uno R3 micro-controller, as well as some resistors and an NTCLE101E3 NTC Thermistor. The thermistor is a special kind of resistor that changes its resistance with temperature.  In our case we have an NTC, or Negative Thermal Coefficient thermistor.  This is just engineering speak for "the ...
Read more

›
Origami is the traditional Japanese art of paper folding. In this project, with a little help from an Arduino, you can bring your origami into the 21st century and make it an interactive art! The result shown here uses Bare Conductive paint to give an origami flower proximity sensing powers. When you put your hand close by, it triggers a small vibrating motor, and the flower wiggles around to sa ...
Read more

›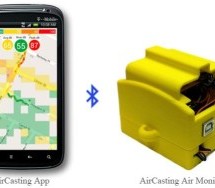 High-precision air quality monitors are normally very expensive, but Tim Dye of Sonoma Technology is on a mission to change that.  He's been working with Michael Heimbinder and habitatmap.org to create a low-cost sensor system that when designed properly and integrated into a software platforms can provide valid data. AirCasting is a platform for recording, mapping, and sharing health and environmental data ...
Read more

›
 glossary A B C D E F G H I J K L M N O P Q R S T U V W X Y Z A ACCELEROMETER: tutorial on using the Memsic 2125 accelerometer with Arduino/Freeduino ACCELEROMETER: another post on using the Memsic 2125 Rad*o Sha*k variant accelerometer with Arduino/Freeduino ACCELEROMETER: article on using the LIS3LV02DQ 3-axis accelerometer with Arduino/Freeduino ACCELEROMETER: an excellent article on using the ADXL330 wi ...
Read more

›