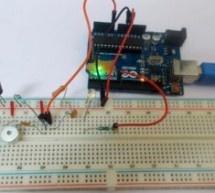 In this project we are going to make Clapper circuit using the concept of ADC (Analog to Digital Conversion) in ARDUINO UNO. We are going to use a MIC and Uno to sense the sound and trigger a response. This Clap ON Clap OFF switch basically turns ON or OFF the device, by using the clap sound, as switch. We have previously built Clap switch and Clap ON Clap OFF switch, using 555 Timer IC. On c ...
Read more

›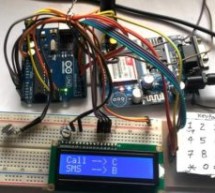 Sometimes people find it difficult to use the GSM Module for its basic functions like calling, texting etc., specifically with the Microcontrollers. So here we are going to build a Simple Mobile Phone using Arduino, in which GSM Module is used to Make the Call, answer the Call, send SMS, and read SMS, and also this Arduino phone has Mic and Speaker to talk over this Phone. This project will also serve ...
Read more

›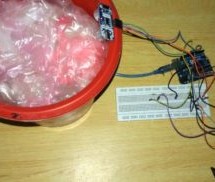 In this DIY, we are going to make an IOT based dumpster/garbage Monitoring System which will tell us that whether the trash can is empty or full through the webserver and you can know the status of your 'Trash Can' or 'Dumpsters' from anywhere in the world over the Internet. It will be very useful and can be installed in the Trash Cans at public places as well as at home. In this IOT Project, an U ...
Read more

›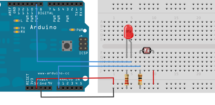 This example demonstrates one techinque for calibrating sensor input. The board takes sensor readings for five seconds during the startup, and tracks the highest and lowest values it gets. These sensor readings during the first five seconds of the sketch execution define the minimum and maximum of expected values for the readings taken during the loop. Circuit Analog sensor (e.g. potentiometer, light sensor ...
Read more

›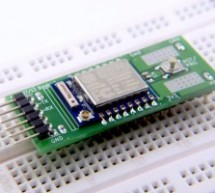 The rise of the ESP8266 WiFi chip was almost overnight with Espressif's open approach and pushing from Hackaday. While no ground-breaking product has yet emerged, the development on the chip are phenomenon. However due to an unknown reason the ESP8266 modules manufacture seems to prefer non-standard 2.0mm pitch connector, which gives a lot of headache to breadboarding lovers like me. This forced me to make ...
Read more

›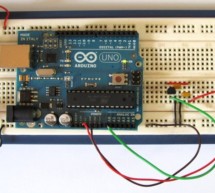 The Arduino reads temperature from a MCP9700 temperature sensor IC and displays the temperature in the Arduino IDE serial monitor window. Also see the Arduino LCD thermometer tutorial (tutorial 14). Prerequisites Complete Tutorial 9: Using the Arduino Serial Port before attempting this tutorial. Components Besides an Arduino Uno board, USB cable, wire links and a breadboard, you will need: Qty Part Designat ...
Read more

›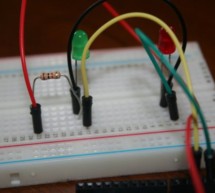 So what I want to do here is do several things with two LEDs with speech recognition I'm using bitvoicer you can get it here Step 1: Part List So I'm doing this with as little parts as I can, here's the list: Green LED Red LED Breadboard 1k Resistor Jumper Cables Computer Computer Mic(you can use a microphone Ardunio (I'm using the UNO but any kind will work) bitVoicer you can get that here Step 2: How to s ...
Read more

›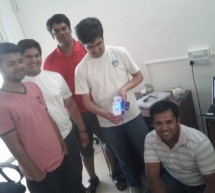 This was my first time attending the Internet of Things Pune Group. It was such a fun learning experience! At today's meetup, Dhiraj and Nishant started out by introducing the InduinoX and Arduino Uno boards along with the Processing IDE that is used to write the code. After playing around with couple of sensors on the InduinoX we thought of doing a micro project together and finally settled on doing a Tic ...
Read more

›
The TiltKey is a keyboard input device based on tilting. Based on the angle that it is tilted at, and the direction it is tilted in, you can write every letter of the alphabet, every number, and every symbol found on a standard US keyboard. Operation is very simple; the LCD display shows the letter your going to write, and pressing the "press" button will write it to your computer. Holding the "shift" butto ...
Read more

›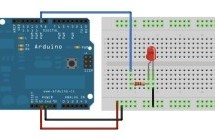 Demonstrates the use of the analogWrite() function in fading an LED off and on. AnalogWrite uses pulse width modulation (PWM), turning a digital pin on and off very quickly, to create a fading effect. Circuit Connect the anode (the longer, positive leg) of your LED to digital output pin 9 on your Arduino through a 220-ohm resistor. Connect the cathode (the shorte ...
Read more

›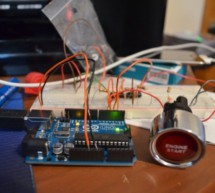 Naturally, the Uno does not natively support keyboard strokes, unlike it's Leonardo brother. Most of Google will tell you you need to do some firmware workarounds and ATMEGA reprogramming just to get it working and the entire ordeal is a mess. If you're like me, you've found that out just after buying one. Here is how to get around all that using a bit of Java coding. The ideal solution would be to purchase ...
Read more

›
Everyone has used a magnetic card reader, I believe. I mean, who carries cash these days? They're not difficult to get your hands on, either, and during a trip to my favorite local electronics shop, I found a bin full of these guys. So....of course, I picked one up and brought it home to see what sort of stuff I could do with it and an AVR. This instructable will show you how to connect a Magtek magnetic ca ...
Read more

›