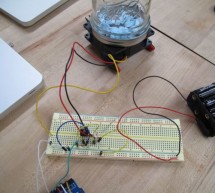 In this tutorial you will learn how to turn any conductive surface into a capacitive touch sensor. This project illustrates how to use capacitive touch to turn on a motor (fan) and neopixel. In this example, all of the components were custom designed and built specifically for this application. Since this method can be used for many different applications, this instructable will cover the behind the scenes ...
Read more

›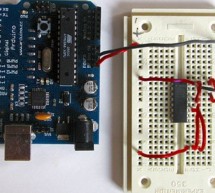 In this tutorial you will learn how to communicate with a computer using a MAX3323 single channel RS-232 driver/receiver and a software serial connection on the Arduino. A general purpose software serial tutorial can be found here. Materials needed: Computer with a terminal program installed (ie. HyperTerminal or RealTerm on the PC, Zterm on Mac) Serial-Breadboard cable MAX3323 chip (or similar) 4 1uf capac ...
Read more

›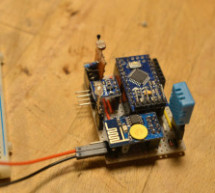 Background I read about the ESP8266 first in March this year and I didn't know what to do with. And now I'm really fascinated how easy the connection of an Arduino to the Internet can be. Like others I set up a weather station on a breadboard first and sent data to thingspeak.com. This ends up in a highly condensed stripboard layout and the needed software package. Why stripboarding and not etching a PCB? T ...
Read more

›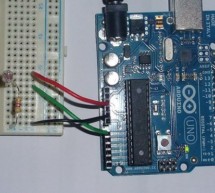 In this Arduino UNO tutorial, we are going to use a Light Dependent Resistor (LDR) to create a simple childrens bedroom nightlight which turns on automatically when it gets dark and turns off when it gets light. An LDR's resistance changes depending upon the amount of light hitting the sensor. For the LDR we are going to use the resistance reduces as the light falling on the device increases. Used in ...
Read more

›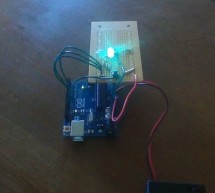 Sometimes I just have those days where I really want to make something neat with the Arduino I have lying around, but I know I don't have the patience for a more involved project that'll take more than a day or so. This is for one of those days. The premise is as follows: A random color is shown on an RGB LED for a few seconds, then extinguished. You, the player, then press and hold a button to cycle throug ...
Read more

›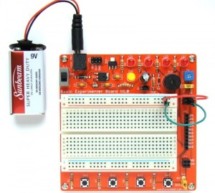 Most electronics projects require some common stuff like regulated power supply, input tact switches, and output LEDs during prototyping and testing phase. Wiring these things on a breadboard for every new project could be time consuming and boring. We introduce you the Basic Experimenter Board, a general purpose develoment tool that will not only reduce the prototyping time for your next project but also f ...
Read more

›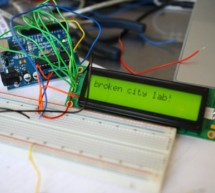 I spent the better part of the day on Saturday doing some more basic research into connecting an Arduino and LCD for this ongoing project. For the most part, it's pretty basic and following the wiring diagrams and tutorials online is fine. I ran into a problem with getting text on two lines, which I'll detail below. Next on the to do list is to order a different LCD, maybe a 4×20 display and maybe something ...
Read more

›
CustomKeys is a customizable, Arduino-based, polyphonic synthesizer. The CustomKeys keyboard uses capacitive touch sensing - each key is made of a conductive material which, when touched, signals the synthesizer to emit a tone from the speaker. The CustomKeys library allows the user to choose an 8-note musical scale for the keys. Furthermore, users have a creative choice on the body design of their CustomKe ...
Read more

›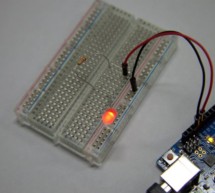 Description In this tutorial you will set up and turn on a single LED. Note that this code can actually be executed with just the Arduino and no other components as in Figure 5. If you notice, next to pin 13 is a tiny LED on the board. If you execute the code below, you should see that LED turn on. Note: In the photos/video you will see me use a 1.2k&#8486 resistor. I did this to back off the brightness ...
Read more

›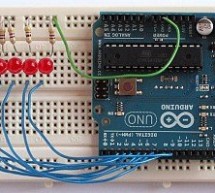 In this tutorial, eight LEDs are interfaced to the Arduino Uno board. This is not complicated – it is just like interfacing a single LED to the Arduino as done in tutorial 3, but eight times over. A program is then loaded to the Arduino that will turn the eight LEDs into a "Knight rider" display. The following video shows what you will achieve: Prerequisites You will need to have completed tutorial 3 and it ...
Read more

›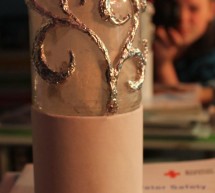 This was my very first arduino project. Its great for beginners. Fade the color or the lights my moving your hands near it. It fades from a pretty purple blue to a firey red-orange. Its was SUPER easy to build, not to hard to write the code, and its really impresses people! I gave it to my mother for christmas, and it was a big hit. Watch the video to see it in action! I apologize for ...
Read more

›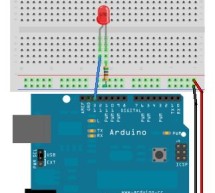 Topics: Overview Hardware A Basic Schematic Diagram Resistors Reading Resistor Values Putting it Together Trying it out! More on Resistors and LEDs Software Comments Variables Procedures References Project 1.Overview As mentioned earlier, Arduino consists of two major parts: the hardware (the Arduino board) and the Software (the IDE). The advantage of using the Arduino is that we can build a circuit and the ...
Read more

›